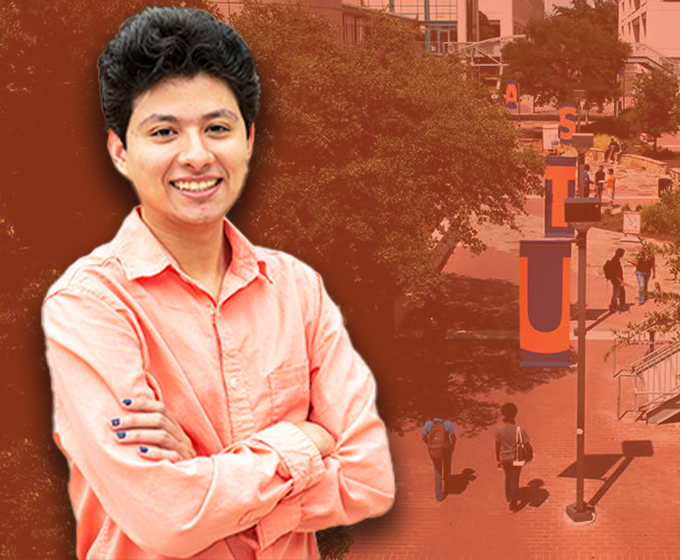 ---
ROADRUNNERS
YOU SHOULD KNOW

---
SEPTEMBER 11, 2020 — Although Roadrunner alum Aldo Sepulveda '20 just graduated with his bachelor's degree in the spring, he says he's just getting started when it comes to further pursuing his education.
Sepulveda recently was awarded an $8,500 fellowship through Phi Kappa Phi, one of the nation's oldest and most prestigious collegiate honor societies, benefitting his pursuit of a Ph.D. in astronomy at the University of Hawaii at Manoa.
Sepulveda is one of 58 recipients in the nation to be awarded a Phi Kappa Phi fellowship.
"The impact of this fellowship was actually immediate. It's a one-time award that paid out quickly, and it has actually provided a substantial financial relief in my transition period to graduate school," Sepulveda said. "As you might imagine, it was extra-difficult to relocate and settle to Hawaii during pandemic conditions, not just for safety but also financially. As far as career impact goes, being one of 58 winners for a national fellowship isn't a bad addition on a CV!"
---
"I decided to pursue a newfound goal to do what I must to become a scientist and researcher."
---
---
Founded in 1897, the Phi Kappa Phi Honor Society is a multidisciplinary collegiate honor society that initiates about 30,000 members a year from campuses around the U.S. Its fellowship program, which started in 1932, allocates about $615,000 annually to first-year graduate students for professional study.
Before being awarded the fellowship, Sepulveda applied through UTSA's Phi Kappa Phi chapter before being selected as a nominee for the national organization.
"The application itself was different from most other things I have applied for. It was a more holistic evaluation," Sepulveda said. "As for why I decided to apply, that's an easy one: I'm always up to apply for any award that I'm eligible to apply for. As you might imagine, that's an attitude that's been very rewarding. I am grateful to the UTSA PKP committee for inviting me to apply."
After getting his Ph.D. Sepulveda hopes to pursue a career as a scientist and researcher.
"My goal is to become a research professor or otherwise land some kind of position where I have the freedom to conduct and collaborate on the research that I want to do," he said. "Thinking about my journey so far and what kind of professor I would like to become, I also have interests in student mentorship, development or any other consequential student success initiatives. Although it's not necessarily rewarded as far as faculty jobs and tenure are concerned, I do believe it to be a responsibility we have regardless."
Sepulveda earned his bachelor of science in physics in spring 2020 from UTSA. When he first started his academic career at UTSA, he wasn't sure what career path he was interested in until he learned about the career opportunities that existed within the research world.
"It was just never real to me before that, so I had never considered it as a potential career option. I felt a strong connection to the endeavor of research and so it was that I decided to make and pursue a newfound goal to do what I must to become a scientist and researcher," Sepulveda said. 
With his new career interest in mind, Sepulveda had a stronger motivation to apply for summer research internships in astronomy—eventually interning at The University of Texas at Austin's Department of Astronomy and the Harvard-Smithsonian Center for Astrophysics.
"These experiences were the perfect means to my goals because you get paid to be a full-time researcher under the direction of an adviser all while undergoing professional development and making essential connections with people in your field of interest," he said.
Sepulveda also is a 2020 NSF Graduate Research Fellow, a 2019 Goldwater scholar, and a two-time winner of NASA/Texas Space Grant's STEM Columbia Crew Memorial Scholarship.