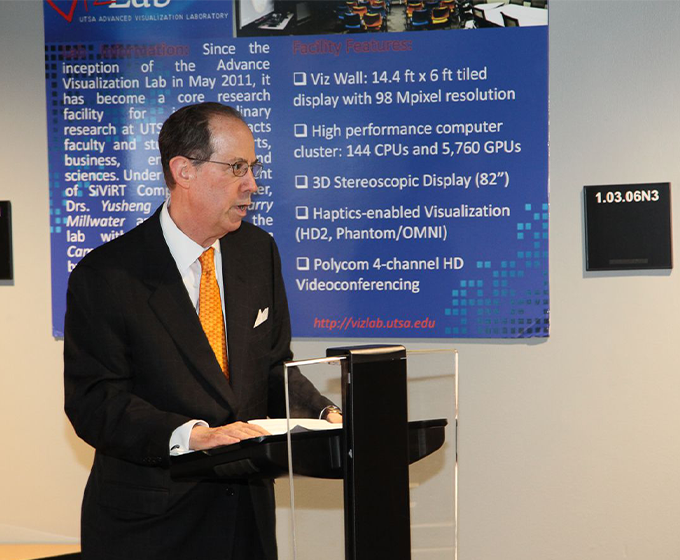 OCTOBER 9, 2020 — San Antonio aviation industry legend Dee Howard is internationally recognized for his development and certification of numerous aircraft safety and performance improvements as well as refinements in aircraft flight characteristics. After his passing in 2009 at the age of 88, his family and friends began collaborating with UTSA's College of Engineering to honor his legacy. Within the past decade three endowments and a certification program have been established to support engineering students and faculty, including the Wayne and Julie Fagan Fellowship in Mechanical Engineering, created this year.
"I have always tried to be involved in the community, and my wife supports my passion, so we felt like establishing this fellowship in the hopes that it might motivate others to support the university while honoring the impact that the Dee Howard Foundation has already had on UTSA. The fellowship is meant to serve as another tool that will help [Dean JoAnn] Browning and the College of Engineering build the aviation aerospace program," said Wayne Fagan, former legal counsel for the Dee Howard Co.
---
"The fellowship is meant to serve as another tool that will help…build the aviation aerospace program."
---
---
In 1947 Howard founded his first company, Howard Aero, in a small one-room building on the ramp at San Antonio International Airport. By 1960 Howard Aero had grown to over 1,000 employees and was the largest manufacturing company in San Antonio. In 1964 Howard founded the Dee Howard Co., and in 1970 Fagan began working as the company's legal counsel. Fagan and Howard worked together for 38 years.
Fagan was directly involved with the scale-up of the Dee Howard Co. and often traveled to Europe, Asia and the Middle East to represent Howard in front of CEOs, heads of state and industry leaders. Fagan and Howard developed a cherished friendship over time, which inspired Fagan to work with Howard's family on establishing multiple funds and a certification program for UTSA's engineering students and faculty.
After Howard's passing, his children, Fagan and colleagues established the Dee Howard Foundation in 2013, and Howard's children endowed the Dee Howard Fellowship in Mechanical Engineering. Christopher Combs currently holds the professorship in UTSA's Department of Mechanical Engineering. His primary research interest is in the development and application of nonintrusive diagnostic techniques for compressible flows. 
Additionally, with the support of a grant from the Dee Howard Foundation, an aerospace engineering certificate was created in fall 2019 to prepare mechanical engineering degree-seeking students and non–degree-seeking students with a mechanical engineering background with the fundamental knowledge necessary for successful careers in the aerospace industry. This year the certificate was officially named the Dee Howard Memorial Aerospace Engineering Certificate. 
The Dee Howard Foundation also established the Dee Howard Endowed Scholarship, which assists first-generation college students and students from underserved communities.
Most recently, the Fagans created the Wayne and Julie Fagan Fellowship in Mechanical Engineering, which will be awarded to a faculty member to advance research and scholarship in mechanical engineering as well as help the college drive UTSA's mission to become a nationally recognized research institution.
"The Wayne and Julie Fagan Fellowship in Mechanical Engineering allows the UTSA College of Engineering to help students from a diverse set of backgrounds realize their dreams of joining the aerospace industry as an engineer," said Browning. "This gift provides resources that can make that critical difference to a student between doubting whether the dream is realistic to knowing it is now achievable. And this realization occurs on two levels: financially, of course, but also the sense of confidence demonstrated through this award that the student belongs in our professional circle. We are incredibly grateful to the Fagans for realizing that they can make this difference in student lives and for making it happen."
Dee Howard's legacy will continue to live on at UTSA through the research of the endowed fellows and the work of the scholarship recipients. Memorabilia from the Dee Howard Foundation is also on loan to the College of Engineering and can be seen on display in the lobby of the Engineering Building on Main Campus.