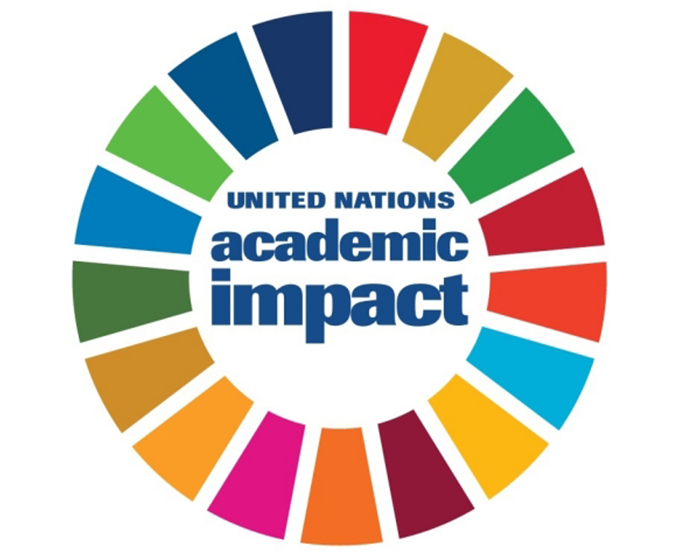 OCTOBER 6, 2020 — Sixteen UTSA students have been named Millennium Fellows by the United Nations Academic Impact initiative and Millennium Campus Network. The fellowship is a cohort program that has students participate in a semester-long leadership program to eventually carry out projects that address United Nations Sustainable Development Goals. All 16 students are in the Honors College, seven students are from the Top Scholars program and one student is a Terry Scholar.
Over 15,000 students worldwide applied for the award, which resulted in the selection of 1,438 fellows across 80 universities and 20 countries. UTSA was one of 29 universities selected in the Americas category, which includes private institutions such as Harvard, Stanford, Duke, Cornell and Baylor, and public research institutions such as Arizona State, North Carolina at Chapel Hill, Pittsburgh and Georgia Institute of Technology. This is the first time that UTSA has a cohort of students named to the fellowship.
UTSA President Taylor Eighmy forwarded his words of encouragement to the incoming class: "We are so proud of our students selected to the class of 2020 Millennium Fellows. As a model Hispanic thriving public research university creating bold futures for students from all backgrounds, UTSA fosters the values of integrity, inclusiveness and collaboration. Our Roadrunner Millennium Fellows wholeheartedly embody these values, and I have great faith that the leadership skills they develop this year will further prepare them to tackle our society's grandest challenges."
---
"The leadership skills they develop this year will further prepare them to tackle our society's grandest challenges."
---
---
The students selected have already demonstrated leadership by coming together as a group during the application stage. In February of last year students were in the process of putting together their project proposals and had one in-person meeting together before the university switched to remote operations due to COVID-19. Since students were at different stages of the application, the group started meeting weekly to discuss their projects, finding areas to collaborate with one another, and sharing tips on writing a statement of grant purpose.
"It was really a unique situation in which these students came together and bonded during the application process. The pandemic had just started and we knew that we weren't coming back to campus in March, and there was just this immediate response for everyone to communicate, share ideas, and will each other to the completion of the grant application," said Andrew Chapman, director of the Office of Nationally Competitive Awards, who assisted the cohort.
"The group is primarily made up of underclassmen in their first and second years, which made this process just that much more special," added Chapman, who is serving as a campus adviser for the group this fall. "We're figuring out technology, how to stay in touch, and how to get on the same page, and everyone did this without skipping a beat."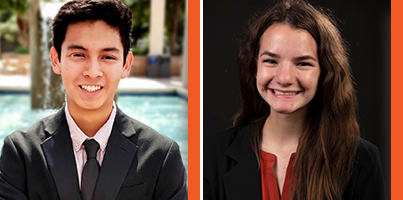 Two students, Joshua Chaj Ulloa and Kathryn Wilson, who were instrumental in the recruitment of students, ended up being named as campus directors for UTSA's cohort. Wilson, a sophomore double major in global affairs and psychology, was one of the students who first completed the application. She attended the group's additional meetings, leading students through the process and providing tips on how to write a statement of grant purpose.
Since this was UTSA's inaugural class, there were a lot of areas that the group had to figure out when designing their projects, making sure they fit in with the criteria of the fellowship. Wilson is excited to lead the group this fall, writing: "It's incredibly exciting to see so many people coming together from different backgrounds with different passions to all make change in our community. I cannot wait to see what we all can achieve this semester and how we can create a legacy here at UTSA."
As Millennium Fellows, the students will develop community-based projects in the next year, using the curriculum provided by the fellowship. The projects varied in approach, but each addresses a particular U.N. Sustainable Development Goal that seek to address worldwide problems, such as poverty, the access to quality education and environmental sustainability.
Several students are forming partnerships with local San Antonio schools to carry out projects that promote access to higher education.
Eliesha Perez is currently working with Edgewood ISD to develop a pen pals program, Letters of Adventure, which will see middle school students communicating with university-level students about their adventurous path to college.
Vikti Mehta is looking to partner with San Antonio high schools to promote financial literacy so that students can start planning for college and take advantage of all opportunities when financing higher education costs.
Other projects are targeting issues of well-being and health disparities affecting Hispanic communities.
Ulloa's project aligns with his academic research interests in cardiovascular health and will seek to set up an education campaign and engaged living campaign for the San Antonio community to fight against cardiovascular diseases.
Honors College Dean Jill Fleuriet related how UTSA's first class of students was supported by the Honors College curriculum.
"This is a fantastic and talented group of honors students, who represent colleges across UTSA," she said. "This year's Millennium Fellows class stems from a productive combination of their own intellectual curiosity, their in-depth exploration with honors faculty during their first year in meaningful global topics courses, and our unique honors experiential curriculum that emphasizes the importance of research, internships and service."
All honors students take a six-credit tutorial sequence on the topics of economy, well-being, environment and justice as well as an introductory class on civic engagement. This course, Civic Ethos, teaches students what it means to be civically engaged in their community and what it means to serve in the community's best interest—as opposed to occupying volunteer positions that are not sustainable.
The course sees students design a service project over the course of the semester, which many of the students adapted for their Millennium Fellows proposal. The honors curriculum also has students enroll in a six-credit sequence designed using the U.N. Sustainable Development Goals.
Throughout their first year in the Honors College, students are reading about current world problems, being exposed to how public intellectuals and world leaders are approaching problems, and how solutions need to incorporate sustainable development if they are to have lasting change.
---
---
While UTSA's first class is just getting started, the Class of 2021 application just opened at www.millenniumfellows.org. The Class of 2020 is already looking to get involved in the recruitment of UTSA's next class, finding ways in which they can visit classrooms across UTSA to let their peers know about the fellowship and how they can get involved in this worldwide network of young leaders.
This semester, you can follow periodic updates about our Millennium Fellows on the UTSA Honors College and Office of Nationally Competitive Award Instagram pages.
These are the Class of 2020 Millennium Fellows:
Kathryn Wilson, College of Liberal and Fine Arts, Campus Director
Joshua Chaj Ulloa, College of Engineering, Campus Director
Yohannes Akiel, College of Engineering
Mufaro Chitakure, College of Business
Alexa Granados, College for Health, Community and Policy
Emily Green, College of Liberal and Fine Arts
Joshua Lazaro, College of Sciences
Madison Lagrimanta, College for Health, Community and Policy
Mark-Joseph León, College of Liberal and Fine Arts
Vikti Mehta, College of Business
Madeline Morales, College of Sciences
Samuel Mosquera Florez, College of Engineering
Tristan Pepper, College of Engineering
Jasmin Paquet-Durand Ford, College of Business
Eliesha Perez, College of Liberal and Fine Arts
Andrew Sanchez, College of Engineering