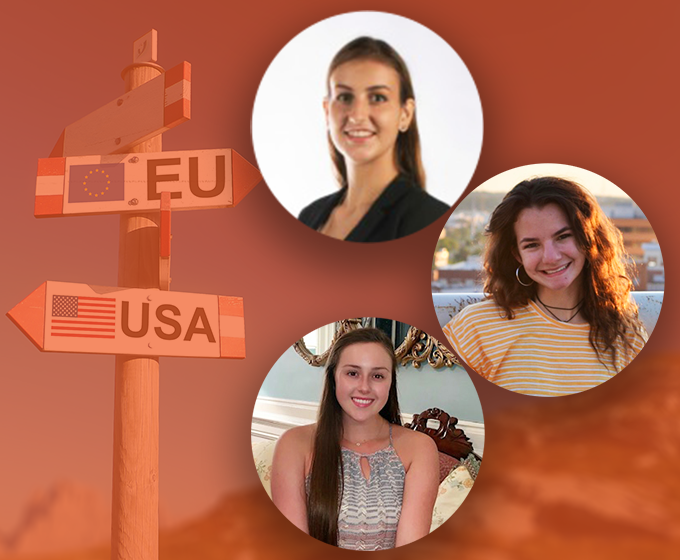 OCTOBER 15, 2020 — Three UTSA students will be the only representatives from Texas to participate at the national Schuman Challenge, hosted by the European Union Delegation in Washington, D.C. The students are studying in the Department of Political Science and Geography, part of the university's College of Liberal and Fine Arts.
UTSA will be among 30 universities, including Ivy League schools, to have an opportunity to offer a model to inspire practicing diplomats on how to think innovatively on the 2020 theme: "How should the EU and the U.S. respond to China's alternative models of governance?"
---
"Our UTSA students will put their global knowledge into action on this national stage."
---
---
 "Usually the grand challenge the competing teams have had to solve is a situation within the EU. However, foreign affairs are really about growing relationships. Hopefully, the Schuman Challenge will contribute to growth both in the transatlantic relationship and relations with China," said professor Boyka Stefanova, a political science professor who will serve as mentor to the UTSA trio.
"It's no surprise that the recent presidential debates touched upon foreign policy and in particular China," Stefanova added. "Foreign relations impact every aspect of life, and they are not that difficult to figure out. It's all about finding how we can focus on our common good and finding a common ground."
The UTSA students who will provide a collaborative solution on behalf of the university hold impressive résumés. Taylor Helmcamp is a junior political science major, COLFA's University Life Awards Outstanding Undergraduate Student for 2020 and an Archer fellow in Washington, D.C., with the Department of State Bureau of European and Eurasian Affairs. Ariana Eads was part of COLFA's Semester in Urbino study abroad program in 2019 and is studying Chinese. Rounding out the trio is Kathryn Wilson, part of the U.N. Academic Impact and Millennium Campus Network's 2020 Millennium Fellows.
The EU's two-day debating contest invites undergraduate students in the United States to present and defend transatlantic policy initiatives before field experts. This year's judges include Stavros Lambrinidis, head of the Delegation of the European Union to the United States; Ian Brzezinski, senior fellow at the Atlantic Council; Karen Donfried, president of the German Marshall Fund; and Jim Sciutto, anchor and chief national security correspondent at CNN.
Most of the 30 teams competing in the Schuman Challenge are among the top-ranked political science programs nationwide. UTSA is the only Texas school to participate and will join Brown University, UC Berkeley, Pepperdine University, Harvard University, Wheaton College, the U.S. Air Force Academy and George Washington University, among others.
---
---
The Schuman Challenge will take place virtually October 28–30.
"Our UTSA students will put their global knowledge into action on this national stage," said Stefanova. "The transatlantic relationship is essential for U.S. foreign policy, but the relationship with China in particular is of critical importance for both sides of the Atlantic."