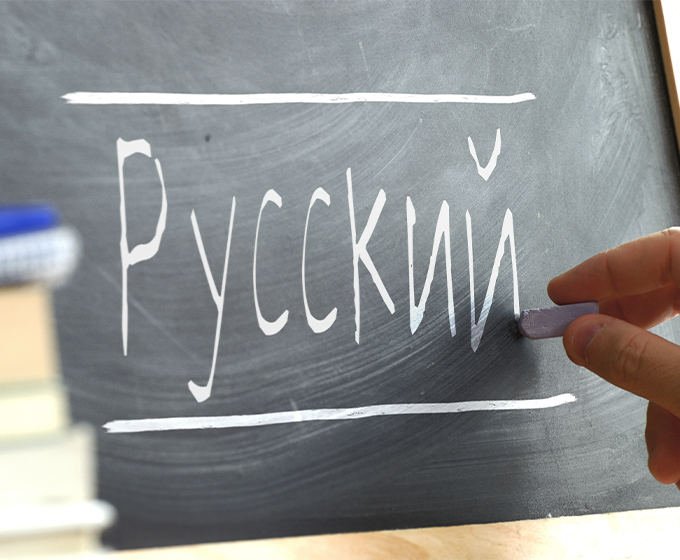 NOVEMBER 2, 2020 — Two students studying Russian in UTSA's Department of Modern Languages and Literatures have been awarded a Critical Language Scholarship, a U.S. Department of State award that fully funds intensive language learning. Generra Strankschreier and Don Moore received the national award from among nine UTSA students who applied across different languages. Around 600 students receive the award annually out of about 6,000 applicants.
Strankschreier and Moore initially received awards to study in Nizhny Novgorod, Russia, and Bishkek, Kyrgyzstan, before the program moved to an online instruction model due to COVID-19. Students on CLS programs participate in intensive language study groups for eight to 10 weeks with other American students from around the country.
While Strankschreier and Moore won the award for a language that they study at UTSA, the program also offers the chance for undergraduate and graduate students to pick up less commonly taught languages, such as Indonesian, Persian, Punjabi, Swahili, Turkish and Urdu. Although the program is federally funded, students do not necessarily need to be seeking a career in government.
---
Receiving national recognition from CLS is a testament to the work of the UTSA Modern Languages program.
---
---
In her application Strankschreier related how her experience on a UTSA Abroad program in Moscow last summer would help her succeed on the CLS program. Not only did UTSA's Moscow program, offered by the Department of Modern Languages and Literatures, introduce her to Russia, but it taught her to take risks, reach out to others and embrace unfamiliar situations.
Through the online program Strankschreier was able to improve her knowledge of the Russian language as well as learn about Russia's diverse cultures. She was placed at a virtual program at Lobachevsky State University of Nizhny Novgorod, which is the same university that she originally planned to attend in person.
Commenting during the program this summer, Strankschreier related how the intensive program was organized: "It's a heavy workload, but things are going smoothly on my end. I have class Monday through Friday from 11 a.m. to 1 p.m., and I have an individual consultation with my instructor once a week. Aside from that, I meet with my language partner twice a week for an hour."
Having also studied German at UTSA, Strankschreier is particularly interested in Germanic influences on the Russian language and how their meaning changed over time. Upon graduation she hopes to attend Humboldt University in Berlin to study Russian and German linguistics and eventually work as a university librarian.
Strankschreier's professor and director of undergraduate language programs, Marita Nummikoski, has been a great supporter of the CLS program: "Generra Strankschreier is the fourth student who started with the Russian language here at UTSA and who was able to reach this level of distinction. Our Russian program is small, but we have some excellent students who continue to make teaching, supporting and encouraging them to reach for the stars a truly rewarding experience. This is why we teachers love our job!"
Before coming to UTSA Don Moore served in the Marine Corps as a Russian and Arabic military linguist. During his service he traveled to Russia, Kazakhstan, Uzbekistan and lived in Georgia, where he studied abroad through San Diego State University. Beginning his studies at UTSA in computer science, Moore looked to CLS as a way to improve his Russian proficiency, since his proficiency had already passed the advanced coursework offered in modern languages. Moore hopes to one day work as an interpreter or language instructor at the Defense Language Institute at Monterrey. 
---
EXPLORE FURTHER
---
Critical Languages are designated by the National Security Education Program. They are a group of non–Western European languages that the U.S. deems to be critical to national security. National scholarship programs like CLS, the Boren Scholarship and the Gilman Scholarship are a great fit with UTSA's academic programming and student body.
"As UTSA continues to expand academic programs related to U.S. national security—as well as serve students who are contributing to this mission—programs like CLS will be integral to forwarding our students' and our university's goals," related Andrew Chapman, director of the Office of Nationally Competitive Awards at UTSA.
Receiving national recognition from CLS is a testament to the work of the UTSA Modern Languages program, which has supported these two students through the application process. UTSA has had five total awardees since 2012—prior to this year in Japanese, Russian and Chinese. The Critical Language Scholarship application is now open and applications will be accepted until November 17.