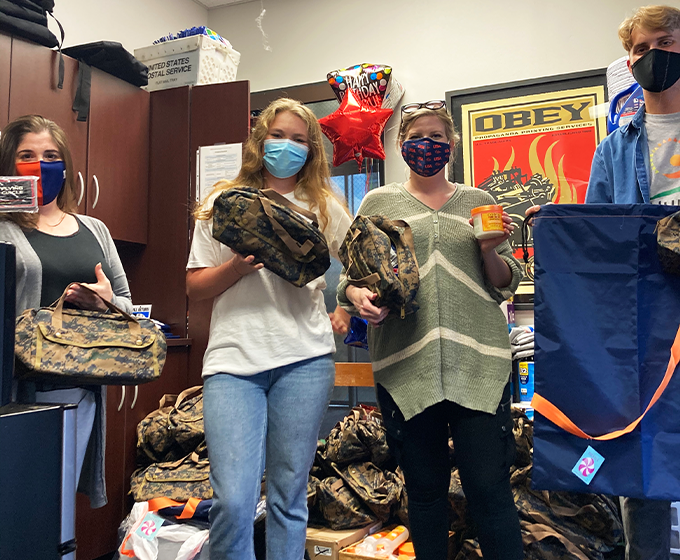 NOVEMBER 19, 2020 — Two local siblings, Hailey Beaton '21 and Hunter Beaton, are passionate about helping the San Antonio community and continuously put that enthusiasm into practice.
Hunter Beaton's nonprofit organization, Day 1 Bags, generously donated 30 bags to The UTSA's Fostering Educational Success Center in January. The bags were filled with hygiene products and other necessities for students with a history of foster care.
After Day 1 Bags grew into an official 501c(3) organization over the past year the organization was able to increase its support for UTSA by providing a total of 150 bags for students this semester in partnership with the UTSA student women's organization Respect, Opportunity, Service, In-tandem Empowerment and Spirit.
---
"Supportive relationships like this are crucial to student success and ensuring our Roadrunners with a history of foster care feel at home at UTSA."
---
---
Hailey Beaton works as the treasurer for ROSIES and as the digital content creator for Day 1 Bags. ROSIES raises funds for charitable causes around San Antonio and with Beaton's help, the group partnered with Day 1 Bags in October to support even more students connected with the Fostering Educational Success Center.
Beaton facilitated the service project between Day 1 Bags and ROSIES that provided 100 toiletry bags and 50 blue-and-orange sling bags filled with hygiene products and protective masks along with donated Halloween candy and cards created by ROSIES members.
"I've had such a great experience at UTSA, and I was excited when I was asked to be a board member of ROSIES to give back to the community. Most of the women in ROSIES know someone who is currently in or has aged out of the foster care system and were excited to hop on board and give back through this partnership," Beaton said.
Students in the FESC have shown much gratitude for all of the support provided by UTSA students and partnering organizations like Day 1 Bags. 
---
GET INVOLVED
---
The center offers Be a Champion! Foster Care Initiatives training to UTSA faculty and staff who are interested in learning more about supporting students with a history of foster care. Visit training.utsa.edu to sign up.
---
EXPLORE FURTHER
---
"This service project is a wonderful demonstration of how our Roadrunner community comes together to support students with a history of foster care," said Emily Miller, associate director of the FESC. "Not only have our students been provided with critical resources, thanks to this donation, but a clear pathway bridging students to ROSIES and all the amazing opportunities this organization has to offer has also been built.
"Supportive relationships like this are crucial to student success and ensuring our Roadrunners with a history of foster care feel at home at UTSA. We are thrilled that ROSIES has committed to be a champion for our initiative and extend our gratitude to both ROSIES and Day 1 Bags for this generous donation."