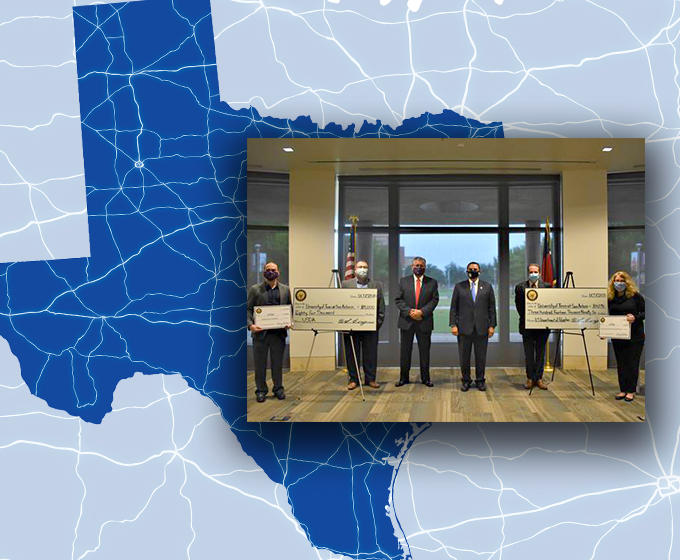 NOVEMBER 18, 2020 — UTSA brings new support to rural Texas communities and Texans needing child care services. This support will be for Texas small business consulting, training and growth, jobs creation, rural economic development and child care services for low-income UTSA students.
U.S. congressman Henry Cuellar was recently on UTSA's campus to help announce $398,096 in federal funds that are newly available for Texans. The money is provided through UTSA's Institute for Economic Development by grants from the U.S. Department of Agriculture and the U.S. Department of Education. Cuellar supported delivery of these grants to Texans.
UTSA has long supported Texas small businesses, helping them get started, grow and prosper. In 2020 UTSA has been actively involved in providing relief funding, training and support to small businesses hurt by the novel coronavirus. Tonya Britton of the Giddings Economic Development Corporation in Giddings explained how they have been helped by UTSA.
---
"We must address the current needs of working families by supporting them with services such as child care and workforce development."
---
---
"We've learned so much working with UTSA and Retail Strategies and the timing could not have been better. The program helped instill confidence that we have the support and skills necessary to tackle this COVID-19 challenge," Britton said. "As a small rural community, we have a small budget so programs like this ensure that we are able to represent our community professionally and that we have a fighting change at competing on the national playing field."
This new $84,000 in federal funds received through the USDA's Rural Business Development Grant program will further aid Texas small businesses in rural areas of Texas. The purpose of the grant funding is to help six rural communities in Texas grow their local economies by bringing new retail businesses to their communities. The Texas cities are Borger, Giddings, Lamesa, Tahoka, Perryton and Sweetwater.
UTSA will use this funding to provide these communities with education and assistance focused on retail trends in a COVID-19 world, real estate development, downtown strategies, retail incentives and redevelopment through an online portal managed by UTSA partner Retail Strategies LLC. Additionally, community leaders participating in the program will receive individual community analysis to support proven strategies and tools to attract retail businesses into their community.
UTSA's Institute for Economic Development and the South-West Texas Border Small Business Development Center will be working together to provide this technical assistance. "Retail recruitment means economic development for rural communities," said Matthew Jackson, director of Texas Rural Retail Academy. "UTSA's Institute for Economic Development has been helping rural communities in Texas for years, and we are proud to receive this grant to continue this work. This program will empower these rural Texas communities to assess and recruit retail businesses to their communities through hands-on training, research and technical assistance from UTSA." 
---
EXPLORE FURTHER
---
The second grant of $314,096 to cover a five-year period will support the Aim High Child Care Scholarship at UTSA, a need-based scholarship program that will provide campus-based child care services to over 80 children of low-income undergraduate and graduate students. The goal of the project is to reduce the out-of-pocket expense student parents pay for child care, help student parents focus on studies and empower them as their child's first teacher through parent engagement.
"We must address the current needs of working families by supporting them with services such as child care and workforce development," said Cuellar. "I would like to thank UTSA President Taylor Eighmy and the rest of his faculty and staff for their commitment in providing students with the necessary aid and support needed to successfully reach the goal of graduating with a college degree."