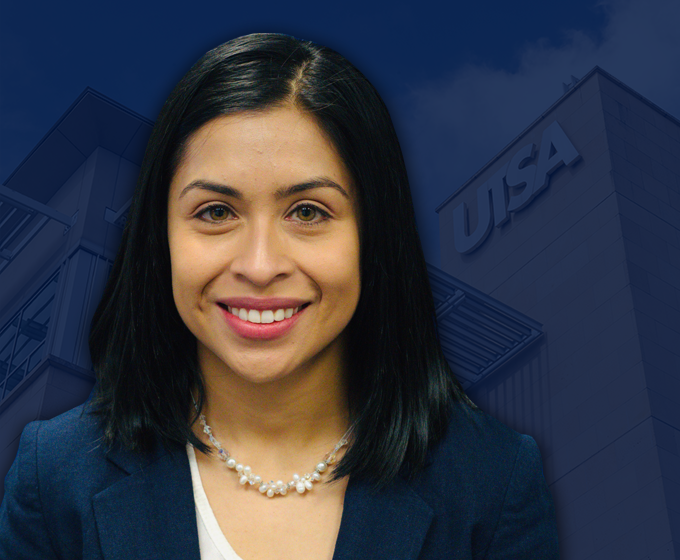 NOVEMBER 13, 2020 — Vanessa Cardenas Tilton '20 will proudly tell you she was raised to give back to her community. Hailing from Del Rio, it's a passion she's sustained through serving in Alaska and Afghanistan as an intelligence analyst for the U.S. Army, through her ongoing education at UTSA, and will continue through a career in the field of nutrition and dietetics.
"No matter what I'm doing or where I am, I'm going to give back. That's just who I am," she said. "Those little things you do can have a huge impact on someone later on in their lives."
Tilton has made quite the impact everywhere she has gone. When she wasn't briefing commanders or honing her combat skills while stationed at Fort Wainwright in Alaska from 2010 to 2014, she committed herself to community service efforts across the city of Fairbanks. She helped prepare meals for delivery and clean the kitchen while volunteering for Meals on Wheels. She worked with Mothers Against Drunk Drivers at various health fairs. During her daily lunch hours, she'd leave the military base to visit her little sister as part of the Big Brothers Big Sisters program—playing games and giving her a space to vent about her home life.
---
"You have to figure out how to best help that person in that small amount of time that you get to see them."
---
---
Some of her fondest volunteering memories come from a JROTC camp where she was a mentor and camp counselor for young cadets from Lathrop and North Pole high schools. Teaching them about marching and the importance of leadership qualities, Tilton admits she was a little more forgiving than her male military counterparts. She felt as if she made a great connection with many of the teens, and it was reciprocated when she was forced to leave camp before its conclusion when her grandmother passed away.
"I got all these pictures that were sent to me and messages that said 'We miss Specialist Cardenas' and 'We wish you were here,'" Tilton recalled. "It definitely made me emotional."
Tilton's community service efforts were so great and numerous while stationed at Fort Wainwright that she was awarded the Military Outstanding Volunteer Service Medal, an honor in which she takes great pride. "That medal meant a lot to me," she said. "It's a different kind of medal than the ones I earned in Afghanistan. It was more personal. It was more about self-motivation."
She also found motivation for her college education and a potential career during her military service—although it certainly wasn't by choice. "I realized nutrition was so important when I was eating cereal or MREs (meals ready to eat) in Afghanistan for breakfast, lunch and dinner," Tilton remembered. "I desperately wanted fresh food, but that's incredibly difficult in the middle of Afghanistan. I looked forward to the days when I could eat a piece of watermelon or any kind of fruit." Because of a poor diet largely based in heavily processed meals, she reached the end of her military service with gastrointestinal issues and a newly developed lactose intolerance. The experience inspired Tilton to educate herself and others about proper nutrition.
Upon return to South Texas in 2016, Tilton attended UTSA with eyes on a double-major in kinesiology and nutrition & dietetics. She continued to devote countless hours to volunteering, although her efforts were now focused on improving community health. She joined the Dietetic and Nutrition Student Association to speak with prospective students interested in studying nutrition and health fields. She also volunteered for Project Power, a youth camp initiative of the American Diabetes Association that intends to slow the trajectory of childhood obesity through exercise and nutrition education. Tilton mentored the campers, many of whom were at high risk of developing diabetes, about limiting media use and eating better.
She also volunteered and then interned for the San Antonio Food Bank and Texas A&M AgrilLife Extension, where she assisted in the production of healthy meals for the Pre-K 4 SA afterschool program, helped create a school garden, and prepped healthy snack recipes for children. Tilton said it was especially meaningful to her because she wished she and her loved ones had been given the same kind of opportunities during her childhood. "A lot of us don't get proper nutritional education, especially those of us who come from poor border towns like Del Rio where there isn't a lot of money for public schools," she said. "That's something I really want to change."
Tilton earned her B.S. in kinesiology earlier this year and is now in the Coordinated Program for Dietetics working toward both a B.S. in nutrition & dietetics and a Master of Dietetic Studies (M.D.S.) in 2021. She's currently in the throes of a demanding four-days-a-week clinical rotation and aims to complete the national exam to become a registered dietitian. From there, she'll have plenty of career paths to choose from. She initially attended UTSA with hopes of becoming a sports dietitian, but Tilton now envisions herself beginning her professional journey in a clinical setting.
---
EXPLORE FURTHER
---
"The reason I want to start off in a clinical setting when I graduate is because I want to challenge myself. For me, a challenge is a patient with renal disease, diabetes, liver disease, heart failure, or a complex patient who has many of those conditions and is resistant to change. It's not simple," she explained. "You have to figure out how to best help that person in that small amount of time that you get to see them—and I like that. I've always liked that."