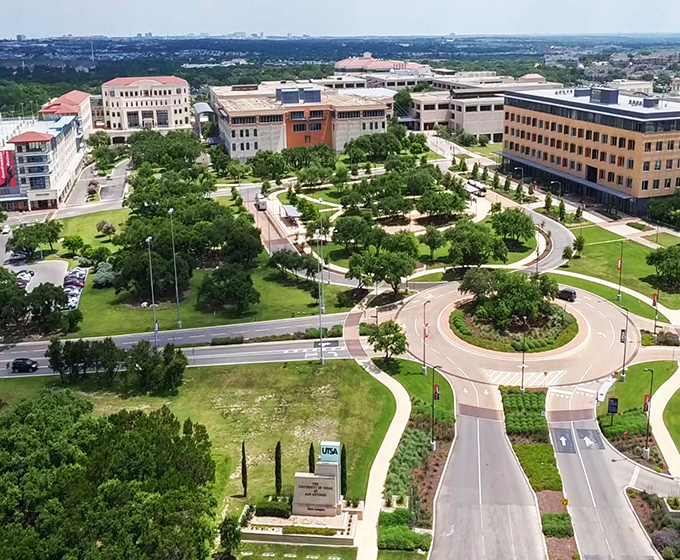 DECEMBER 2, 2020 — With a focus on advancing knowledge through research and discovery, The University of Texas at San Antonio closed out fiscal year 2020 with its highest total research expenditure numbers in its 51-year history. In FY 2020, UTSA's total research expenditures increased to $134 million. This is a significant milestone for UTSA as it propels toward National Research University Fund (NRUF) eligibility and recognition as a Carnegie R1 high intensive research institution.
"These latest figures demonstrate our faculty's relentless commitment to innovative research that tackles the grandest challenges of our times," said UTSA President Taylor Eighmy. "This accomplishment is a tangible indicator of UTSA's emergence as a powerhouse discovery enterprise, well on our way to achieving our nation's most prestigious research university designations."
---
"These latest figures demonstrate our faculty's relentless commitment to innovative research that tackles the grandest challenges of our times."
---
---
Research Enterprise
The record-breaking research expenditure figure and expansion of scholarly activity overall stems from cross-institutional efforts led and supported by the UTSA Office for Research, Economic Development, and Knowledge Enterprise in coordination with the Divisions of Academic Affairs, Information Management and Technology, and Development and Alumni Relations.
The Knowledge Enterprise's FY 2020 achievement represents a 66% increase in overall research expenditures from $80.6 million in FY 2019 to $134 million in FY 2020. Restricted research expenditures have also increased by 26%, from $50.8 million in FY 2019 to $64.3 million in FY 2020.

The UTSA research community received 366 new awards totaling nearly $100 million in support for diverse research projects in all disciplines, from cybersecurity and artificial intelligence to extreme environments and regional water sustainability, to biomedical breakthroughs and assessing educational disparities.
Propelling the institution's momentum into FY 2021, UTSA received its largest research award to date when the U.S. Department of Energy selected the university to lead the $111 million Cybersecurity Manufacturing Innovation Institute (CyManII). The win illustrates the power of collaboration—incorporating 59 academic, industry and nonprofit partners—and positioning UTSA as a national leader in cyber manufacturing.
In furtherance of UTSA's Research Excellence initiative, the National Security Collaboration Center (NSCC) has signed a Cooperative Research and Development Agreement with the Air Force Research Laboratory to facilitate innovation and collaborative research and development at UTSA in support of the U.S. Air Force. 
To further foster transdisciplinary research across campus into FY 2021 and beyond, five UTSA research centers and institutes have been structurally aligned under the Knowledge Enterprise. They include the Brain Health Consortium, MATRIX AI Institute for Human Well-Being, Open Cloud Institute, NSCC and CyManII.
"Research expenditures and associated metrics are key components for achieving Carnegie R1 status and triggering NRUF. However, what is most important is that this research activity drives both innovation, which ultimately benefits our local and global society, and the economic mobility of our students who receive mentoring and gain real world experience through their participation in these activities," added Bernard Arulanandam, UTSA vice president for Research, Economic Development, and Knowledge Enterprise. "We have the opportunity to train and positively impact the next generations of scientists and researchers."
UTSA Institute for Economic Development
   
In addition to these significant research achievements, during FY 2020, the UTSA Institute for Economic Development generated $2.4 billion in direct economic impact assisting 35,843 aspiring entrepreneurs and existing small businesses. Small business growth and recovery created and retained over 11,853 jobs, generated $395 million new financing, and $1.97 million in new sales, contracts and exports. 
CARES Act funding allowed the UTSA South-West Texas Border Small Business Development Center Network to launch a new, specialized program: the UTSA SBDC COVID Business Recovery Accelerator. Resources were also added to the existing footprint of 10 field and three specialty centers within the network's 79-county service delivery area. For the fiscal year ending Sept 30, 2020, 13,674 entrepreneurs received COVID-19 disaster-related business assistance to assist them with recovery issues and to plan for an uncertain future. SBDC clients have received over $50 million by accessing SBA Economic Injury Disaster Loans, SBA Paycheck Protection Program Loans, and other COVID-19 related loans and grant funding.
"The Institute for Economic Development is especially proud that our contribution to UTSA becoming a great research university also helped San Antonio and Texas small businesses stay strong and weather the financial hardship brought by the coronavirus in 2020," said Rod McSherry, UTSA associate vice president for Innovation and Economic Development.

Commercialization and Innovation
In FY 2020, the UTSA Office of Commercialization and Innovation (OCI) managed 56 new technology disclosures with 55 patents and seven trademarks filed, and 21 patents issued.
Six companies were incubated in the New Venture Incubator. Two UTSA startups received Phase I SBIR funding, for $449,246 and another UTSA startup received the inaugural $50,000 SAMMI fund investment award for military medicine from the City of San Antonio.
To strengthen UTSA startups and increase their odds of success, with support from The University of Texas System, the Venture Mentor Service San Antonio (VMS-SA) was established jointly with UT Health San Antonio's Office of Technology Commercialization. Twelve business mentors were recruited and trained then introduced to three VMS-SA companies for potential collaboration.
To expand student entrepreneurship activity on campus, the OCI also led a grant application to the UT System, which resulted in a $300,000 award to support a new executive director for Student Innovation and Entrepreneurship, a jointly managed position with Academic Affairs' Career Engaged Learning unit.
"Despite a worldwide pandemic, UTSA researchers and their supporting research community have worked collectively on research and on enhancing processes and procedures to maximize and capture scholarly output to ensure the institution's continued upward trajectory as a premier public research university," Arulanandam concluded.