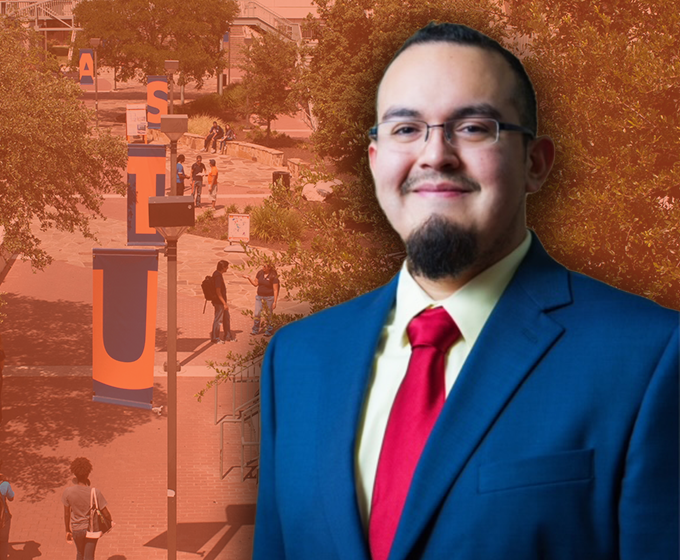 DECEMBER 15, 2020 — When Joshua Anzaldúa started in his doctoral program within the Department of Educational Leadership and Policy Studies, under UTSA's College of Education and Human Development, in fall 2018, it was difficult to find other scholars who looked like him but were also members of the LGBTQ community.
So Anzaldúa decided to look toward other places and found the Center for Black, Brown and Queer Studies (BBQ+), a national nonprofit organization, which he just joined this semester.
The center focuses on interdisciplinary research, pedagogy and mentorship in critical race, Indigenous and postcolonial, and queer studies. Its fellowship looks to bringing together a diverse group of scholars from undergraduates to postgraduates.
"This is the first time that I am honored to be part of and share [virtual] space with an amazing group of fellow queer scholars," Anzaldúa said. "What I find most unique and rewarding is to hear and read work—that I have not been exposed to—through the various perspectives of my BBQ+ colleagues. My peers in the fellowship program come from very diverse scholarly backgrounds, are at various stages of their academic and professional lives, are enrolled at various institutions of higher education, and are from various parts of the world."
---
"I am grateful to have found a group of scholars who I can freely share my ideas with."
---
---
Anzaldúa's experience is unlike any program he's been a part of, he said.
"It is both humbling and a pleasure to listen and learn from these wonderful scholars," Anzaldúa said. "I am grateful to have found a group of scholars who I can freely share my ideas with and who can relate to me and my lived experiences."
As part of the fellowship, the cohort of fellows works with the center's leadership to develop their research programs and prepare for their professional careers. Anzaldúa is working on a project that stems from his conceptual paper called "Social Justice Teaching and Student Trauma: Toward a Trauma-Informed Critical Pedagogy," which the 2021 American Educational Research Association recently accepted for its annual meeting.
"My qualitative study has already been approved by our institution's IRB office and seeks to examine the positive and/or negative psychosocial impacts of critical and inclusive pedagogies during student and instructor higher education classroom experiences," Anzaldúa said. "I have already begun sharing elements of this project with BBQ+ during our writing clinics and hope to gain additional substantive, critical feedback as the academic year progresses."
Anzaldúa will continue the fellowship for the remainder of the 2020–2021 school year.
"This fellowship has already introduced me to scholarship outside of my discipline that I have not been exposed to in my current program," Anzaldúa said. "I have been able to broaden my perspectives on critical topics and gain knowledge from various disciplines such as anthropology, sociology, history and philosophy. This kind of exposure to new knowledge has and will continue to transform how I consume and produce knowledge."