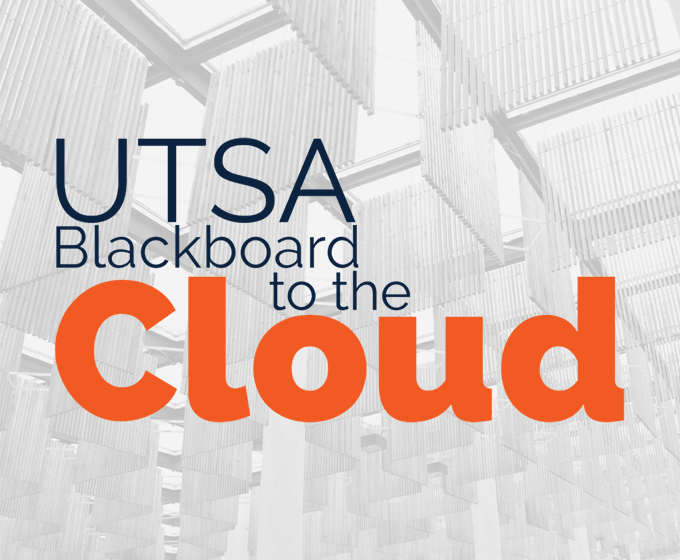 DECEMBER 3, 2020 — When UTSA students, faculty and staff return for the Spring 2021 semester, they will be welcomed by a friendlier, more intuitive, and more reliable Blackboard learning management system. As the university's web-based course management platform, Blackboard has become a critically important piece of the university's academic infrastructure since the majority of classes are being held online.
The Division of Academic Innovation has worked extensively this semester to migrate Blackboard to the cloud in order to provide stronger server stability, streamlined navigation, and many features the UTSA community has been asking for. Moving to the cloud is an essential step to support UTSA's growth and better support faculty needs and student success.
Blackboard Cloud features include:
New homepage: The clutter from the Blackboard homepage has been removed. Now the only info on this page will be useful resources, events, and a built in Blackboard support chat.


Streamlined navigation: It was difficult for new Blackboard users to find where they needed to go. The new navigation is clearer and more intuitive.


Easy chat support: Chat support will now be available directly from the new Blackboard home page instead of needing to navigate to a separate webpage.


Enhanced reliability: Servers more easily scale during periods of high usage to ensure the system doesn't slow down. Zero-downtime maintenance means Blackboard is available when you need it.


Global tools: Many popular tools now work globally. Access course messages, calendars, and grades across all of your courses at once. The new activity feed shows what's new since you last logged in.


Improved mobile compatibility: Navigation is now consistent with the Blackboard app and enhanced notifications settings gives you more choice over what messages you receive through email or your mobile device.
The cloud migration will take place December 19-22 (after final grades have been turned in), during which time Blackboard will be unavailable. Once the migration is complete, users will notice an updated Blackboard home page and navigation menu. All course content will remain intact so faculty and students can expect a similar course experience.
---
EXPLORE FURTHER
---
The UTSA community can preview the new cloud experience before it goes live for the spring semester. The Faculty Cloud Tour is an interactive video module for instructors to see the new changes and learn some tips for improving their workflow.
The Student Experience video is a quick introduction to the new Blackboard home page and navigation. Students will learn how to easily find the information they need and set up their profile and notification settings.