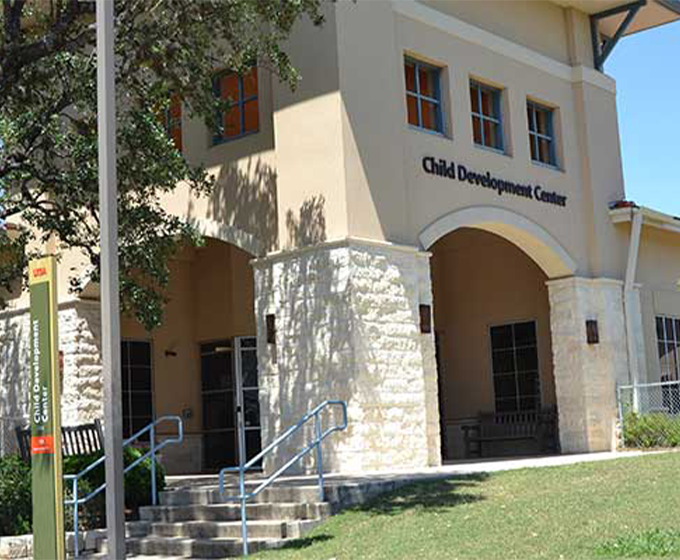 DECEMBER 7, 2020 — The staff of UTSA's Child Development Center will be ready to provide services to students, faculty and staff who are parents when it officially reopens for the spring semester.
The center, now under the direction of Pamela E. Ray, will open on Tuesday, January 5, the first time since closing in March due to the COVID-19 pandemic. Ray said the team is ready to get things going again under a new theme: UTSA CDC Destination Good to Great #UTSACDCG2G. During the fall semester the staff has been participating in a specialized book study training using a book by Jim Collins, Good to Great: Why Some Companies Make the Leap and Others Don't.
"We've been working really hard to bring the center to reopening status," Ray said. "We've had monthly meetings with our parents, and they know where we're at. Some were more anxious than others, asking us when we were going to open, but we wanted to open right. We want to open safely."
---
"We want to reach our vision to be a world-class campus children's program."
---
---
The Child Development Center is a program within the College of Education and Human Development. It provides early care and education for children from 6 weeks to 5 years old through a developmentally appropriate program accredited by the National Association for the Education of Young Children, licensed by Texas Health and Human Services, and ranked 4-Star by Texas Rising Star, a system for rating early childhood programs.
Since staff returned to work at the center on August 17, they've been hard at work preparing for the reopening by taking certain safety measures and undergoing some remodeling to classrooms to ensure that newly modified national, state and local health protocols are met.
"We have put together a reopening task force made up of university personnel from risk management, facilities, quality assurance, security police, the College of Education and Human Development and more—all key university personnel that support our work to provide quality care for all children," Ray said. "Mainly we put together this task force so that we can prepare to reopen safely and operate during COVID-19. We put together a reopening plan, and it's been reviewed and approved by our university officials, which we thank for the ongoing support."
The center will operate under adjusted hours from 7:30 a.m. to 4:30 p.m.
"We will be making whatever necessary safety and health modifications as we continue to provide services," Ray said. "We're very hands-on with providing developmentally age-appropriate activities for all children and family engagement to monitor child progress and support family needs. We provide the children three nutritious meals—breakfast, lunch and then they have an afternoon snack. We offer a learning experience that focuses on research-based play approaches to learning during interactive indoor and outdoor activities."
The Center uses Creative Curriculum, which looks at a child's strengths, interests and needs as well as family engagement.
Ray, comes with more than 20 years of knowledge and experience in early childhood and higher education. She established the early childhood program at St. Phillip's College, served as a federal consultant for Early Head Start/Head Start, commissioner for 2-Year Accreditation Program and inaugural board member for PreK4SA. Ray said she looks forward to taking the center in a "great direction."
"As the Child Development Center moves forward, one of our key things is a rare destination of good to great," Ray said. "We've been doing good things, but we want to reach our vision to be a world-class campus children's program. We will be reopening under a whole new concept. We are rebuilding. We are rebranding. We have reimagined ourselves."
When the center does reopen, it will start implementing the Aim High Child Care Scholarship Program, backed by a $300,000 grant over four years funded by the Department of Education's CCAMPIS Grant. In addition, the center will embark on a partnership with Education Service Center, using a grant from the Children's Learning Institute, to work with the teachers in the preschool classrooms to enhance quality but also help the teachers prepare the children for school.
"Two of our preschool classrooms, our three-year-old and four-year-old classroom, will be going through the Texas School Ready (TSR) model training, and upon completion, the center will be a recognized TSR site," Ray said. "The Center's teachers will receive supplies, Chromebooks for data collection, and classroom mentorship to help prepare the children for school." 
---
EXPLORE FURTHER
---
Ray added that she looks forward to seeing the center become reaccredited, continue to retain its quality teachers and support the university's strategic goal to expand quality child development services with a center at the Downtown Campus, and in the future, a new building for the Main Campus center.
"However, the main goal is being the support for our student parents as they strive for reaching that goal of graduating," Ray said. "We want to be able to provide this service to help them out while they are taking classes to graduate. This is the ultimate benefit of having a child development center at an institution of higher education because the campus is preparing the whole family from cradle to career."