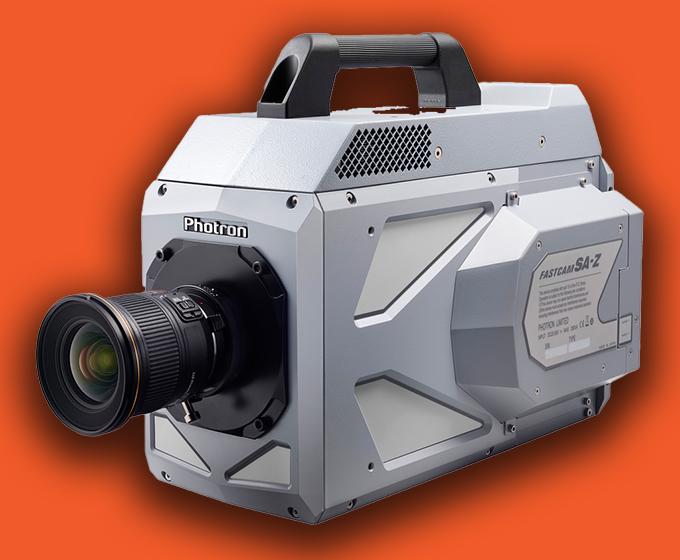 DECEMBER 8, 2020 — What can you do with a video camera that captures up to 2 million frames per second? Christopher Combs, the Dee Howard Endowed Assistant Professor in Aerodynamics in the Department of Mechanical Engineering and core faculty member of the Center of Advanced Measurements in Extreme Environments, said there are many possibilities. Combs will primarily use the new camera to support research in his high-speed aerodynamics lab at UTSA.
This type of camera is also being used to help UTSA's softball team and could be available for other unique types of applications on campus.
Through CAMEE, Combs has received a grant from the Defense University Research Instrumentation Program, under the U.S. Department of Defense, to purchase a second Photron FastCam SA-Z video camera and high-speed image intensifier, which will provide almost night-vision capability for the camera.
---
"This camera is also an outreach and engagement advantage—and that's exciting."
---
---
With a total amount of $248,000, the award will also provide funding for co-investigator Noel Clemens at The University of Texas at Austin to purchase two matching Photron SA-Z cameras. Combs and Clemens will use the cameras as part of their ongoing work funded by the Air Force Office of Scientific Research studying the effects of aircraft traveling at hypersonic and supersonic speeds.
"The hypersonic environment is about as extreme as you can get," said Combs. "Things are moving very fast, so to capture it in real time, you need something that can frame at this rate. It's a phenomenon that's very complex from a scientific standpoint and very problematic from an aircraft design standpoint that we're working on. There's a good deal of Air Force– and NASA-funded research that this is going to impact."
The Photron cameras will see plenty of use at the research lab Combs leads on campus, including UTSA's Mach 7 Ludwieg Tube, or wind tunnel, which is scheduled to be operational in 2021. The cameras will be critical to gather data to make the next generation of high-speed systems a reality. As part of the excellent experiential learning opportunities that UTSA provides, Combs is committed to making sure students get plenty of hands-on opportunities to use the Photron camera in a variety of applications.
"We want to foster an environment where students are excited to go into the lab because they get to work with this state-of-the-art equipment," Combs said. "We want to give them every opportunity to learn to use these tools and become experts capturing these advanced measurements. That would be a real asset for them as they're moving forward in their careers."
Combs added that although both cameras will be primarily used in his lab, they're a UTSA resource available to other departments on campus. Credit the UTSA softball team for being among the first to use the Photron to help the team generate more strikeouts.
"We're recording how the pitchers release the ball and how the ball spins and moves. We can watch that very clearly with these cameras," Combs said. "It gives us some insight into why they've got a really good drop ball or maybe the rise ball isn't working. We can look at the video and learn how they can make that pitch better."
---
EXPLORE FURTHER
---
From conducting important experiments for the military and NASA to helping softball pitchers slide one past hitters, the FastCam Photron camera is a valuable tool that keeps UTSA and CAMEE on the cutting edge of research.
"This camera is also an outreach and engagement advantage—and that's exciting," said Combs. "It's a university resource. We want to collaborate with people, and I encourage anyone that has a good application for it to reach out."