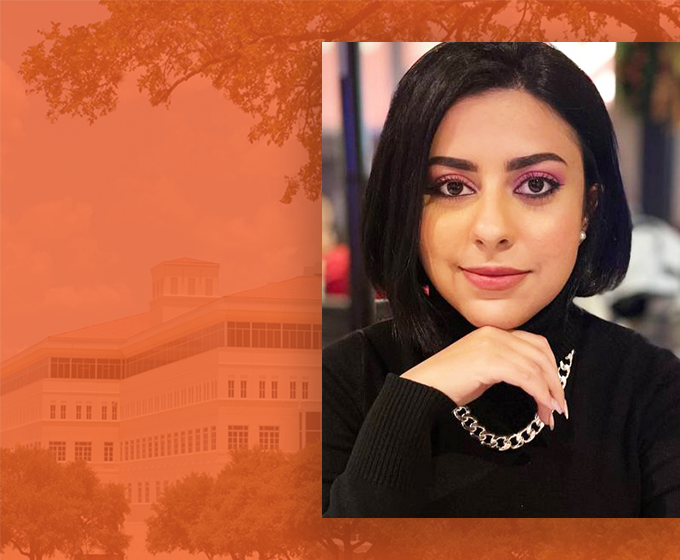 JANUARY 26, 2021 — The final results of a pilot program led by UTSA to test wastewater for SARS-CoV-2, the virus that causes COVID-19, confirms the program proved to be effective in helping local health officials track spread of the disease in the community.
The study began in June 2020 and concluded in December. UTSA received nearly $160,000 for the project under a program led by the Health Collaborative involving resources from the City of San Antonio and Bexar County. It was led by Vikram Kapoor, an assistant professor in the Department of Civil and Environmental Engineering, along with Ph.D. student Haya Al-Duroobi and the graduate student members of Kapoor's lab.
The team monitored the presence of SARS-CoV-2 through testing wastewater sewage containing feces, bodily fluids and other residues. A preliminary report found levels of coronavirus in wastewater closely correlated with positive COVID-19 cases reported through San Antonio Metro Health. Later in the study the research team was able to see concurrent spikes in coronavirus spread after large social gatherings that coincide with holidays.
---
"Researchers are doing work in the lab that complements the efforts of the health care and other front liners ."
---
---
"Through our testing, we found increased levels of COVID after the Fourth of July and again after the Thanksgiving break," said Al-Duroobi. "We're currently processing samples from the Christmas/winter break so we can get a solid conclusion on whether social gatherings contribute to COVID spikes. We'll have those results available in mid-February."
With the pilot program over the UTSA team is seeking additional funding to continue the wastewater COVID testing program. Al-Duroobi said there are additional benefits from wastewater testing that still haven't been applied. The pilot program pulled samples from wastewater treatment facilities operated by San Antonio River Authority serving the Converse area. She said future testing could focus on other communities where COVID testing is not prevalent.
"We only collected samples from a small portion of the area, and we are ready to apply our technology in other parts of San Antonio, especially to the disadvantaged communities that, for a variety of reasons, don't get tested at the same levels as the rest of the population. This would be an effective, noninvasive method to monitor COVID spikes and then follow up with awareness messaging on proper precautions to prevent further spread," said Al-Duroobi. "There are some privacy issues of testing smaller communities, so we need the support of the local authorities along with additional funding to move forward with testing in these areas."
As vaccines are being distributed, Al-Duroobi added that wastewater testing is also an ideal method to monitor impact of the inoculations.
"Wastewater testing would give our public health authorities critical information to confirm whether vaccines are decreasing disease prevalence over time." 
---
EXPLORE FURTHER
---
While waiting on next steps Al-Duroobi is proud of the contributions from her research team in the battle to control COVID spread.
"Researchers are doing work in the lab that complements the efforts of the health care and other front liners trying to find solutions," said Al-Duroobi. "This is a challenge that requires unique solutions, and this is what our scientist engineers are for, so I'm very proud to be part of the effort from UTSA to help eradicate this virus."