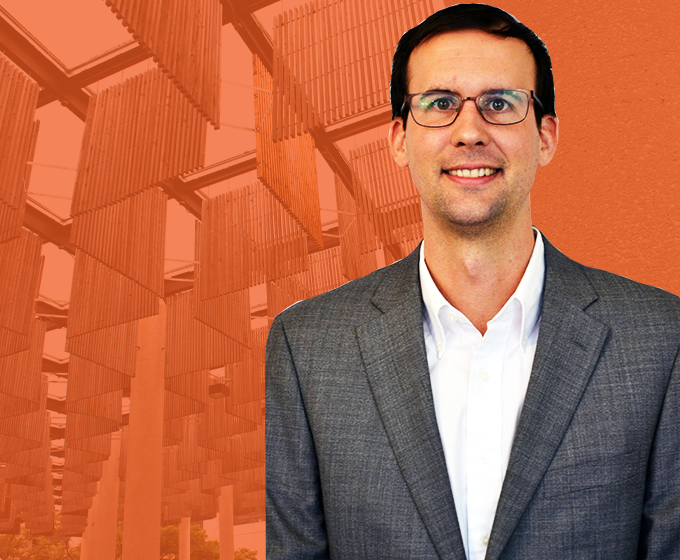 JANUARY 7, 2021 — Neil Debbage, assistant professor of geography and environmental sustainability in the Department of Political Science and Geography, has been elected to serve on the City of San Antonio's Technical & Community Advisory Committee. In this role, Debbage will help guide the implementation of the city's climate action and adaptation plan (CAAP).
"This is where university research really hits the road to produce tangible improvements regarding one of the biggest challenges facing the San Antonio community," said Debbage about his appointment. 
Debbage researches urban climatology, natural hazards and sustainability. He utilizes geographic information systems, statistical modeling and numerical weather modeling to better understand how cities and their residents can become more resilient to heat and flood threats. In his previous research projects, he studied the urban heat island effect and the carbon footprints of airline routes. His ongoing work analyzes both the physical and social factors that influence urban flooding vulnerability.
---
"San Antonio is one of the nation's fastest growing cities and what we accomplish here can serve as a model to other cities around the country."
---
On June 22, 2017, the San Antonio City Council passed a resolution in support of the Paris Climate Agreement, directing staff to develop a plan to help the city meet the objectives of this accord. Two years later on October 17, 2019, City Council adopted the CAAP. To effectively implement the plan, two externally recruited committees were established: a Technical & Community Advisory Committee and a Climate Equity Advisory Committee.
Members of both committees were selected in a competitive process and based on technical expertise in elements related to climate mitigation and adaptation. The Technical Committee is composed of 24 members ranging from diverse academic fields and business sectors, including the energy and automotive industries, to provide different perspectives, spur long-term collaboration and ultimately develop successful climate adaptation and mitigation outcomes. The members also will receive training in equity and racial justice during the two-year term.
According to the U.S. Environmental Protection Agency, America ranks second in the global output of carbon dioxide emissions after China. As a way to offset the global problem of greenhouse gases, the United Nations created the Paris Agreement, a legally binding international treaty on climate change. It was adopted by 196 countries in December 2015 and entered into force in November 2016. Its goal is to limit global warming to well below 2, preferably to 1.5 degrees Celsius, compared to pre-industrial levels. To achieve this long-term temperature goal, countries aim to reduce greenhouse gas emissions as soon as possible to achieve a carbon-neutral world by 2050.
However, the outgoing Trump Administration pulled out of the global accord. This caused many U.S. cities to enact local plans to contravene the national policy. Now, however, the incoming Biden Administration plans to restart U.S. involvement in the treaty.
"One main reason that the city's CAAP initiative has been so important lately is because of the federal inaction on climate change over the past several years," Debbage said. "With the ongoing progress being made at the municipal level and additional action at the federal level in the coming years, we can hopefully reach our goals more quickly."
The Technical & Community Advisory Committee's first meeting of this year is tentatively scheduled for March 3. UTSA's involvement with CAAP is an example of the university's mission to transform into an urban serving institution and tackle urgent issues impacting society such as climate change.
---
EXPLORE FURTHER
---
Debbage's research has been published in Water Resources Research, Computers, Environment and Urban Systems, and the International Journal of Climatology and has appeared in several news outlets including National Public Radio and The Weather Channel, where he discussed how people of color tend to be impacted more negatively by climate change. He is also part of a team which recently won a multimillion dollar grant from NASA to better understand how cities impact precipitation and flooding and enhance resiliency to climate change.
"I am honored to serve on the Technical & Community Advisory Committee and lend my expertise to the ongoing CAAP effort. San Antonio is one of the nation's fastest growing cities and what we accomplish here can serve as a model to other cities around the country," Debbage said.