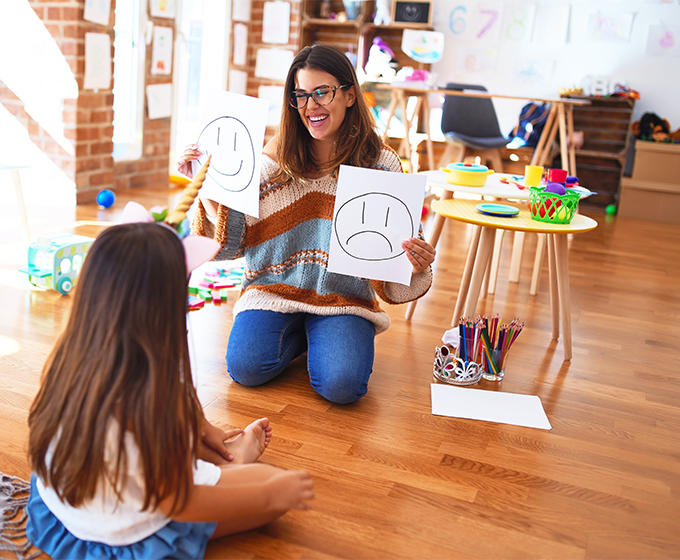 JANUARY 12, 2021 — During training, school psychology students are often reminded of the importance of self-care concerning stress and possible burnout. However, students are not always provided the skills necessary to actively maintain self-care.
College of Education and Human Development researchers from the Department of Educational Psychology and Department of Counseling are equipping UTSA school psychology students with the necessary skills that will help them transition into their professional careers through the Self-Care Positive Coaching and Counseling Program.
"School psychologists' self-care practices are critical to remain healthy and balanced while working with high-needs children and their families," said Norma Guerra, a professor in the Department of Educational Psychology. "School psychologists must have the psychological and emotional wherewithal to remain calm and composed in order to provide clients with an atmosphere that would be most beneficial. Healthy practices that reduce stress and anxiety are key. Arguably, it is difficult to manufacture a relaxed and composed environment when one is living in disbalance or turmoil."
---
"School psychologists must have the psychological and emotional wherewithal to remain calm and composed."
---
---
After working with undergraduate teacher candidate students through the Academy for Teacher Excellence transitional coaching initiative, Guerra, who is associate dean for undergraduate studies, approached the Department of Counseling to begin thinking about how they could further support school psychology students.
Guerra and Thelma Duffey, chair of the Department of Counseling, along with Priscilla R. Prasath, assistant professor in the Department of Counseling, and Christopher Leeth, assistant professor in practice counseling, came together. They introduced opportunities for many graduate students, beginning with Marco Gonzalez-Lopez, a graduate student in the clinical mental health counseling program.
The project partnership was established to provide school psychology students' professional development while offering counseling internship students an on-campus training and practice opportunity.
"We began thinking about it as a coaching and counseling student experience from a wellness perspective," Guerra said. "It then expanded to how we might support the students beyond what we were doing in the classroom and outside the formal academic setting with transitional coaching. How do we facilitate their professional growth and development of personal strengths in a way that contributes to their ultimate professional success?"
This strength-based wellness program has provided master's level school psychology students experiential professional developmental support that has had a lasting impact. Some students report that it has assisted them in managing their final year of internship. The interest and success have increased with the addition of educational psychology and undergraduate teacher candidate students also receiving coaching-counseling services.
"Each semester the number of students has increased. While initially for school psychology students, we have continued to expand and expect to provide counseling/coaching support to 300 COEHD undergraduate and graduate students this upcoming semester," Guerra said.
The goal of this project is to provide professional development self-care and to engage students in an experiential learning; self-care is one of those important investments, according to Guerra. "We want to prepare students who will succeed as leaders with the necessary skills in addressing complex demands," she said.
"When school psychology students learn and practice self-regulated management and care for self while providing direct services," Guerra said, "they learn how to balance complexities. This experiential practice allows the master's level mental health profession students the opportunity to receive and develop supportive, positive techniques while learning their craft."
Some self-care practices that students are being taught include problem-solving; mindfulness through movement, meditation, participating in activities; and observation and self-soothing.
"It is important to have a good grasp of one's mental health to be aware of potential situations that could be confronted as a school psychologist," Guerra said. "Self-awareness and social awareness are important to self-care practices."
Through this experiential learning opportunity, the counselor interns are practicing their skills as counselors, while the school psychology students are practicing working with children within the schools and their self-care management, according to Guerra.
"The win-win for this initiative is that our UTSA students are each gaining additional skills and providing additional services with this experiential learning model," Guerra said.
She added that it's important school psychologists as well as teachers and other direct service providers to have self-care skills in preparation for their ultimate professional demands, challenging cases and heavy workloads.
"Having a healthy way to destress and reflect can be helpful for many careers but especially for those in mental health fields," Guerra said.
Last spring and into the fall students in the school psychology program had the opportunity to utilize self-care practices when the pandemic hit.
"These school psychology students were in their first year when the pandemic hit. We had already incorporated this coaching piece, so even though that coaching shifted from face-to- face to online, they didn't lose a beat," Guerra said. "As a result of the continued support, these students did not report the stress that some of the other program students reported. The support prepared them to work through crisis or other unexpected situations because they've learned how to self-manage and balance."
---
EXPLORE FURTHER
---
Through this project, Guerra said she hopes to increase student success.
"I think the opportunity for us, with all the changes and challenges taking place, is to look for opportunities to be proactive in facilitating student growth and development," she said. "With UTSA becoming a Hispanic thriving institution, this is a perfect opportunity to leverage our students 'strengths to intentionally facilitate their success."