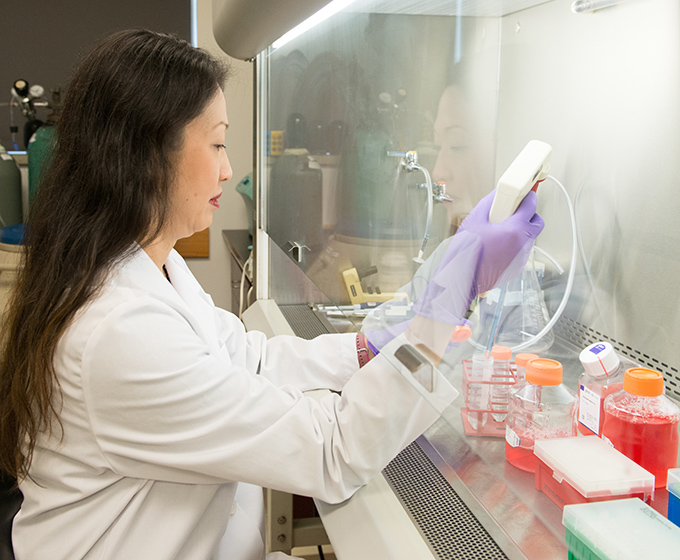 FEBRUARY 9, 2021 — UTSA scientists have discovered it might be possible for SARS-CoV-2, the virus that causes COVID-19, to enter the human brain. The research was led by Jenny Hsieh, professor of biology, director of the UTSA Brain Health Consortium and the Semmes Foundation Chair in Cell Biology, in collaboration with Ricardo Carrion's lab at the Texas Biomedical Research Institute.
A symptom of COVID-19 is the loss of taste and smell, which contributed to Hsieh investigating if the coronavirus could directly infect the brain. Some patients with COVID-19 develop serious neurological complications, including nerve damage. Hsieh along with Courtney McMahon, a UTSA Ph.D. candidate in cell and molecular biology, created a unique laboratory model called brain organoids with different types of brain cells infected with small amounts of SARS-CoV-2. They found that the brain's glial cells were susceptible to COVID-19 infection. Until UTSA's discovery, there hadn't been much scientific reporting on the glial cell and SARS-CoV-2 connection.
"Glial cells are extremely important support cells in the brain and we're just now beginning to understand their role in infection and disease," Hsieh said. "They modulate communication between nerve cells, form a barrier, and protect the brain from infection and chemicals that would harm nerve cells."
---
Because of the findings, Hsieh supports placing pregnant mothers among the highest priority for COVID-19 vaccinations.
---
---
Hsieh's research also suggests that SARS-CoV-2 could be a threat to unborn children. Mother and fetus share the same circulatory system for a period of time in the womb. During this time, Hsieh believes the virus could be transmitted from an infected mother to the developing fetal brain via an entry protein found on glial cells called ACE2.
"The organoids we modeled resemble a baby's brain during its second or third trimester of development," said Hsieh. "It's too early to tell what complications babies born with SARS-CoV-2 can develop, but we do need to keep a close eye on babies born from infected mothers."
Because of the findings, Hsieh supports placing pregnant mothers among the highest priority for COVID-19 vaccinations.
These groundbreaking studies are a result of UTSA's vision to become a nationally recognized research-intensive institution. An important step in reaching this goal was hiring Hsieh to lead the university's Brain Health Consortium. Hsieh is working to advance pluripotent stem cell research and personalized medicine to develop new and innovative approaches to neurodegenerative disease.
"None of this research would be possible without the bold vision of UTSA's leadership to establish our innovative human stem cell core facility on campus," said Hsieh. "This takes advantage of our investment in this area along with the Brain Health Consortium and other related areas at the university."
Hsieh's findings were submitted in two reports. "Novel targets of SARS-CoV-2 spike protein in human fetal brain development suggest early pregnancy vulnerability" was published in Frontiers in Neuroscience in January 2021. A second study, "SARS-CoV-2 targets glial cells in human cortical organoids," is at press in Stem Cell Reports.
Next, Hsieh and her team will investigate the long-term effects of COVID-19 brain infection. One study is to replicate the study in humanized mice to see if glial cell infection shows up in an animal model. In addition, research is planned to understand long-term impact of COVID-19 in the brain by looking at nerve cell function.
Research for both papers by Hsieh was supported in part by the Robert J. Kleberg Jr. and Helen C. Kleberg Foundation. The foundation also provided funds to help establish UTSA's human stem cell core facility.