"I'm recognized for uncovering the complex interactions between the carbon fiber and the concrete and steel materials as they work together," Ghannoum said. "My sponsor, TxDOT, is aware of the award and is very happy to see our research be recognized at this level. It puts TxDOT and UTSA on the map for producing the highest quality of research."
Structural engineers have been using carbon fiber sheets in bridge repair for many years but with mixed results. Ghannoum says the biggest weakness with this process is the bond between the carbon and the concrete. When concrete is overstressed it crumbles and peels off the carbon fiber sheet with it.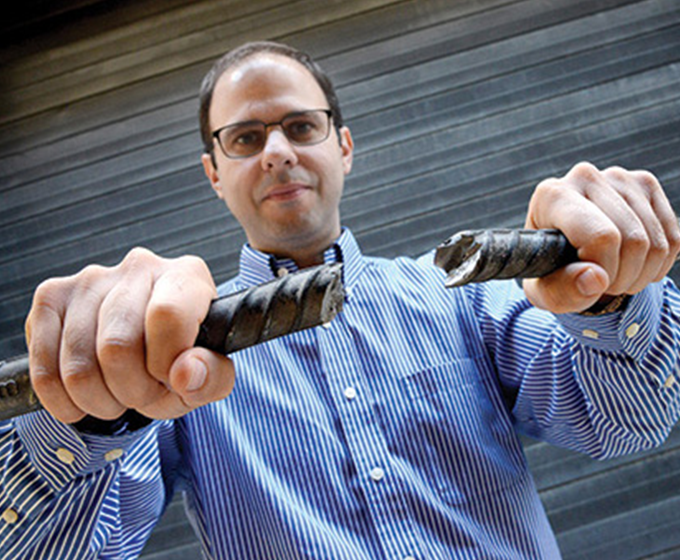 Wassim Ghannoum researches the design and behavior of reinforced concrete structures.
TxDOT funded Ghannoum's research to find a way to take CFRP repair to the next level. Instead of using sheets by themselves to cover cracks and fractures, Ghannoum developed a unique approach by taking the carbon fiber and cutting it into strips called, anchors. These anchors made from strips of carbon fiber are folded over, coated with a special epoxy and inserted into holes about six inches deep drilled in a pattern around the damaged or weak area on a bridge. There's a portion of the anchor that extends past the drilled hole. That portion is fanned out against the concrete and then covered with a specialized sheet of epoxied carbon fiber. This process has been working incredibly well with no known failures on bridges where applied.
"Carbon fiber is wonderful because if you anchor it properly, the way we demonstrate, you can increase the strength of bridges up to 50%," Ghannoum said. "A 50% increase of a massive bridge section, by applying something as thin as wall paper, is not a small thing."
Ghannoum added that carbon fiber is ideal for this application because of its phenomenal strength-to-weight ratio. Another benefit of carbon fiber reinforced polymers are their ability to move with the underlying bridge when put under a strenuous load. Engineers call this deformation compatibility. A material that is too flexible would not pick up enough of the load under traffic, while a material that is too stiff would pick up too much of the load and break under pressure. Thus, carbon fiber has the right stiffness and strength to work superbly in this application.  
Ghannoum's discovery not only makes bridges stronger and safer, but also generates huge cost savings with everything from materials to labor and commerce. Because of its widespread use in manufacturing anything from musical instruments to high-performing vehicles, it's readily available in large, high-quality quantities.
It's also a time-saver. Bridge repair traditionally involves closing the structure and rerouting traffic. Workers arrive to remove the damaged portion before building forms to tie in rebar and pour concrete. It can take about 10 days for concrete to cure and gain strength. At this point, the bridge is tested under load before reopening. During this time, traffic is rerouted causing travel delays and disruption for homes and businesses along the detoured path. In comparison, Ghannoum's process takes a fraction of the time with better results.