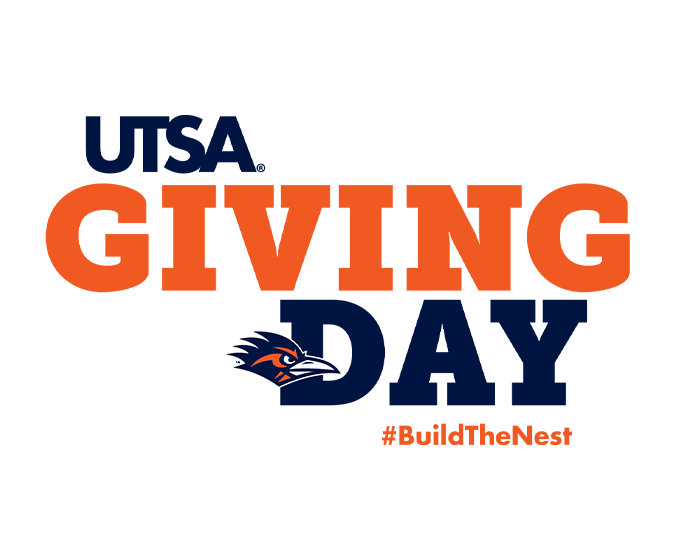 APRIL 5, 2021 — UTSA Giving Day is almost here. Roadrunner Nation is invited to come together April 6–7 to celebrate connections to the university and raise record funds to benefit students, faculty and staff.
Here's what you need to know to be ready to take early action in support of UTSA Giving Day.
Facebook Live Broadcast
Tuesday, April 6 will kick off with a live broadcast on UTSA's Facebook page featuring the Spirit of San Antonio marching band and President Taylor Eighmy. Rowdy will also be on hand to celebrate the official launch at 10:11 a.m. Eighmy has issued a challenge to help start the day strong: If 25 gifts come in during the live broadcast, he will play the cymbals with SOSA. Tune in and share the broadcast.
Challenges
Other challenges have also been designed to entice early gifts:
The project with the first gift will be rewarded with an additional $250, thanks to Clayton Zavisch '04.


The first $1,000 before noon is being matched by Genevieve Tobias '05, M.A. '12, who saw the first power hour as an opportunity to inspire others to get involved. "I hope my challenge encourages others to give early so we can start UTSA Giving Day strong," she said. "I am so excited to see what we can do together for the benefit of UTSA students."
Each college is also offering challenges that have been made possible by donors. The projects with the largest number of donors, dollars raised and most improved will be awarded $5,000 each. If a gift is secured from each state, $5,000 will be unlocked for the Student Emergency Fund. All challenges and opportunities can be viewed on the UTSA Giving Day website.
Social Media
To make sharing about UTSA Giving Day easy, the university has developed a toolkit. "Having our community spread the word on social media or by email and text is as important as making a gift," said Heather Green, director of annual giving and a member of the UTSA Giving Day task force. "When Roadrunners hear from their peers, a former professor or other Roadrunners in their network that UTSA Giving Day is making a difference, it moves people to action."
Completing the first social media challenges can earn additional funds for projects that are close to Roadrunner hearts:
Early "Bird" Challenge: One influencer who uses #BuildtheNest and #UTSA on a post before noon on April 6 will win $250 for the college or project of their choice.


UTSA UnSelfie Challenge: Take a selfie and post it anytime April 6 with #BuildtheNest and #UTSA hashtags. One participant will be selected randomly and $250 will be designated for the college or cause of their choice.
"This is a community-wide effort and every gift, every social media post and every mention can make a difference" said Green. "When Roadrunner Nation works together, amazing things happen, and it's the case too with UTSA Giving Day. Every project that is participating has a direct link to student success. Students are counting on us to 'build the nest' so that they can graduate even more prepared to take on whatever challenges they encounter." 
More Information
Similar to The Big Give San Antonio in which giving to the nonprofit community is encouraged, UTSA Giving Day will unite alumni, students, faculty, staff, parents and friends to "Build the Nest" in support of their favorite colleges and programs. Gifts keep many outstanding educational experiences offered by the university even more affordable for students.
Participants can direct gifts to more than 50 projects under the UTSA Giving Day effort, including all academic colleges, the UTSA Libraries, the Spirit of San Antonio marching band, the Roadrunner Pantry, Friends of Music, UTSA Athletics, the Student Emergency Fund, the Family Fund, UTSA Alumni Association scholarships and more.
The online fundraising event will conclude April 7 at 7 p.m. Visit the UTSA Giving Day website to learn more about the day. For specific questions, email givingday@utsa.edu.