The challenge in question was Sean agreeing to let Rebecca put makeup and eyelashes on him once the couple reaches $1,000 in gifts through their personal Giving Day link. At $2,000, Sean will also wear an outfit and don Rebecca's Ms. UTSA crown.
"It's all for a good cause, and we're really excited to see our friends and family participate," said Rebecca. (Sean's mom, Karen Ianno '89, is also an alumna.)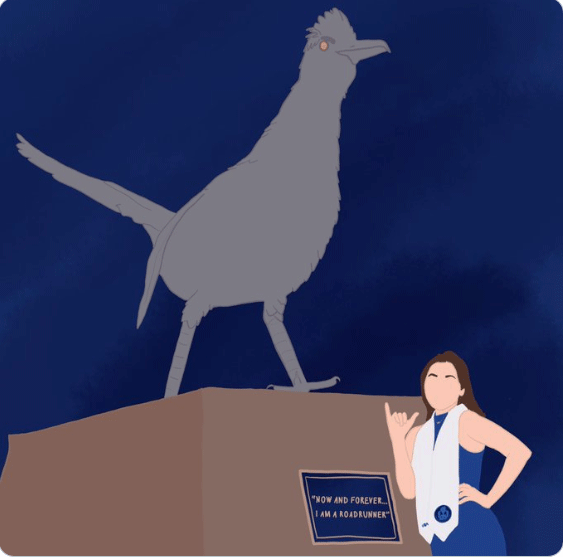 Another alumna is also getting creative with inspiring gifts to the Carlos Alvarez College of Business. Miranda Miller Trynoski '17 is holding a raffle, of sorts. She shared via Twitter that three lucky donors will receive a special art design—created especially for them by Miranda—representing their time at UTSA.
"I am really hoping it motivates people to get involved. Every donation—even $5—makes a difference for students. I'd love to see the Alvarez College of Business come out on top for UTSA Giving Day and want to do my part to help."
All of the university's academic colleges, the UTSA Alumni Association, and many student success initiatives from across the university are participating in the giving day events. For 1,969 minutes from earlier today until 7 p.m. on April 7, Roadrunner Nation is coming together to celebrate UTSA pride and raise vital funds for university causes. Gifts to many projects are being amplified, thanks to donor challenge funds, and a leaderboard is tracking which colleges or programs are on top.
The Alumni Association is one organization offering up funds to encourage donors. It has challenged several of the association's chapters, both inside and outside Texas, to create scholarships for current students from their areas. The association is matching gifts dollar for dollar, all in an effort to help students in need.