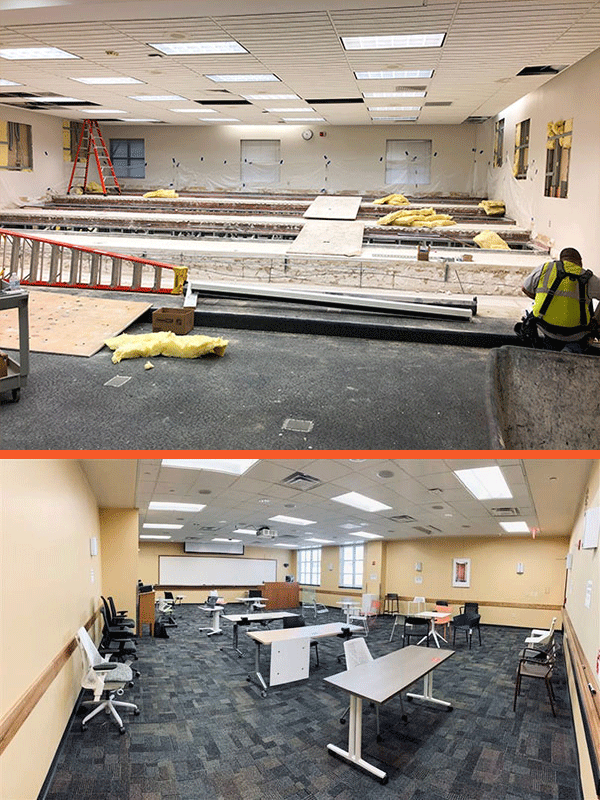 Left: An Office of Facilities team prepares classroom BB 2.01.14 in the Business Building for upcoming upgrades.
Below, left: The project includes a vast amount of outdoor and indoor classroom selections.
---
"Many of our classrooms have outdated and insufficient furniture and technology to support today's teaching needs," said Goodman. "This pilot project brings together staff from [the offices of] Facilities, Academic Innovation and Space Management to plan strategic classroom improvements."
In early March the facilities team began renovating six indoor classrooms in the Business and Multidisciplinary Studies buildings. Facilities' primary focus is to update academic technology and furniture to support various levels and styles of student learning. Classroom renovations will also include new flooring, paint, glass marker boards, electrical power and Americans with Disabilities Act improvements for accessibility.
Construction of four new outdoor classrooms begins soon and will be located on the northeast corner of the Flawn Sciences Building and south of the Student Union. Project sneak peeks will be available through facilities' social media accounts.
Benjamin Perry, university architect, said he is happy about the upcoming classroom transformations. "This project will help facilities serve students in an unprecedented way. Whether it be an indoor or outdoor classroom setting, the facilities team is prepared to respond to our students' needs in today's digital-shifting environment."
One of Perry's goals is to ensure students and faculty are comfortable in the classrooms. To achieve that goal, he and his team established a furniture classroom survey that allows students, faculty and staff to try indoor and outdoor classroom furniture and to vote on their favorites. Perry and his team are confident the survey will help guide them to select new modern and comfortable furniture.