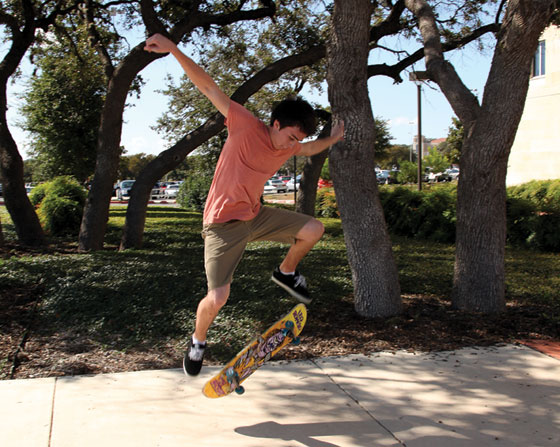 Student Profile: Roldan Dominguez
Mechanical Engineer

| Houston, TX | Age 20 | Junior

What brings you to UTSA?

Originally I was going to come to UTSA, but they didn't have more dorms available, and I was not ready to get an apartment. So I went to Austin first. I actually just transferred from UT Austin when I got into engineering here and decided that was what I wanted to do.

Why did you want to be an engineer?

Growing up I just basically took apart all my old toys and everything, and I like cars a lot, you know so I figure this is the right way to go and I guess I can do a lot of things on this degree and in a lot of different fields.

What's your favorite class?

They are all kind of my favorite so I don't know. I kind of like the numerical methods class that I am taking because that's the only class that I work on the computer a little bit, you know working in mathlab.

Other than engineering, what else do you do?

I like skateboarding. I mean I started riding in the fourth grade, but I didn't learn any tricks until fifth or sixth grade. My older brother started and then my younger brother got into it. We all started at around the same time, and they were both better than me. I just had that drive to be better than them, and after a long time I was, but mostly because they stopped.

Ever been in any skateboarding competitions?

I went to a couple that they call A Game of Skates, where you just do tricks. I went to two of those and I got second place. I also went to an actual contest like two years ago but I placed 25th out of 50 people. I just did it just to do it.

What would be your dream job?

Dream job… Probably something with skateboards. I would love to like design a stronger skateboard or wheels that last longer. Or, maybe have a big part in the design of a car, and one day point out to my brother that I helped design that car, you know. I think that would be pretty cool.