Faculty, staff: Submit presentation proposals for Professional Development Conference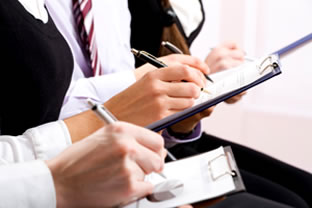 (Nov. 19, 2010)--UTSA faculty and staff members can apply to participate as presenters in the third annual Professional Development Conference to be hosted this spring by the UTSA Office of the Vice President for Student Affairs.
With the theme "Building Bridges," it is an opportunity to share expertise and strategies on leadership approaches, management and supervision styles, career enhancement and many other related topics that support the professional development of staff.
The sessions will be at two conferences on Wednesday, March 23 and Tuesday, April 5 at the Main Campus. Applicants must commit to present at both conferences.
To be considered for one of the presenter slots, use the PDF form downloadable below (can be filled in) to submit an application via e-mail or to print and deliver to Shirley Rowe, University Career Center, University Center Room 2.02.04, UTSA Main Campus.
The application deadline is Jan. 14, 2011. The Student Affairs staff development team will evaluate proposals, and selections will be announced by Feb. 4.
>> Download the professional development conference proposal application.
For more information, contact Shirley Rowe at 210-458-4596 or Keri Shiplet at 210-458-7299, or visit the Student Affairs Professional Development website.