UTSA students: Buy $7 guest tickets for Feb. 5 UTSA Homecoming game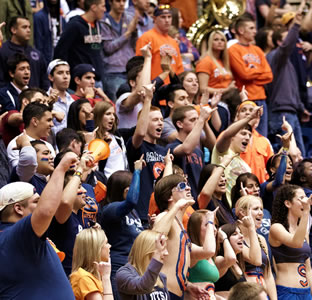 Share this Story
(Feb. 1, 2011)--UTSA students can purchase guest tickets for the annual Homecoming game on Wednesday and Thursday, Feb. 2-3, in the University Center on the Main Campus. The game will feature the UTSA men's basketball team against Lamar at 7 p.m., Saturday, Feb. 5 in the Convocation Center, and students are encouraged to avoid long lines on game day by purchasing guest tickets early.
The UTSA Athletics Ticket Office will set up a table in the lobby outside the University Bookstore from 11 a.m. to 1 p.m., Wednesday and Thursday. Current UTSA students are admitted free with UTSACard to all home basketball games, but students can purchase guest tickets for family or friends to be able to sit in the student sections. Student guest tickets are $7 each, and only cash will be accepted at the pre-sale tables Wednesday and Thursday.
Tickets also can be purchased over the phone with a credit card by calling 210-458-UTSA. Tickets purchased by phone will be available for pick up at the will-call window beginning at 5:30 p.m., Saturday.
Tailgating and live bands will perform outside the Convocation Center from 4 to 7 p.m. before the basketball game.
------------------------------
>> For the full slate of events, visit the UTSA Homecoming and Family Weekend 2011 website.