UTSA students participate in national peer education group's annual assembly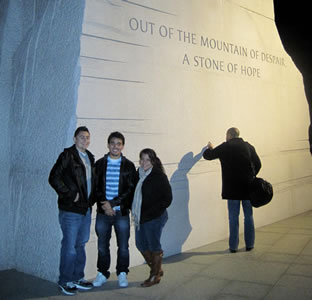 Share this Story
(Jan. 24, 2012) -- UTSA student Rene R.J. Rangel was elected to the student advisory committee of the BACCHUS Network at the organization's general assembly Nov. 3-5 in Reston, Va. BACCHUS is an international organization that promotes peer education regarding healthier behaviors among college-age adults.
As newly elected president of the UTSA student organization Be A Responsible Roadrunner (BARR), Rangel will represent BACCHUS Network Area 6 (Texas, Oklahoma, New Mexico, Louisiana and Arkansas) for one year. BARR is UTSA's BACCHUS Network affiliate. Rangel is a junior history major from Edinburg, Texas.
"Running for and winning the position of SAC was a great experience," said Rangel. "It's easy to want to make a difference when you have the support coming from advisers, friends and family. I'm thankful to have the opportunity to represent UTSA on a national level."
Alex Rivera, a junior communications major from Cibolo and Kristen Pina, a freshman engineering major from Rosenberg also attended the general assembly in the Washington, D.C., suburbs. All three students attended multiple conference sessions provided by peers and professionals from institutions across the nation that enhanced their knowledge on prevention and education topics as well as leadership development.
"Attending the conference was a great opportunity to network with my peers from across the country from universities like Harvard and Columbia," said Pina. "It was really interesting to hear how they share health promotion information on their campuses and learn ways we can incorporate some of the ideas at UTSA."
The students were accompanied to the assembly by Kelsey Bratcher, UTSA associate director of risk education and campus programs, who helped organize the assembly's silent auction, which took place throughout the event. Bratcher serves as the Texas state coordinator for the BACCHUS Network.
"Student attendance at BACCHUS General Assembly is very important for Be A Responsible Roadrunner and UTSA," said Bratcher. "It is an opportunity for the students to see they are not alone in their mission to promote responsible and healthy decision making. They are able to see the big picture of health promotion and risk reduction, and bring back ideas and resources to assist them in their programming and leadership development back on campus."
At the conference, students attend sessions and keynotes and also participate in a national meeting, sharing their voices regarding the national organization and voting on important topics.
According to BACCHUS bylaws, each year at the national conference, one student from each affiliation in attendance represents his or her campus as a delegate. The delegates meet, discuss issues of importance to the network and vote on important decisions. This year, the delegates discussed and voted upon a new membership plan for the network that includes an annual membership fee. The BACCHUS Network has never had a membership fee in its 36-year history, so this was a historic vote.
The delegates, including Rangel, debated for nearly two hours the pros and cons of instituting a membership fee. Many students spoke with passion about the importance of the network, the support it provides to individual peer educators and campus groups, and the loss to the collegiate health promotion field should BACCHUS have to reduce its services. BACCHUS has seen a 60 percent decrease in funding support in recent years with the downturn of the economy. The delegates passed the new membership plan with 85 percent in favor of the fee.
"I am glad to have represented BARR in the membership fee vote and see it pass," said Rangel. "The cost of the BACCHUS membership fee is minimal when you compare it to saving someone's life. That is what we do in peer education, save lives."
The BACCHUS Network includes more than 32,000 student leaders and advisers who work with more than 8 million peers on more than 900 campuses around the world to promote healthier behaviors and raise awareness on issues surrounding topics including alcohol, drug and tobacco use through peer education and community leadership.
>> Follow BARR on Facebook and Twitter.