UTSA Roadrunners get ready for more football excitement at home Sept. 28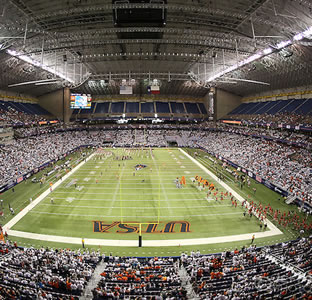 Share this Story
(Sept. 8, 2013) -- UTSA football continues out of town Sept. 14 at the University of Arizona and Sept. 21 at the University of Texas at El Paso, followed by the second home game Sept. 28 versus University of Houston. UTSA lost Saturday, Sept. 7 after a tough fight against Oklahoma State University with a 56-35 final score.
The Roadrunners put up an enthusiastic fight and took Oklahoma State by surprise a number of times during the game, with touchdowns that brought the 40,977 fans to their feet at the Alamodome.
The buzz after the game was that even though the Roadrunners didn't win this time, lots of experts and fans were impressed by UTSA's performance and efforts, and the previous week's win at New Mexico, and feel confident there are many more wins to come. (Go, Roadrunners!)
Pre-game, there was the exciting Spirit Walk as Coach Larry Coker, UTSA President Ricardo Romo and the coaching staff led the team members past Sunset Station to the Alamodome as fans cheered.
Along the Spirit Walk route was the new Rowdy statue. Numerous UTSA supporters and even Oklahoma State fans made donations to bring the new 1,000-pound Rowdy statue to campus. The Bring Rowdy Home fundraising campaign is more than halfway to the $25,000 goal to bring Iron Rowdy permanently to UTSA. Roadrunners posed for photos next to the statue with the designer, Lubbock artist and blacksmith R.G. Box.
The UTSA community, alumni and other supporters can get ready for more exciting home games at the Alamodome. See the schedule below.
>> All you need to know about UTSA Football Game Day.
------------------------------
FAQ: UTSA Football
Rowdy Rally
3 p.m., each Friday before Saturday home games, University Center Paseo, Main Campus -- UTSA's new tradition -- a spirited team send-off with Orange Crush floats and other giveaways
UTSA football home games -- times vary, check schedule
Sept. 28 -- Houston
Oct. 12 -- Rice
Oct. 26 -- UAB
Nov. 9 -- Tulane
Nov. 30 -- Louisiana Tech



Where to get UTSA t-shirts and other attire
Roadrunner Express is in University Center Paseo (Main Campus) and Durango Building (Downtown Campus)
Tickets
GoUTSA.com or UTSA Football Game Day (click on Tickets tab)
UTSA students who pay the athletics fee are admitted free to home UTSA Athletics events including football at the Alamodome. UTSA students must swipe their UTSA ID at a Student Entrance for admittance. Students can purchase up to four guest tickets per game ($10 each) for friends and family who will join the student in the student section and also must enter at a student entrance.
For tickets, call 210-458-UTSA (8872) or go to GoUTSA.com. On Saturday, the Alamodome box office windows open at 8:30 a.m. Doors open at 9:30 a.m.



How to get to the game
Transportation to and from the Alamodome from four VIA park-and-ride sites: UTSA Main Campus, Crossroads, Madla Transit Center and San Antonio International Airport (enter lot through Northern Boulevard).
Service to the Alamodome begins three hours before kickoff. At the UTSA Main Campus, park on game day in lots adjacent to the Rec Center and Convocation Center in any unmarked space (UTSA permit not required game day). The last buses depart the Alamodome 45 minutes after the official end of the game.
Buy park-and-ride tokens at VIA locations or the VIA website for $1.25 each way (student rate), $2.50 each way (general public). Buy park-and-ride tokens in advance at Roadrunner Express (University Center Paseo on Main Campus and Durango Building on Downtown Campus).