UTSA gets ready for residence hall move-in weekend Aug. 22-24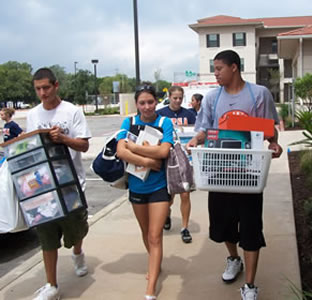 Share this Story
(Aug. 19, 2014) -- Throughout the summer, UTSA staff members have worked to develop a top-tier residential living experience at each of the university's three residence facilities: Chaparral Village, Laurel Village and San Saba Hall. This week, UTSA will put the finishing touches on the facilities before approximately 4,300 students arrive Friday, Aug. 22 through Sunday, Aug. 24.
"We have been busy making sure that everything is ready for the arrival of our residents," said Daniel Gockley, director of the UTSA Office of Housing and Residence Life. "We hope that the residents really enjoy what we've done over the summer."
This year, Laurel Village will feature a special-interest community for approximately 20 students majoring in music. The themed community, designed to foster academic success, will be similar to those already in San Saba Hall including the Engineering Community, the Leadership and Service Community, and the Honors College Communities (Top Scholars and Terry Scholars.)
Gockley said UTSA hopes to offer more special-interest housing options to students in the future.
New and returning residents will find that flooring in most Chaparral Village Rooms has been replaced with new vinyl plank flooring, reminiscent of hardwood. Additionally, twin-sized beds in several locations in Chaparral Village and Laurel Village have been replaced with new full-sized beds.
"The success of our students is our primary concern," said Gockley. "Our great students need a great place to live, and we've worked tirelessly to give them a top-tier living experience here at UTSA."
UTSA Residence Hall Move-In is 9 a.m.-5 p.m., Friday, Aug. 22 through Sunday, Aug. 24.
------------------------------
For more information, visit the UTSA Roadrunner Days Move-in Weekend or the UTSA Housing websites.
The official kick-off of the new academic year, UTSA Roadrunner Days, runs Aug. 22-29 with themed events at the Main and Downtown campuses. The events and activities give students an opportunity to take part in time-honored UTSA traditions and connect with UTSA resources. Read more.
Connect online with UTSA on Twitter, Facebook, YouTube and Instagram.