UTSA and Mexico researchers team up to fight childhood obesity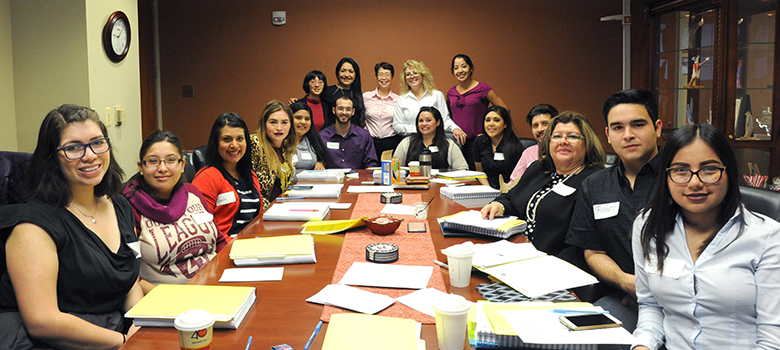 (Feb. 16, 2017) -- -- Researchers from four different universities, including The University of Texas at San Antonio (UTSA), recently launched an international pilot program to help lower the rate of childhood obesity in Texas and Mexico.
Dr. Meizi He and Erica Sosa, professors of kinesiology, health and nutrition in the UTSA College of Education and Human Development, are working with a group of health researchers led by Yolanda Flores-Peña from Nuevo León, Tamaulipas, and Zacatecas, Mexico to launch the Healthy Change program, a pilot program designed to educate Hispanic mothers about childhood obesity prevention.
"Childhood obesity is a major public health concern and is disproportionately affecting Hispanic children in the United States and Mexico," said Dr. He. "Mothers are the key influencers to their children's healthy growth."
The international team of researchers has already begun working with two head start centers in San Antonio and with childcare facilities in northern Mexico to implement the intervention program. The findings from their pilot study will be used to refine and further develop the Healthy Change program.
"From a health promotion standpoint, obesity prevention actions will not occur if mothers do not perceive their child's obesity as being a problem," said Sosa. "We hope the Healthy Change Program will positively influence the mothers' perception of their child's health."
Other team members include Velia M. Cárdenas-Villarreal from the Universidad Autónoma de Nuevo León, Hermelinda Ávila Alpirez from the Universidad Autónoma de Tamaulipas, and Perla María Trejo Ortiz and Roxana Araujo Espino from the Universidad Autónoma de Zacatecas.
The program is funded by grants through the National Council for Science and Technology (CONACYT) and Institute of Nutrition and Health Kellogg's (INSK) in Mexico.
-------------------------------
For more information about Healthy Change, contact Dr. Meizi He at meizi.he@utsa.edu.
Learn more about other UTSA research programs combatting childhood obesity.
Connect with UTSA online at Facebook, Twitter, YouTube, Instagram and LinkedIn.
Events
De-stress during Finals Week with UTSA Libraries' Relaxation Stations, located at John Peace Library on the second floor, and at the Downtown Library. The Relaxation Stations will include puzzles, coloring and more from Dec. 6-Dec. 14.
John Peace Library, second floor and Downtown Library, Main and Downtown Campuses
This UTSA student exhibit features the work of anthropology students who have examined the effects tourism has on local culture.
UTSA Institute of Texan Cultures, Hemisfair Campus
Students from grades 9 to 12 at Brooks Academy of Science and Engineering delved into their family histories and turned their family photos into artworks.
UTSA Institute of Texan Cultures, Hemisfair Campus
The first ceremony begins at 10 a.m. honors graduates from the College of Architecture, Construction and Planning, College of Business, College of Education and Human Development and College of Public Policy.
Alamodome, 100 Montana St., San Antonio
At 4 p.m., the second ceremony will be held to honor graduates from the College of Engineering, College of Liberal and Fine Arts, College of Science and the University College.
Alamodome, 100 Montana St., San Antonio
UTSA's John Nix invites the community to sing "Amazing Grace" and "We Shall Overcome" at 11 a.m. on Martin Luther King Jr. Day. The intent of this nationwide effort is to honor Dr. King's legacy and to spread a sense of community in the United States.    
Locations throughout the United States
The annual event features authentic foods, music, dance, martial arts, shopping, games and entertainment from China, to the Indian Sub-continent, and the island nations of the Pacific. The Festival features two stages, a martial arts demonstration area, children's hands on crafting area, anime activities, bonsai and ikebana displays, mahjong table and more.
UTSA Institute of Texan Cultures, Hemisfair Campus
Level up your career with a graduate business degree from the UTSA College of Business. Join us for this Open House to learn which of our 13 degree programs is right for you.
Business Building (BB 2.06.04), Main Campus
---