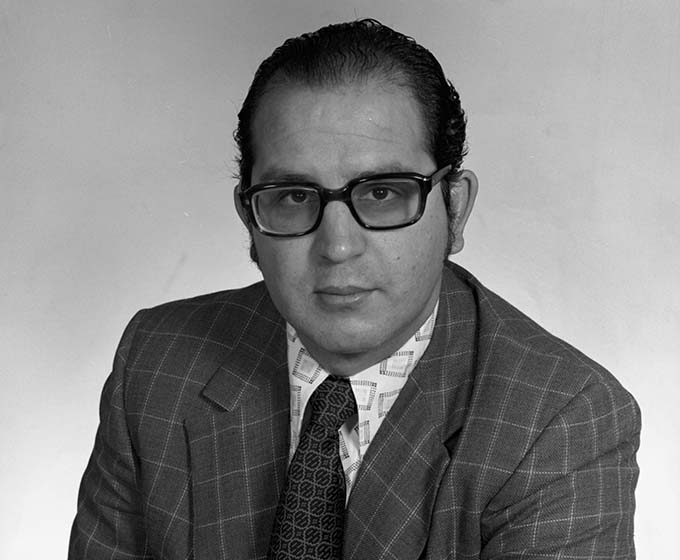 (July 12, 2019) -- Paul Henry Rodríguez, professor emeritus in the UTSA Department of Biology, passed away on June 28 at age 81. He dedicated the majority of his life to higher education. Hired in 1973 as an assistant professor, Rodríguez was one of the first genetics faculty members at UTSA.
He is remembered as a kind, generous, respectful man who worked tirelessly to support his students and university and to advance his research on the Aedes aegypti mosquito in an effort to help prevent mosquito-borne diseases.
In 2015 he published Essays and Memoirs on Life and Professional Experiences, in which he recounts his experience being at UTSA when the university was new.
"The very first class day at the new campus of the University of Texas at San Antonio (UTSA) in June 1973 for me was a most exciting, unforgettable, enriching and satisfying experience!" he wrote.
Like most of the institution's first faculty, he helped develop the programs and curriculum that would shape the future of San Antonio's first four-year public institution.
"At the beginning, much time and energy was expended in the development of both graduate and undergraduate course descriptions and offerings for university and systems catalogs," he wrote. "Our Research was just as important and soon became a major attractant for our students. Besides my course load, I was primarily responsible for my own research in mosquito genetics, and courses associated with general biology, genetics and parasitology. Various other upper-level undergraduate and graduate courses were also developed."
Rodríguez's contributions to UTSA and its students are numerous and significant. Perhaps the most significant was his work to help establish UTSA's first federally-funded minority research programs. He served as program director for the Minority Biomedical Research Support (MBRS) program (now known as RISE) from 1981 to 1991 and then later directed the Maximizing Access to Research Careers (MARC) program. Both of these programs, which are strong and active today, have prepared many underrepresented students to earn doctoral degrees and become either faculty or professional researchers.
"Paul's effort in garnering support for underrepresented students was truly seminal in the development of the Division of Life Sciences (now the Department of Biology) and its final implementation of the first free-standing Ph.D. program here at UTSA," recalled UTSA biology professor Jim Chambers.
A four-time Fulbright Scholar, Rodríguez taught, conducted research, and established programs at universities in Honduras, Costa Rica, Panama and Peru. In addition, he served as a visiting scientist with both the National Science Foundation (NSF) and the National Institutes of Health (NIH).
Rodríguez was one of the founding members of the UTSA La Raza Faculty and Administrators Association. He was also one of 53 founding members of the Society for Advancement of Chicanos/Hispanics and Native Americans in Science (SACNAS), a national organization dedicated to fostering the success of Chicanos/Hispanics and Native Americans in STEM fields.
UTSA professor of cell and molecular biology Luis Haro recalls first meeting Rodríguez as a graduate student attending a SACNAS conference in San Antonio in the late 80s.
"He invited my mentor and me to visit his lab at UTSA and hosted us on a tour of the city after the conference," said Haro. "It was apparent at that time that Paul freely gave his time to network with students and keep their interest in science!"
A few years later, Haro joined the faculty at UTSA and immediately benefitted from Rodríguez' generosity.
"Paul was away from UTSA serving either as a Visiting Scientist and Program Manager at the National Science Foundation or a Health Scientist Administrator at the National Institutes of Health. He offered the use of his laboratory to me in my first year at UTSA while he was away so that I could get my research program started since I would not have a laboratory for a full year awaiting construction."
Even after retiring from UTSA in May 2008, Rodríguez continued to make a lasting impact on the lives of students and faculty in the sciences while serving as professor emeritus.
In his memory, UTSA Academic Affairs will arrange for a book to be donated to the UTSA Libraries. In addition, Rodríguez and other early tenured/tenure-track faculty will be honored in a UTSA 50thAnniversary photography exhibition on view from Aug. 26 – Sept. 27 at Gallery 23 in the Student Union.
Friends and colleagues are encouraged to contribute to the Dr. Paul H. Rodriguez Undergraduate Scholarship Fund in care of UTSA Development and Alumni Relations.