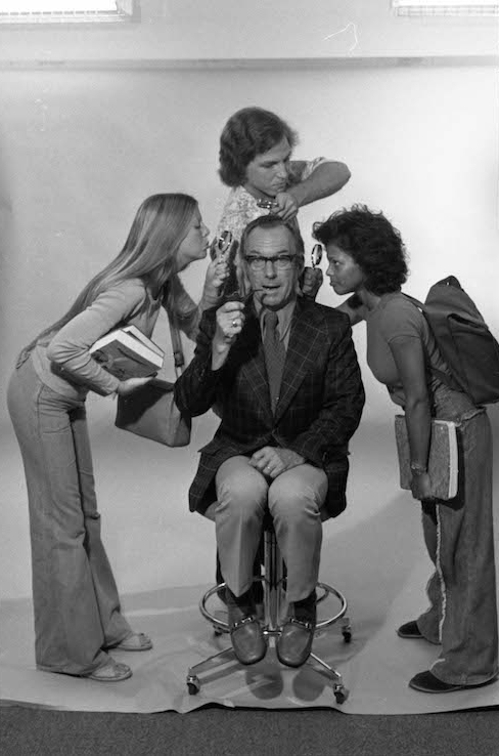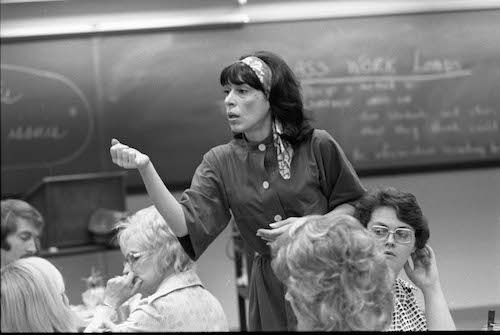 Marian Martinello
Curriculum and Instruction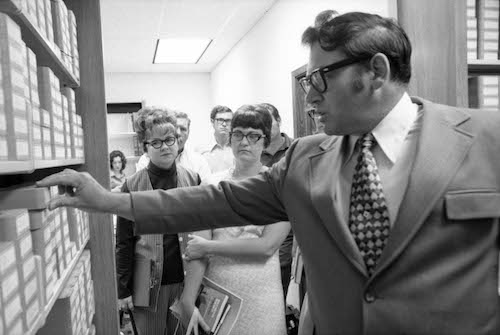 UTSA Faculty: Then and Now
Celebrating 50 years of faculty excellence
August 26 through September 27
Gallery 23
Student Union — UTSA Main Campus
This exhibition recognizes the legacy of UTSA faculty, who are central to advancing the university's mission of teaching, research and service. Featured in the exhibit are early portraits of 78 of UTSA's pioneer tenured/tenure-track professors hired between 1972 and 1978. These individuals, who either completed their careers at UTSA or are still employed by the university, helped shape the curriculum, set academic standards, and significantly impacted the lives of many students throughout UTSA's 50-year history. We hope that this exhibit elicits fond memories of professors who have made a positive impact on your life.
Each portrait was developed using a printmaking technique called plate lithography, in which the photograph was transferred onto an aluminum plate, then inked and sealed.
Opening Reception 
Thursday, August 29
5 — 7 p.m.
Gallery 23
Student Union - UTSA Main Campus 
RSVP Today
Special Thanks:
Art & Art History associate professor Libby Rowe and the students in her Fall 2014 Advanced Photography class; Alexandra Williams; UTSA Department of Art & Art History; UTSA Special Collections staff; and Academic Affairs leadership and staff.
Featured Faculty:
John W. Adams
Richard E. Adams
Ronnie N. Alexander
Felix D. Almaraz, Jr. 
Raymond R. Baird
Ricardo F. Benavides
Manuel P. Berriozabal
Ronald C. Binks
Ruth H. Bullard
Marvin L. Chatkoff
George R. Colfer
Gillian E. Cook
Alan E. Craven
E.L. Curry
Dewey D. Davis
Richard A. Diem
James R. Dykes
Martha A. Fasci
Charles T. Field
William T. Flannery
Lila J. Flory-Truett
Richard A. Gambitta
Beverly J. Gibbs
Barbara Gonzalez-Pino
Melvin Neal Guentzel
Richard J. Harris
Bess E. Hieronymus
Marye T. Hilger Tharp
Jack Himelblau
John W. Hollomon
Richard S. Howe
Rodolfo Jacobson
David R. Johnson
Steven G. Kellman
Carolyn L. Kessler
Wayne W. Laughery
William D. Litzinger
Eileen T. Lundy
Bonnie K. Lyons
Marian L. Martinello
Hugh B. Maynard
Joseph Michel
Arthur R. Miller
William G. Mitchell
Helen V. Oujesky
Albar A. Pena
Frank Pino, Jr. 
Charles D. Porterfield
Jacinto Quirarte
Gary C. Raffaele
Robert D. Renthal
Stephen Reynolds
Kay A. Robbins
Steven Robbins
Paul H. Rodriguez
Ronald H. Rogers
Michael P. Ryan
Joel G. Saegert
Judith B. Sobre
John A. Stoler
Berry Sutherland
Richard R. Tangum
Lucio Tavernini
B.S. Thyagarajan
Elwood B. Traylor
Ram C. Tripathi
Dale B. Truett
Maria Luisa Urdaneta
Joseph Valentine
Oscar W. Vanauken
Richard B. Wadsworth
Kenneth E. Weiher
Paul H. Westmeyer
Kenneth W. Wunderlich
L.J. York
Jesse T. Zapata