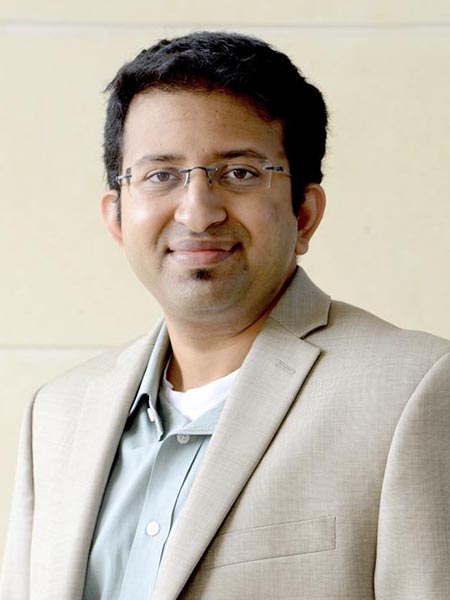 Jacobson Distinguished Professorship of Innovation and Entrepreneurship
The Jacobson Distinguished Professorship of Innovation and Entrepreneurship was established in 2013 for the benefit of the Center for Innovation and Technology Entrepreneurship.
Teja Guda, Ph.D.
Jacobson Distinguished Professorship of Innovation and Entrepreneurship
Associate Professor, Biomedical Engineering and Chemical Engineering
Associate Dean, Graduate School
As the Jacobson Distinguished Professor of Innovation and Entrepreneurship, Teja Guda is an exemplar of innovation in research, working toward a brighter future in the world of medicine through the development of technology supporting regenerative medicine. His research interests include a variety of areas within tissue engineering and regenerative medicine, including cell and drug delivery, medical device design and development, interplay of biophysical and biochemical stimuli, mechanical modeling of biological architectures, matrix mechanics, and bioreactors for musculoskeletal tissues. 
Guda heads the Regenerative Medicine and Device Innovation (ReMeDI) Lab, mentoring a team of 4 graduate students and 16 undergraduate students. The lab's recent reports have been featured in the Journal of Biomedical Materials Research, Tissue Engineering and Cellular and Molecular Bioengineering.
Guda's own research is extensive, with 74 articles, 1,905 citations and an h-index of 22. He was awarded the Richard S. Howe Outstanding Undergraduate Teacher Award in 2018, the National Science Foundation (NSF) CAREER Award in 2019, and the Young Innovator Award for Cellular and Molecular Bioengineering in 2020.
Guda earned his PhD in biomedical engineering from UTSA and the University of Texas Health San Antonio in 2008. Before joining UTSA's faculty, Guda pursued post-doctoral research in regenerative medicine at Wake Forest University and the US Army Institute of Surgical Research.
Guda is an associate professor in the Department of Biomedical Engineering. He has also been instrumental in supporting the growth of UTSA's Center for Innovation, Technology and Entrepreneurship, having served as assistant director of the center since 2014 and establishing the Roadrunner Innovation Lab for rapid prototyping of innovations on campus in 2015.