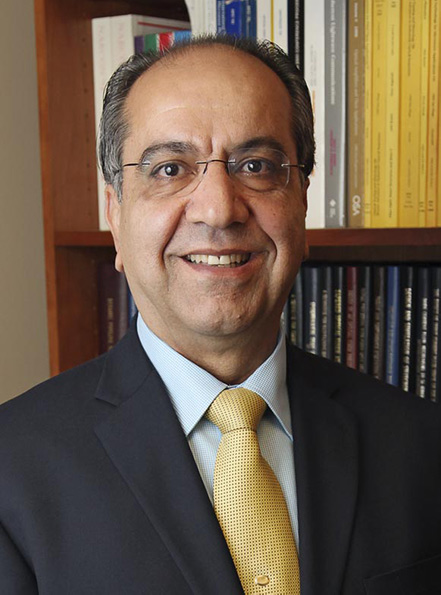 The Janey and Dolph Briscoe Distinguished Professorship
The Janey and Dolph Briscoe Distinguished Professorship was established in 1997. Former Governor of San Antonio, Dolph Briscoe and his wife Janey established this professorship to continue expanding the excellence of higher education at UTSA.
Mehdi Shadaram, Ph.D.
The Janey and Dolph Briscoe Distinguished Professorship
Professor, Electrical and Computer Engineering
Mehdi Shadaram's main area of research activity is in the broadband analog, digital fiber optic, and wireless communication systems. Shadaram has published more than 130 articles in refereed journals and conference proceedings. 
He served as the Interim Dean of Engineering at UTSA from 2013-2014. He served as Associate Dean of Engineering at UTSA from 2007 to 2015. He has served as the Founding Director of the Center for Excellence in Engineering Education Research, and from 2003 to 2007, served as the Chairman of the Department of Electrical and Computer Engineering at UTSA. Dr. Shadaram also served as the Interim Chairman for the Department of Civil and Environmental Engineering during academic year 2019-2020. 
Shadaram has served as Principal Investigator or Co-Principal Investigator for numerous grants and contracts, bringing in more than $10 million in research funding over the past 20 years. Organizations such as NASA, Jet Propulsion Laboratory, National Science Foundation, Office of Naval Research, Department of Defense, Department of Education, Texas Higher Education Coordinating Board, Texas Instruments, and Lucent Technologies have funded his research projects. Shadaram is the recipient of several awards including the 2019 University of Western Australia's Robert and Maude Gledden Visiting Senior Fellowship Award; the 2017 UTSA's President's Distinguished Achievement Award for Excellence in Community Engagement; 2009 UTSA College of Engineering's Excellence in Engineering Research Award; the best teacher award in the College of Engineering at the University of Texas at El Paso in 1994; and NASA monetary award for contributions to space exploration in 1993. He has been the general chair, session chair, TPC chair, and panelist at several IEEE conferences. 
Shadaram has served on several review panels for the National Science Foundation, National Research Council Ford Foundation, US Civilian Research and Development Foundation, and Natural Sciences and Engineering Research Council of Canada. He also has served on the editorial boards of several scientific journals. 
Shadaram is the Wireless Communications Area Editor for the Elsevier Journal of Computers and Electrical Engineering, is senior member of IEEE, and is a member of OSA, SPIE, ASEE, and HKN. He is also a Professional Registered Engineer in the state of Texas.  Shadaram received his Ph.D. in electrical engineering in 1984 from The University of Oklahoma.