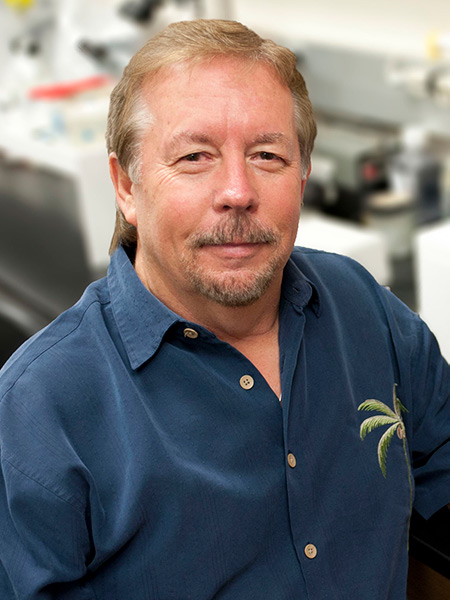 Kleberg Distinguished University Chair in Cellular & Molecular Biology
The Kleberg Distinguished University Chair in Cellular & Molecular Biology was established in 2012 by The Robert J. Kleberg Jr. and Helen C. Kleberg Foundation for the purpose of supporting the research activities of the holder.
John R. McCarrey, Ph.D.
Kleberg Distinguished University Chair in Cellular & Molecular Biology
Professor, Biology
John McCarrey's area of expertise is in reproduction, stem cells and regenerative medicine. His research focuses on the development, differentiation and function of mammalian germ cells and stem cells, including the epigenetic regulation of cell fate. Additional interests include mechanisms governing the integrity of the genome and the epigenome in response to adverse environmental exposures, lifestyle choices, assisted reproductive technologies or diseases. 
McCarrey has been continually funded by the NIH since 1983. He has received additional funding from the NSF and philanthropic sources. In 2019, he was named part of a renowned group of researchers collaborating to investigate men's reproductive health in a study through the National Center for Translational Research in Reproduction and Infertility. UTSA is now part of this newly created Center for Male Reproductive Epigenomics, along with the University of Nevada, Reno School of Medicine, and The Lundquist Institute at Harbor-UCLA Medical Center. This center is supported by a $7 million grant awarded by the Eunice Kennedy Shriver National Institute of Child Health and Human Development. McCarrey's lab received $1.6 million to investigate how an unhealthy lifestyle can predispose defects in the epigenome of a father's sperm that can affect disease susceptibility in future offspring.
McCarrey was the recipient of the 2018 Distinguished Andrologist Award from the American Society of Andrology – the highest honor bestowed by this society, and the recipient of the 2015 Distinguished Service Award from the Society for the Study of Reproduction. In 2016, he was inducted into the UTSA Academy of Distinguished Researchers. He is also the founder of RegenMed SA, and he co-directs the new UTSA Institute of Regenerative Medicine. McCarrey's leadership has helped position stem cell research as an area of excellence in the College of Sciences, and he has led efforts resulting in the recruitment of multiple additional stem cell researchers to UTSA's faculty. McCarrey has also been the Graduate Advisor of Record for the UTSA Ph.D. program in Cell & Molecular Biology for 15 of the 17 years the program has been in existence.
McCarrey holds joint appointments at UT Health San Antonio and the Southwest National Primate Research Center at the Texas Biomedical Research Institute.
He received his doctoral and master's degrees in Genetics and a bachelor's degree in Animal Science from the University of California, Davis.