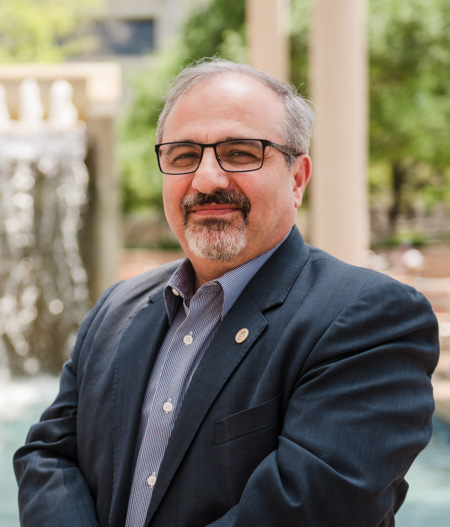 Klesse Professorship
David Akopian, Ph.D.
Klesse Professorship
Professor, Electrical and Computer Engineering
Associate Dean of Research
David Akopian's areas of expertise include mobile computing and application development, wireless sensing, satellite positioning (GPS), and wireless applications in communication networks.   
He directs the Software Communication and Navigation Systems (SCNS) Lab at UTSA, where his team conducts research on mobile and wireless applications in security, education and health. 
With over 40 patents, more than 200 publications, an h-index of 28 and more than 3,100 citations to date, Akopian has made significant contributions to his field. His work has appeared in numerous peer-reviewed academic journals, including the top journals in instrumentation, telecommunication and related fields. He has also served as associate editor of the IEEE Transactions on Systems, Man, and Cybernetics, among other publications.
Akopian has presented his research at nearly 120 refereed conference proceedings, and serves as chair for the annual SPIE conference on mobile technologies. 
Since 2013, Akopian has been awarded over $4 million in grant share funding to support his research from organizations such as the National Science Foundation, the Cancer Prevention & Research Institute of Texas, the National Institutes of Health, the U.S. Nuclear Regulatory Commission, and the U.S. Department of Education. 
Akopian was elected a U.S. National Academy of Inventors Fellow in 2016. Among his past awards, Akopian was a recipient of the UTSA Innovator of the Year Award in 2022, the IS&T Society Award in 2017 and the College of Engineering Excellence in Research Award in 2017. He was also elected a member of the UTSA Academy of Distinguished Researchers in 2021.
Akopian has been highly involved at UTSA since joining the university in 2003, and he currently serves as the associate dean for research for the Klesse College. He has been involved in numerous committees as well, including the federal relations committee with the UTSA Office for Research, Economic Development, and Knowledge Enterprise (REDKE), the research committee and faculty search committee for his department, and has frequently served as chair of thesis and dissertation committees for graduate students in his college. 
Akopian earned his doctorate in signal and image processing from Tampere University in Finland.