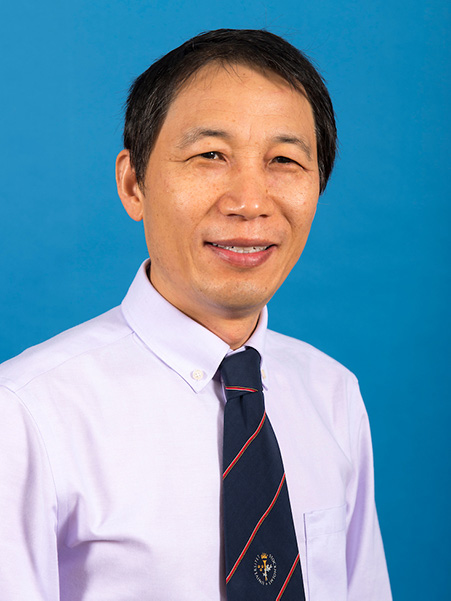 The Lutcher Brown Distinguished Chair in Biochemistry
The Lutcher Brown Distinguished Chair in Biochemistry was established in 2004. In 2003, former UTSA President Ricardo Romo pledged $7 million of the endowment's corpus to fund seven Lutcher Brown Distinguished Chairs that has provided a perpetual source of funding to support the holder's research and teaching activities.
Aimin Liu, Ph.D.
The Lutcher Brown Distinguished Chair in Biochemistry
Professor, Chemistry
Aimin Liu is the Lutcher Brown Distinguished Chair in Biochemistry and a professor of chemistry and biochemistry. He specializes in metabolism, the body's process of converting food to energy. His expertise also includes biosynthesis, enzymology, and protein biochemistry. Liu has been at UTSA since January 2016. 
Liu's lab focuses research on investigating how biomolecules utilize metals to perform the chemistry necessary for life. Their on-going research projects lie at the nexus of chemistry and biology and encompass a broad range of topics, including mechanistic enzymology, chemical biology, bioinorganic chemistry, and biophysics. Specifically, they study amino acid metabolism, oxygen activation, C-H/C-F bond functionalization, natural product biosynthesis, protein cofactor biogenesis, free radical enzymology, and metalloproteins-mediated signal transduction and gene regulation. To explore these phenomena, Liu and his team utilize a wide array of chemical and biophysical techniques, such as EPR/ENDOR and NMR spectroscopies, LC-MS spectrometry, Isothermal titration calorimetry, stopped-flow and rapid freeze-quench kinetics, protein X-ray crystallography, and genetic code expansion strategies for specific unnatural amino acid incorporation into proteins. 
Prior to joining UTSA, Liu was a Distinguished University Professor at Georgia State University. He earned a bachelor's of science degree in chemistry from the University of Science and Technology of China, and a Ph.D. in biophysics from Stockholm University in Sweden. He did postdoctoral research in biochemistry at the University of Minnesota in Minneapolis.