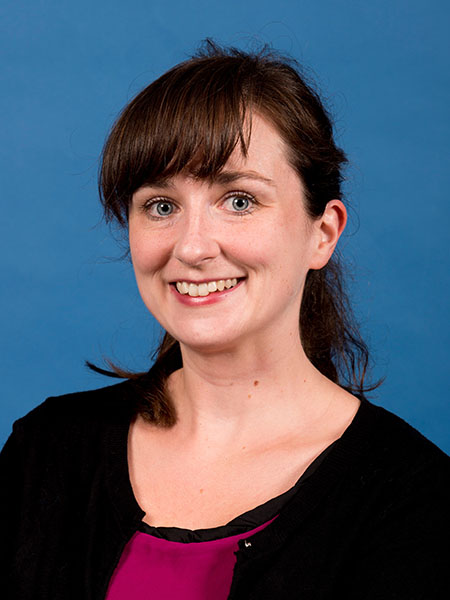 Lutcher Brown Fellowship
Unfilled chairs and professorships are used to support recently tenured faculty and help accelerate the success of their research through fellowships. The fellowships are one-year, nonrecurring honorific appointments. Fellows are nominated by academic leadership and selected by the provost through a competitive process.
Kathryn Mayer, Ph.D.
Lutcher Brown Fellowship
Associate Professor, Physics and Astronomy
Kathryn Mayer's research interests include biophysics, optical techniques, single molecule studies, plasmonics, nanotechnology and nanomedicine. She currently directs the Mayer Lab at UTSA, where she works with both graduate and undergraduate students to analyze metallic nanoparticles and their applications in biology and medicine.
With an h-index of 14 and over 5000 citations, Mayer has made substantial contributions to her area of study. She has worked as principal investigator on multiple projects and has secured over $1 million in competitive funding to support her research efforts from organizations like the National Institute of Health and the U.S. Department of Defense.
Mayer has authored or co-authored more than 50 research articles and has been published in notable academic journals including Applied Radiation and Isotopes, The Journal of Physical Chemistry, and Nanotechnology. She has also worked as a reviewer for academic publications such as ACS Applied Materials and Interfaces and The Journal of Physical Chemistry. 
Outside of her research, Mayer has been highly involved at UTSA and has served on numerous committees since joining the university in 2014. Within her department, Mayer is a member of the annual review committee, the graduate studies committee, and the dissertation committee for several students. She is also the faculty advisor for Rowdy Women in Physics, a campus organization that aims to support women pursuing physics, astronomy and other STEM majors.
In addition, she serves as a faculty mentor for the McNair Scholars Program, the Facilitated Access to Scientific Training (FAST) program, the Research Initiative for Scientific Enhancement (RISE) program, and ACS Project SEED. 
Mayer earned her Ph.D. in physics from Rice University.