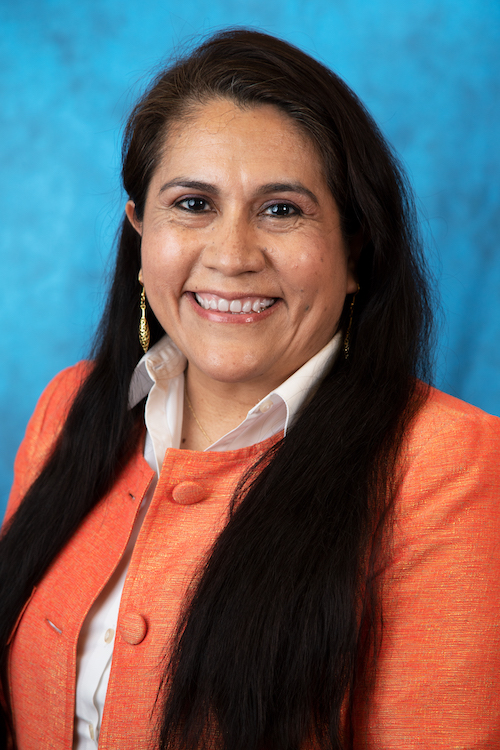 Microsoft President's Endowed Professorship
The Microsoft President's Endowed Professorship was established by the Board of Regents of the University of Texas System in 2016. The Endowed position was partially funded by Texas Research Incentive Program (TRIP) funds.
Araceli Martinez Ortiz, Ph.D.
Microsoft President's Endowed Professorship
Professor, Biomedical Engineering & Chemical Engineering/Interdisciplinary Learning & Teaching
NASA MSI Faculty Fellow IPA
Araceli Martinez Ortiz is a NASA MSI Faculty Fellow IPA. She joins UTSA as a professor of Engineering Education in the Department of Biomedical Engineering & Chemical Engineering/Interdisciplinary Learning & Teaching and holds the Microsoft President's Endowed Professorship. 
Ortiz has a passion for motivating and extending STEM education access to students and teachers in underserved and underrepresented communities. With fifteen years of engineering industry experience and another fifteen years in research and education, Ortiz is not only a leading national researcher in the field of engineering education, she is also advancing diversity in the STEM workforce.  
Ortiz' research investigates teaching and learning approaches that better support student engagement in engineering education. As a result, she has designed and piloted integrated engineering education efforts to encourage young students from diverse backgrounds to excel in mathematics and science courses. These efforts also support professional development for teachers in this focus area. 
Ortiz developed the NASA Future Aerospace Engineers and Mathematicians Academy (FAMA), a mathematics-based engineering design program for teachers and students. She also received a competitive faculty fellowship with NASA's Office of STEM Engagement this year, where she advises on education program design and research elements with NASA headquarters' teams. 
Ortiz served as a research professor and executive director of a research center at Texas State University since 2012. She led collaborative research initiatives related to undergraduate student success with funding from the Department of Energy (DOE), the National Science Foundation (NSF), and NASA. She was the founding executive director of the LBJ Institute for STEM Education and Research, where she was principal investigator or co-principal investigator on multiple externally funded research grants totaling more than $40 million dollars. 
Ortiz is a graduate of the 2021 Howard University Executive Diversity Coaching program, the 2020 Women's Leadership Program at Yale University and the 2017 UC Berkeley-Executive Leadership Academy. She received the 2020 Phi Kappa Phi Excllence in Innovation Award sponsored by President Denise Trauth. 
She earned a bachelor's degree in industrial and operations engineering from the University of Michigan in Ann Arbor. She also holds a master's degree in both manufacturing management from Kettering University and education from Michigan State University, and received her Ph.D. in engineering education from Tufts University. 
Ortiz was hired to establish a new engineering research portfolio and a new graduate degree program in engineering education. With her awarded endowment from Microsoft, she will represent UTSA as an advisor on national and international intervention and research efforts involving women and other historically underrepresented populations in engineering.