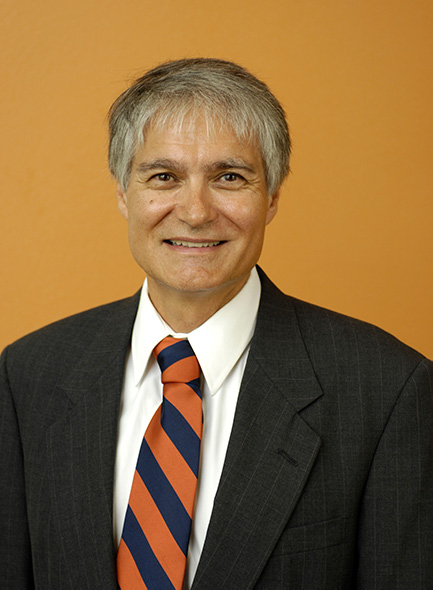 Quincy Lee Endowed Chair for Excellence in Real Estate Finance and Development Education
The Quincy Lee Endowed Chair for Excellence in Real Estate Finance and Development Education was established in 2011 as a professorship by Steve and Bruce Lee to honor the memory of their father, Quincy Lee. Now an endowed chair, the endowment honors the accomplishments of a leader in both the residential and commercial real estate sector in San Antonio and one of the most philanthropic.
Thomas A. Thomson, Ph.D.
Quincy Lee Endowed Chair for Excellence in Real Estate Finance and Development Education
Professor, Finance
Tom Thomson is a real estate and finance scholar who was the founding director of UTSA's Embrey Real Estate Finance and Development program which was initiated in Fall 2007. Realizing the critical role real estate professionals would play in launching an outstanding program, Thomson, with the assistance of Walter Embry, Jr., convened the Founders Council, a group of more than 30 distinguished real estate professionals that support the REFD program.
Working with the Founders Council he created and worked toward a vision to make the UTSA real estate program the most comprehensive and professionally integrated in the state of Texas. The Founders Council, in addition to their ongoing financial support, review and help refine our curriculum and provide many opportunities for student professional development.
When the new Burke Chair assumed leadership for the REFD program, Professor Thomson returned to a faculty role while continuing a strong supporting role in the real estate program with an emphasis on undergraduates.
He teaches real estate principles, real estate finance and real estate investment at the undergraduate and graduate level and has in the past taught undergraduate corporate finance and investments and the graduate investments course.
Thomson's research focuses on mortgage default, foreclosures and subprime mortgages. Additionally, he is an expert in real estate brokerage, manufactured housing and the value of green building and materials in residential properties. His current research is extending research in these areas by evaluating how homeowners versus non-homeowners make decisions regarding their real estate.
He is a member of the American Real Estate and Urban Economics Association, The American Real Estate Society, The Urban Land Institute and Certified Commercial Investment Member groups.
Prior to joining the UTSA faculty in 1993, Thomson held faculty positions at the University of Michigan and the University of Illinois and worked professionally for Fortune 500 companies.
He holds a Ph.D. in Wildland Resource Science from the University of California, Berkeley, and a Ph.D. in Business Administration (Finance) from the Ross School of Business at the University of Michigan.