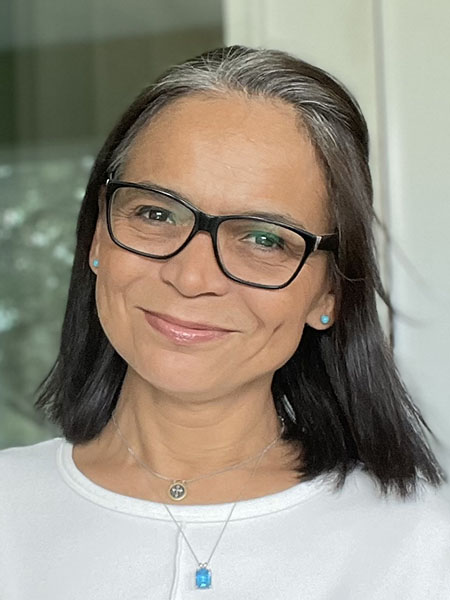 Ricardo Romo Ph.D. Endowed Professorship
The Ricardo Romo Ph.D. Endowed Professorship was established in 2010 by the university in honor of former UTSA President Dr. Ricardo Romo. The academic position is awarded to a faculty member who has demonstrated excellence in teaching, research, and service to undergraduate students enrolled in the Honors College. The professorship is awarded to a new recipient every three years.
María Guadalupe Arreguín, Ed.D.
Ricardo Romo Ph.D. Endowed Professorship
Professor, Interdisciplinary Learning and Teaching
María Guadalupe Arreguín joined the faculty of UTSA's College of Education and Human Development in 2009. Her work illuminates the intricacies of cultural and linguistic factors that influence minoritized students' access to education in early childhood and elementary bilingual settings.
Her research on dyad learning and dialogue, mobile learning, critical science pedagogy, and the intersections of language and social justice has been published in the Journal of Latinos and Education, the Bilingual Research Journal, the Journal for the Education of the Gifted, the Journal of Environmental Education, and Action in Teacher Education. She is co-author of several books including Supporting Young Dual Language Learners in Diverse Environments published by the National Association for the Education of Young Children and Translingual Partners in Early Childhood Elementary-Education: Pedagogies on Linguistic and Cognitive Engagement published by Peter Lang.
In addition, Arreguín has worked as co-principal investigator for projects that have been recognized by the National Science Foundation (NSF), receiving nearly $1 million in competitive grant funding to support her research.
Arreguín has held leadership positions at the national and local levels including vice president of the National Association for Bilingual Education and past president of the Texas Association for Bilingual Education. In 2014 she was selected by the American Educational Research Association to receive the Bilingual Education Research SIG Early Career Award.
Arreguín earned her doctoral degree in bilingual education from Texas A&M University–Kingsville, her master's degree in bilingual education from the University of Texas–Pan American, and her bachelor's degree in communication from Universidad Autónoma de Nuevo León.