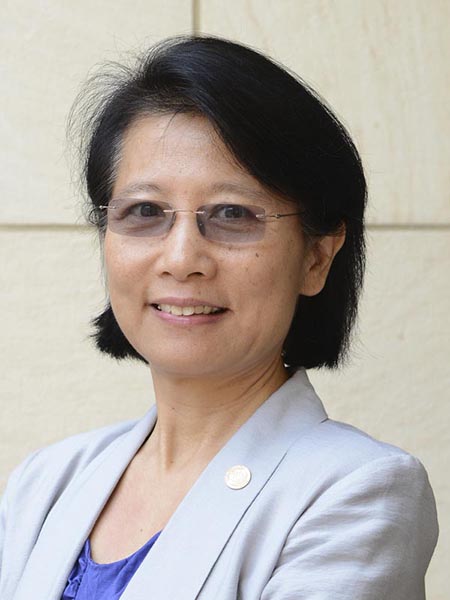 Robert E. Clarke, Jr. Distinguished Professorship in Electrical Engineering
The Robert E. Clarke Jr. Distinguished Professorship in Electrical Engineering was established in 2005 by UTSA alumni Dr. Loretta J. Clarke '87, '90 and Mr. Jeffrey W. Clarke '86. As a result of the couple's positive experience as UTSA students, this is the first of four faculty positions the couple has endowed for the university.
Ruyan Guo, Ph.D.
Robert E. Clarke, Jr. Distinguished Professorship in Electrical Engineering
Professor, Electrical and Computer Engineering
Ruyan Guo is an active researcher and educator working in the frontier of materials science and device engineering. 
She co-directs UTSA's Multifunctional Electronic Materials and Devices Research Lab (MeMDRL), conducting interdisciplinary research on structure-property relations of ferroelectric, piezoelectric, pyroelectric, dielectric, and multiferroic ceramics and crystals for their applications as sensors, actuators, modulators, tunable devices, and energy converters. She also serves as the Director of UTSA's Interdisciplinary Graduate Program in Advanced Materials Engineering. 
Over the years Guo, as a PI or a Co-PI, has been awarded multiple research grants by NSF, DoD, DARPA, and industries. She has guided more than 60 graduate students to completion in Masters' and Doctorate Research. She is the author/co-author of some 400+ technical publications and the editor/co-editor of 22 transaction books and professional proceeding volumes. Her contributions to the understanding of polarization phenomena in ferroelectric solid-solution systems have been well recognized in the research community.
She has given many invited talks at various domestic and international conferences. She has also organized many scientific meetings under the auspice of SPIE, ACerS, and IEEE. Guo presently serves on the editorial boards of the international journal Ferroelectrics Letters and Electroceramics. She has been honored with the title of Honorary Guest Professor at Shanghai University, Beijing University of Technology, and Wuhan University of Technology of China. 
Prior to joining the faculty of UTSA in 2007, she served as a tenured professor of Electrical Engineering at The Pennsylvania State University.