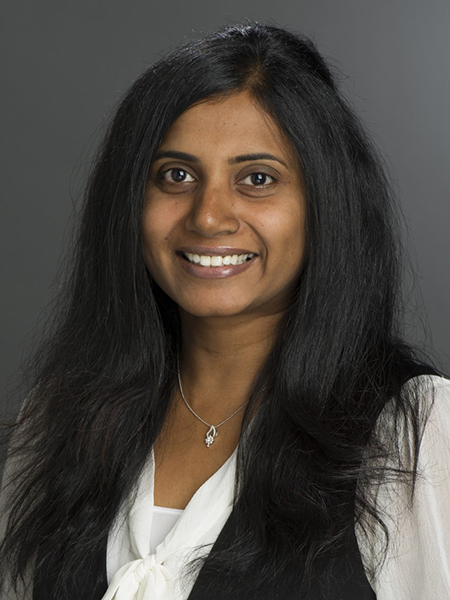 Robert F. McDermott Chair in Engineering
The Robert F. McDermott Chair in Engineering position was established in 2004 in memory of WWII Air Force Brigadier General and eventual Greater San Antonio Chamber of Commerce President, Robert Francis McDermott. The fund was created to recruit and relocate faculty members, provide start-up funds for research, and develop and expand research teaching programs.
Dhireesha Kudithipudi, Ph.D.
Robert F. McDermott Chair in Engineering
Professor, Electrical and Computer Engineering
In 2019, UTSA embarked on a cluster hiring initiative in AI, which resulted in the hiring of seven researchers in the fields of construction science, information systems and cyber security, electrical and computer engineering, and computer science. Dhireesha Kudithipudi was recruited to lead and coordinate UTSA's efforts in AI initiatives across colleges and departments as the Director of the UTSA AI Consortium. 
Kudithipudi is also the Robert F. McDermott Chair in Engineering and professor of electrical and computer engineering with a courtesy appointment in the department of computer science at UTSA. She most recently served as professor, graduate program chair in the Department of Computer Engineering, director of the Neuromorphic AI Lab and the director of the Center for Human-Aware AI at the Rochester Institute of Technology. 
Over the past decade, her research team has paved a path to creating artificial intelligence platforms inspired by the brain. Her research lab developed neuromemristive AI platforms with continual learning capabilities.  
Her current research interests are in neuromorphic computing, brain inspired neural algorithms, novel computing substrates (memristors and 3D-ICs), energy efficient machine intelligence, and AI-on-Chip.  
Kudithipudi received her BTech in Electrical and Electronics Engineering from Nagarjuna University, MS in Computer Engineering from Wright State University, and PhD in Electrical and Computer Engineering from the UTSA in 2006.