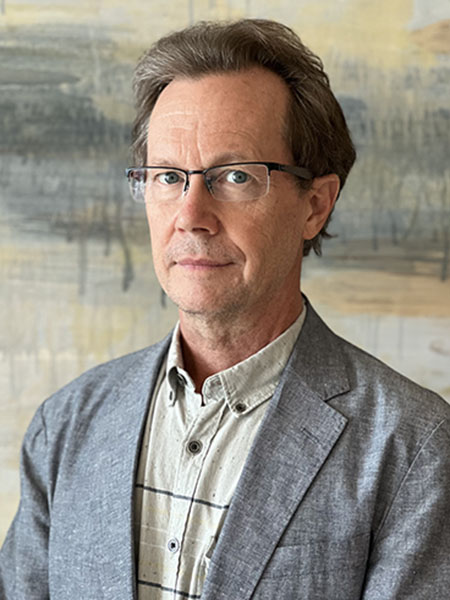 Roland K. Blumberg Endowed Professorship in Architecture
The Roland K. Blumberg Endowed Professorship in Architecture was established in 2007. It is one of several endowments at UTSA established with gift funds from the Roland and Jane Blumberg Foundation of Seguin, Texas. The endowed professorships (in music, biosciences and biology, as well as architecture) all are named in honor of the Blumbergs, who were strong supporters of public higher education in Texas.
Mark A. Blizard, M.Arch
Roland K. Blumberg Endowed Professorship in Architecture
Associate Professor and Director, School of Architecture and Planning
Mark A. Blizard is a Registered Architect, graphic designer, associate professor and director of the School of Architecture and Planning in the Margie and Bill Klesse College of Engineering and Integrated Design at UTSA.
Blizard's primary topic of study is the interrelationship between culture, memory, and the practice of architecture. research draws from a number of different wells from anthropology and archeology to linguistic studies and philosophy as well as the exchange between the oral and literary traditions.
His recent scholarship focuses on the Italian architect, Giancarlo De Carlo, foundation design education, as well as memory and the city. Many of these ideas were explored in his first book, Architecture: Land Culture Practice (2008). His current work includes the upcoming book, This Practice of Seeing: Lessons, Reflections and Conjectures on Sketching –– which makes the case for slowness and re-centers architectural practice on the art of sketching. He also regularly presents or his research is featured at conferences both nationally and internationally.
Since 2008, Blizard has organized, directed and taught in the college's study abroad program in Urbino, Italy, now part of UTSA's Global Study Center in Italy. Blizard has taught throughout the design curriculum, including architectural design and systems studios, lecture classes, seminars, graphic design, and furniture design.
Blizard is an active member in the UTSA community. In addition to serving on several committees at the department, school, college and university levels over the years, he also regularly creates posters, flyers and other marketing materials to help promote student exhibitions and academic events. He also completed formal mentorship training and serves as faculty mentor to one of the School of Architecture and Planning's tenure-track faculty members. Blizard is a beloved teacher and is the recipient of several teaching awards including the UTSA's President's Distinguished Teaching Award in 2019.
He received both his bachelor's and master's degrees in architecture at Virginia Tech. Prior to joining UTSA in 1998, taught at Virginia Tech for six years and worked in architectural offices in Charlotte, North Carolina and Washington, D.C. In 1996, he went into practice with Hunter Pittman in Blacksburg, Virginia.