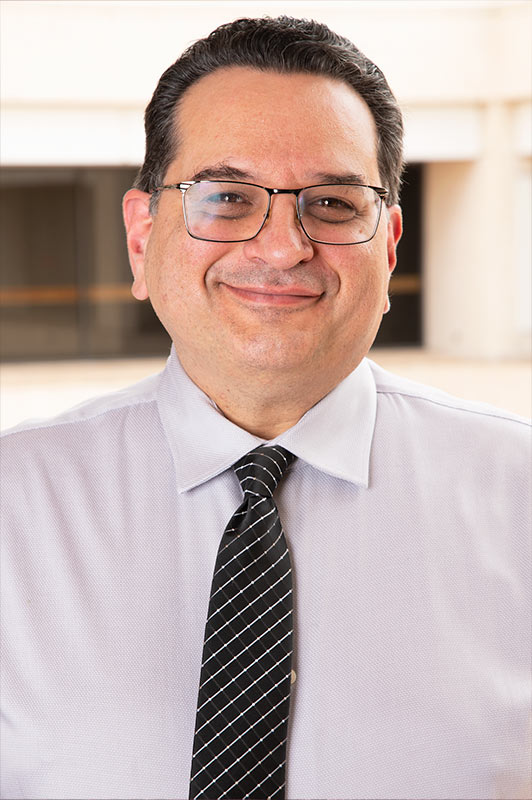 Stumberg Distinguished University Chair for the Dean of Liberal and Fine Arts
The Stumberg Distinguished University Chair for the Dean of Liberal and Fine Arts was established in 2013 thanks to a gift from Mary Pat Stumberg. The permanent endowment is used at the discretion of the dean to support his/her work and the needs of the College of Liberal and Fine Arts.
Glenn Martinez, Ph.D.
Stumberg Distinguished University Chair for the Dean of Liberal and Fine Arts
Dean, College of Liberal and Fine Arts
Professor, Modern Languages and Literatures
Glenn A. Martinez has received national and international acclaim for his expertise in sociolinguistics and applied linguistics of Spanish-speaking communities in the U.S. and along the U.S.-Mexico border. His current area of focus is on language and health care, and he has published extensively on language policies in the health delivery system, on linguistic practices of Spanish-speaking patients and providers in healthcare settings, and on the development and evaluation of language pedagogy for healthcare professionals.
Martinez is not only active in his research, but also uses his expertise to benefit his community through extensive service. In this way, Martinez is poised to advance UTSA's position as a premier Hispanic Serving Institution. 
Attending over 100 conferences and invited presentations, workshops and seminars throughout his career, Martinez's research has established him as a leader in his field while also furthering advancements in linguistics. 
Martinez' research output is extensive, with three book publications, three edited collections, four refereed electronic publications, 17 chapters in scholarly books (with one under review) and 28 refereed journal articles. He has also received significant funding for his research, with 25 authored and co-authored grants. His research has been funded the U.S. Department of Education, the National Endowment for the Humanities, the National Institutes of Health, and the Patient-Centered Outcomes Research Institute.
Martinez intertwines his research interests with service to the larger community. He was a member of the Supreme Court Advisory Committee on Language Services for the Supreme Court of Ohio from 2015 to 2019. He also facilitated the Caring for Our Latino Patients course and community interpreter training at the Wexner Medical Center in 2019.
Within the linguistics community, Martinez serves as vice president of the National Association for Medical Spanish and was the treasurer for the American Association for Applied Linguistics from 2017 to 2021. He was an external promotion reviewer for several universities, including the University of Texas at Austin, Baylor University, the University of Illinois at Urbana Champaign, and SUNY Binghamton. 
Martinez has also been an article reviewer for prominent publications in his field, including Hispania, Heritage Language Journal, and Studies in Hispanic and Lusophone Linguistics. He was a book proposal, manuscript, and chapter reviewer for Georgetown University Press, Oxford University Press, the University of Texas Press, and Routledge. 
Prior to joining UTSA, he was the director for the Center for Languages, Literatures and Cultures and professor of Hispanic linguistics at The Ohio State University. From 2013 to 2016, Martinez served as chair of the university's Department of Spanish and Portuguese. Prior to Ohio State, Martinez served as professor of Spanish linguistics at the University of Texas–Pan American, where he held leadership roles as assistant dean of the College of Arts and Humanities, chair of the Department of Modern Languages and Literature, and executive director of the Office of International Programs. He has held faculty roles at the University of Arizona, where he also served as director of the Spanish for Heritage Learners Program, and the University of Texas at Brownsville.
Martinez received his Ph.D. in Hispanic linguistics from the University of Massachusetts at Amherst and later completed his M.P.H. in Social and Behavioral Health from the Texas A&M Health Science Center. He holds a bachelor's degree in Spanish from the University of Texas–Pan American and a master's degree in Spanish linguistics from the University of Houston. He received the 2019 Alumni Distinguished Award for Outstanding Teaching and the 2015 Latino of the Year Award from The Ohio State University.