News Bytes
COE participates in ELSS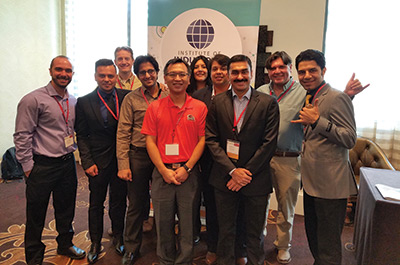 The Engineering Lean and Six Sigma conference (ELSS) took place Sept. 14-16 in downtown San Antonio. College of Engineering students took home a number of the top prizes at the annual industry conference.
"I am really proud of our students' active participation at the conference and solid performance in competitions," said Hung-da Wan, a core faculty member at the Center for Advanced Manufacturing and Lean Systems and associate professor in the Department of Mechanical Engineering. "They brought UTSA recognition, learned from renowned experts in the field, and developed professional connections with them. It is also a promise to the Lean Six Sigma community for the future workforce. It was a win-win opportunity."
---
Advanced computer system aids researchers in processing big data
Jetstream—a cloud-based advanced computing system for the science and engineering community—launched in the fall. Indiana University partnered with UTSA to create Jetstream, which was first announced by the National Science Foundation in early 2015. The project allows thousands of researchers to have easy access to advanced computing tools through a user-friendly, cloud-based interface.
"The intent of this machine is for scientists to have a national resource to aid in their research," said Paul Rad, director of the UTSA Cloud and Big Data Laboratory. "Not every scientist is a computer scientist, and with Jetstream they no longer have to be to utilize big data in their research."
Jetstream is designed to aid researchers in areas like biology, robotics or chemistry who don't have computer science expertise, but use big data in their work. Users interact with a system of virtual machines on a computer or tablet. As the project continues to develop, Rad's UTSA team is focusing on making the interface more accessible and personalized by discipline.
"The cloud is at the cutting edge of the industry, and UTSA is one of the leaders in that field," said Harry Millwater, UTSA associate dean for research and graduate studies and Samuel G. Dawson Endowed Professor of Mechanical Engineering. "I'm very excited to see this innovative new technology launch. I'm sure it will shape how we as researchers approach big data."
In 2013, the UTSA Open Cloud Institute was established to support cloud computing and big data research and development. The laboratory, supported in large part by industry, helps the international business community improve its computing platforms through open-source hardware and cloud and big data technologies such as Open Compute, OpenStack and Software Defined Network.
"UTSA has invested significantly in growing our cloud capabilities by partnering with like-minded academic institutions and industry for which we are recognized nationally," said Bernard Arulanandam, UTSA interim vice president for research.
---
Dean JoAnn Browning receives Inspiring Women in STEM Award
JoAnn Browning, dean of The University of Texas at San Antonio College of Engineering, recently received the 2016 Inspiring Women in STEM Award from INSIGHT Into Diversity magazine, the largest and oldest diversity and inclusion publication in higher education.
The Inspiring Women in STEM Award honors women who work to make a difference in the fields of science, technology, engineering, and mathematics (STEM). Browning will be featured, along with 65 other recipients, in the September 2016 issue of the magazine.
Inspiring Women in STEM Award recipients were nominated by a colleague and selected by INSIGHT Into Diversity based on their efforts to inspire and encourage a new generation of young women to consider careers in STEM through mentoring, teaching, research, and successful programs and initiatives. While many women who work in these fields have made significant contributions and have engaged in new discoveries and innovations, it is at times difficult for them to gain recognition for their hard work and dedication.
"We are so proud to have such an outstanding advocate for women and minority students in the UTSA College of Engineering," said UTSA President Ricardo Romo. "Dean Browning is a wonderful role model for our students, an exceptional leader in her field of research, and an integral part of UTSA's advancement to Tier One recognition."
INSIGHT Into Diversity magazine selected Browning because she is passionate about encouraging young people, especially women and minorities, to get involved in STEM. Since joining the College of Engineering in 2014, she has made the recruitment and retention of women and minorities a key goal for the college.
"We know women in STEM fields are not always represented or recognized for their success, dedication, and mentorship to others," said Lenore Pearlstein, owner and publisher of INSIGHT Into Diversity magazine. "We want to honor those who are inspirations to their colleagues, their community, and to young girls everywhere who may be interested in a future career in STEM. We are proud to honor these women as role models to all."
---
New faculty member receives NACE International Award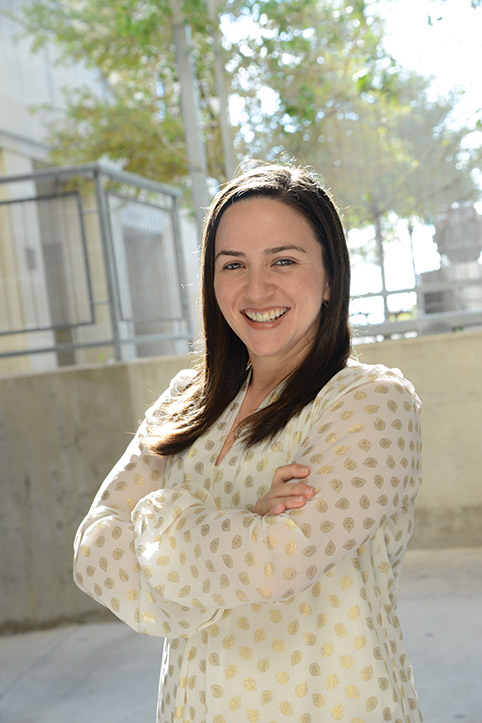 NACE International has awarded a seed grant of $30,000 for a research project conducted by Brendy C. Rincon Troconis, assistant professor in the UTSA Department of Mechanical Engineering. Rincon's proposal, "Effect of Passive Film Composition on the Electrochemical Behavior and Cracking of Corrosion Resistant Alloys Utilizing Surface Enhanced Raman Spectroscopy," seeks to resolve issues caused by the unique conditions of downhole applications in oil wells. Currently there is a lack of understanding relating to surface film composition and corrosion (including environmentally assisted cracking).
The grant is is intended to encourage university researchers new to the field of corrosion to study the corrosion of engineering materials. This year, 17 proposals were received and reviewed by the Research Seed Grant Task Group, which ultimately recommended that the funding be awarded to Rincon.
"We received many exceptional proposals, but Rincon's proposal stood out because it offered a novel approach to solve a critical problem faced by the oil and gas industry," said David Kolman, chair of the NACE International Seed Grant Committee. "The scientific aspect, coupled with her exceptional background and promise of future growth, resulted in the committee's unanimous nomination of this exciting proposal."
"Controlling corrosion in downhole applications is essential to avoid catastrophic failures that can jeopardize the ecosystem, interrupt production, create a loss of control of a well and result in fines," Rincon said. "Under the extreme conditions of a downhole environment, material selection is a top priority for the successful operation of the well, while minimizing safety risks."
This grant will enable the first stage of this research project, which will be the first one to be performed at the first corrosion laboratory at UTSA. The successful completion of the first research stage is vital to defining safe operating conditions and will be the seed to attract additional financial support from industry. Furthermore, this understanding may provide insight into the development of corrosion-resistant alloys and material selection for anodic stress corrosion cracking mitigation in downhole application.
Founded in 1943, NACE International, The Corrosion Society, serves 36,000 members in 130 countries. Based in Houston, Texas, with offices in the U.S., China, Malaysia, India, Brazil, and Saudi Arabia, and a training center in Dubai, the organization serves all industries impacted by corrosion and provides the most specified technical training and certification programs, conferences, industry standards, reports, and publications focused on corrosion prevention and mitigation.
---
Program established to prepare students for careers in STEM
The San Antonio Prefreshman Engineering Program (SA-PREP) served up a variety of STEM-related activites to more than 1,500 school-aged students this past summer. PREP students spent seven weeks at UTSA and other San Antonio-area campuses working on projects and other hands-on activities, learning and applying advanced STEM concepts.
"I love engineering," said SA-PREP student Francesca Makilan. "We built a bridge out of toothpicks to see how much it could withstand. It was a lot of fun. I had a really good time." The curriculum included advanced mathematics, problem-solving, engineering, physics, technical writing, water science, nanotechnology, computer science, research, and STEM career awareness. PREP students also had the opportunity to earn college scholarships, high school credit, and college credit.
SA-PREP was established in 1979 by UTSA mathematics professor Manuel Berriozabal. This summer, the program (PREP I, PREP II, PREP III, PREP IV, and University PREP) was offered on 10 San Antonio campuses, including the UTSA Main and Downtown campuses.
"The problem-solving skills taught during this program help young people in the classroom and later on in their future careers," said Rudy Reyna, executive director of SA-PREP. "According to the Bureau of Labor Statistics, by 2018, the U.S. will have more than 1.2 million job openings in science-, technology-, engineering- and mathematics-related occupations."
More than 18,000 San Antonio students have completed at least one summer component, with 88 percent of those students going on to attend college. The program also has been replicated in 14 cities as TexPREP and across the nation in five states as PREP-USA. Overall, PREP programs have served more than 39,000 students since the program began.
---
Cyber warrior program receives federal funding
UTSA has received $471,549 in federal funding to support its top-tier Army Reserve Cyber Private Public Partnership Program (Cyber P3). UTSA, tapped by the United States Army Reserve as a founding member of the program in 2015, will produce highly qualified cyber warriors with advanced knowledge, mission-critical skills, and military expertise to defend the nation from persistent cyber threats.
The U.S. Department of Defense has identified a critical need for cybersecurity professionals in the public sector and reached out to UTSA, a consistently top-ranked cybersecurity institution, to create a pipeline of highly skilled Army reservists to fill this void.
"It's another affirmation of the integral role UTSA plays in cybersecurity education and the protection of our country to see the top-tier excellence of our cybersecurity faculty and researchers recognized in this opportunity to serve our armed forces and aid in protecting our nation right here in San Antonio, Military City, USA," said UTSA President Ricardo Romo.
"In receiving this grant, UTSA once again demonstrates its cybersecurity leadership," said U.S. Representative Joaquin Castro. "As cyber threats to businesses, the government, and private individuals continue to grow, San Antonio's role in preparing those who are on the digital frontlines is absolutely critical. This NSA (National Security Agency) funding will help UTSA equip Army Reserve cyber warriors with the latest and most effective cybersecurity training. I'm proud this essential, sophisticated work is happening in our city."
UTSA faculty will educate and train Army reservists at undergraduate and graduate levels to help them build foundational cybersecurity skills and enhance existing skills. The federal funding will also support the creation of a new laboratory to give this new generation of cyber warriors the kind of hands-on research experience UTSA is known for offering its students.
"Increasing our cybersecurity resources, training, and capability is a win for the entire San Antonio community," said U.S. Representative Will Hurd, a cybersecurity entrepreneur who championed UTSA's selection as a founding member of the Army Reserve Cyber P3. "This type of cooperation between our leading educational institutions, public, and private sectors will strengthen our workforce, create new jobs, and continue to elevate San Antonio as a world leader in cybersecurity."
"Much of the research will focus on industrial control systems security," said Glenn Dietrich, professor of information systems and cybersecurity in the UTSA College of Business as well as the project's principal investigator. "These young reservists will learn the skills necessary to protect our power grid, our water systems and petroleum pipelines."
Dietrich plans to start creating the educational programs immediately, with construction on the new lab to begin this fall. One of his main objectives is to recruit participants through the Wounded Warrior Project.
"UTSA is ranked first in the nation for cybersecurity for a reason," Dietrich said. "We can use those considerable skills to help Army reservists and wounded veterans to find a rewarding job in a growing, high in-demand field."
---
UTSA earns leadership role in multi-million dollar research project
UTSA has been chosen to act as a member of the network coordination office strategic committee for the Natural Hazards Engineering Research Infrastructure (NHERI) grant. The National Science Foundation is investing $62 million over the next five years into the NHERI grant, which will explore how to limit the damage done to engineering structures by natural disasters. Dean JoAnn Browning expressed pride in UTSA being chosen for a leadership role in such a large-scale grant.
"The competition is fierce for these large grants," Browning said. "Everyone who is a player in the earthquake engineering and now the wind engineering community wants to be a part of one of these leading grants. To be chosen means that there is confidence in UTSA from the community."
---
SiViRT launches new initiatives
Established in 2009 with initial funding from the National Science Foundation, the UTSA Center for Simulation, Visualization and Real-Time Computing (SiViRT) has grown into a diverse interdisciplinary team focusing on methodology and tool development as well as engineering and science applications. With new members Sos Agaian, Arturo Montoya and Justin Wilkerson joining existing executive committee members Yusheng Feng and Fidel Santamaria, the SiViRT Center plans to launch initiatives to form research interest groups in order to enhance collaboration and foster new ideas to pursue new research directions and funding opportunities.
New initiatives also include establishing student scholarships for both undergraduate and graduate students who are interested in computer simulation and visualization. The Center will also establish a travel fund for center faculty to attend professional conferences or make trips to nurture collaborations.
---
UTSA PREP students to benefit from $1.24 million NASA Space Education Grant
he Lunar Caves Analog Test Sites (LCATS) program will allow for three consecutive annual cohorts of San Antonio Prefreshman Engineering Program (PREP) students to implement what they learned in a series of hands-on workshops, culminating in the development of applications that will provide practical solutions for lunar mission architecture challenges.
The LCATS student base consists solely of SA PREP students who are able to continue their participation into the regular school year. Additionally, in conjunction with the Texas Alliance for Minorities in Engineering (TAME), participating students will create a comic book showcasing what they learned about space-STEM throughout the course of the project.
---
UTSA, Microsoft, and NRG Energy announce new flow battery research initiative
The future of renewable energy will rely on many different kinds of technologies. But one technology is primed to play a bigger role. New research announced earlier this fall at UTSA's Texas Sustainable Energy Research Institute (TSERI) indicates that batteries can help ease the transition to a grid increasingly powered by renewables.
Senior leaders from multinational technology company Microsoft Corporation, leading integrated power company NRG Energy, Southwest Research Institute, and various utility players converged on UTSA to discuss the role batteries can play as more renewable energy comes onto the grid. The research will evaluate flow battery performance under a variety of operating conditions aiming to understand its potential for large-scale deployment.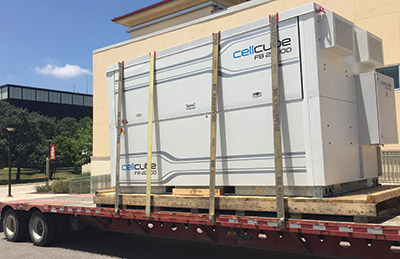 The research program, which began in spring 2016 and will continue until at least summer of 2017, looks at the operational capacity range and economic potential of two flow battery chemistries for a variety of applications, from helping power data centers to supporting deployment of renewable resources and optimizing energy management within electric distribution grids.
"Our research to date has focused primarily on two critical questions: What is the operational sweet spot for flow battery technology and what is the revenue potential if used at scale to provide ancillary services to the power grid or energy management benefits to individual customers," said Juan Gomez, interim director at the Texas Sustainable Energy Research Institute. "Preliminary testing has focused on validating vendor claims related to battery performance. Concurrent research on energy markets across three regions of the United States is already unlocking potential strategies to participate in power markets when the flow battery is not in use for its primary application. This sort of world-class research aligns perfectly with UTSA's drive to become a Tier One research university."
Renewable energy made up 58 percent of all new generation additions in the world last year, but renewables still only account for 22 percent of total electricity generation in the world. This means there is a great deal of opportunity to grow the percentage of renewables on the grid – but there are also new challenges related to energy storage that need to be addressed.
With traditional sources of electricity, energy is stored in a lump of coal, a reservoir behind a hydroelectric dam, or in a fissionable isotope. It can be stored indefinitely and deployed to meet demand as needed. However, wind and solar generation resources provide electricity only when the wind blows or the sun shines. The lack of existing large-scale storage for energy produced from these resources requires innovation in the way each can be effectively integrated into the grid at high rates of penetration.
This challenge is precisely what is driving the research at the UTSA's Texas Sustainable Energy Research Institute. Distributed generation technologies, including batteries, have the potential to reduce energy losses, improve reliability and minimize the need for costly investments in new infrastructure. Those benefits are attractive to companies like Microsoft, with large and growing energy needs to power their datacenters, as well as power companies like NRG, that are working to make the grid more reliable while also deploying more sustainable forms of energy generation, including renewables.
"With more than 100 datacenters in more than 40 countries around the world, energy matters a lot to Microsoft. The news today shows great promise in identifying and refining technologies that can reduce energy consumption and improve efficiency within our datacenters, while also contributing to a more reliable and sustainable grid," said Jim Hanna, Director for Datacenter Sustainability at Microsoft. "We're pleased to see the early results and amount of progress that's been made, and excited about the future of this work."
Lynda Clemmons, Vice President from NRG Energy's Business Solutions Group echoed the need to innovate for reliability. "Our customers today are interested in the long-term sustainability benefits of renewable system solutions which are increasingly including storage. Whether datacenters, hospitals, universities or any facility with a mission critical function, there is a direct benefit from dynamic technologies that can help ensure customers meet both sustainablity goals and reliability needs."