Our People: Student Success
UTSA engineering students recognized with 'junior Nobel Prize'

The Undergraduate Awards (UA), the world's largest international academic awards program recognizing innovation and excellence at the undergraduate level, has announced the winners of the 2016 program including Regional Winner, UTSA College of Engineering's Andre Cleaver; and Highly Commended Entrant, UTSA College of Engineering's Felipe Flores.
The Regional Winner, Cleaver, with his paper "Inverse Finite Element Analysis of Compressed Mouse Lenses for Mechanical Insights into Presbyopia" is the highest performing paper in the U.S. and Canada region in the Engineering category. Flores received a Highly Commended award for his paper "Design and Advantages of a Bioretention Area as a Best Management Practice for Low Impact Development" in the Built Environment category.
Cited as the ultimate champion of high-potential undergraduates, and often referred to as a "junior Nobel Prize," The UA is recognizing excellent research and original work across the sciences, humanities, business, and creative arts.
"When I heard I was selected, I felt a sense of pride in the fact that the effort and time I put into the project was recognized and rewarded," said Cleaver, who graduated from UTSA in spring 2016 with a degree in biomedical engineering and is currently enrolled in the Mechanical Engineering MS/Ph.D. program at Tufts University in Boston. "I have never been ­­an avid writer, but this award recognized the hard work and dedication I put into constructing this thesis. I also felt a sense of humility in the fact that there were many other strong and capable applicants also in competition for this award."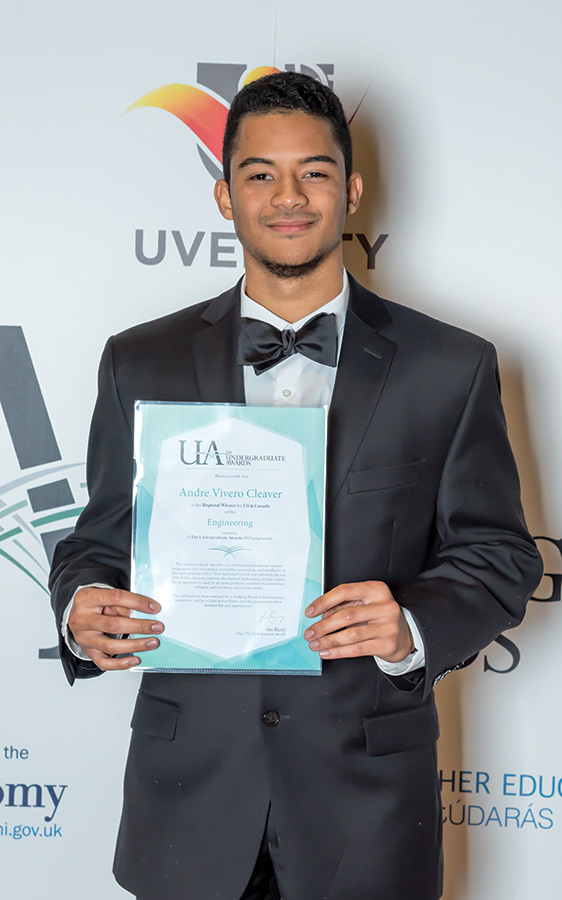 Flores, who graduated from UTSA in spring 2016 with a degree in civil engineering, was pleasantly surprised when he heard he received a Highly Commended award, which put him in the top 10 percent of entrants.
"I was not expecting to win," he said. "When I got the email, I was waking up, reading my emails with one eye closed and the other one opened. When I read that I was in the top 10 percent in my category, I thought I was getting the information wrong. But after reading the email a couple of times I realized that I actually was one of the winners! I was very proud of myself, very thankful for my advisor Dr. Heather Shipley, and very thankful for UTSA and the Honors College. This award has made me realize that I have still a lot to learn and that if you work hard and have confidence in your job, you can do something outstanding that could help the world and society."
The Undergraduate Awards received a record number of submissions in the 2016 program, with 5,514 papers from undergraduates in 244 institutions and 121 nationalities. The Global Winner is the highest-performing paper within its category and the Regional Winners are the highest-performing Highly Commended papers from their region within a category. The seven regions of the UA 2016 program are: the Island of Ireland, Europe, USA & Canada, Latin America, Oceania, Asia, Africa & the Middle East.
"This is a huge achievement for the University of Texas at San Antonio and its students," said Louise Hodgson, CEO of The Undergraduate Awards. "UA received the highest number of submissions to date with only the best papers making it through the judging process. The competition was extremely tough and the judges were astounded at the high quality of undergraduate research in the program this year. Congratulations to this year's successful entrants."
Cleaver and Flores were invited to meet their fellow awardees at the annual UA Global Summit, which took place in Dublin, Ireland, on November 8-11, 2016. The attendees were addressed by the likes of NASA Astronaut Dr. Mae Jemison, Shiza Shahid of the Malala Fund, MacArthur Fellow Kyle Abrahams, and many more speakers and facilitators.
---
Graduate student selected for AHA scholarship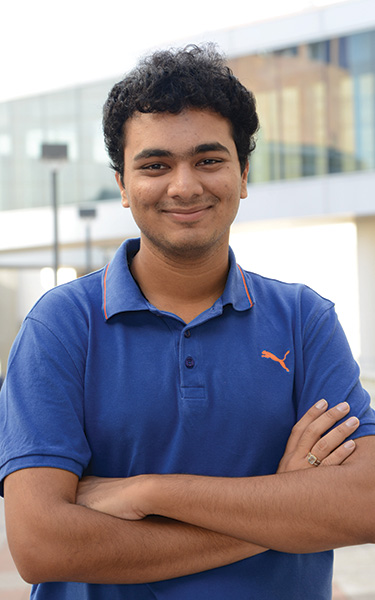 Shalin Parikh, graduate student in the UTSA/UTHSCSA Joint Graduate Program in Biomedical Engineering, was recently selected to receive a 2016 Student Scholarship in Cardiovascular Disease from the Scientific Councils of the American Heart Association.
"I feel excited that I was selected for this scholarship," Parikh said. "It is more about the recognition than the amount because this scholarship is from a very big organization, the American Heart Association. I will be using these funds for expenses I incur during the project period."
According to its webpage, the Scientific Councils of the American Heart Association/American Stroke Association want to stimulate interest, knowledge, and investigative work in students in medicine, nursing, public health, nutrition, and other allied health disciplines. AHA Student Scholarships support students conducting research projects related to cardiovascular disease, stroke, and basic sciences early during pre-doctoral training, usually during the summer. AHA scholarships provide valuable stipends for students during the research project. The stipends may be used for student expenses, lab fees, or other costs incurred by the student during the project.
"Shalin is one of our outstanding students in the Joint Graduate Program in Biomedical Engineering," said Ender Finol, professor in the College of Engineering. "His research involves the noninvasive assessment of abdominal aortic aneurysms under surveillance by finite element and geometric modeling. He is also training undergraduate research assistants who also do research related to this topic. This American Heart Association scholarship is a well deserved reward for his hard work in the lab and motivation to do research in cardiovascular disease. I look forward to Shalin's continued success in the program and his future contributions at the forefront of vascular mechanics research."
---
UTSA alumna's medical device receives UT System investment
The UT Horizon Fund recently invested $150,000 to fund Cardiovate, a San Antonio-based startup that is using technology from two University of Texas System institutions to commercialize a medical device to treat vascular diseases by repairing blood vessels.
The UT Horizon Fund — a formative-stage venture fund created by the UT Board of Regents that provides capital and support to companies with tangible ties to one of UT System's 14 academic and health institutions — initially invested $50,000 in seed money for the company in 2013.
"Cardiovate's disruptive technology will improve outcomes for patients who suffer from vascular diseases such as peripheral artery disease," said Julie Goonewardene, UT System associate vice chancellor for innovation and strategic investment and managing director of the UT Horizon Fund. "The UT Horizon Fund continues to support the company's efforts to move its life-saving medical device from the laboratory to the bedside."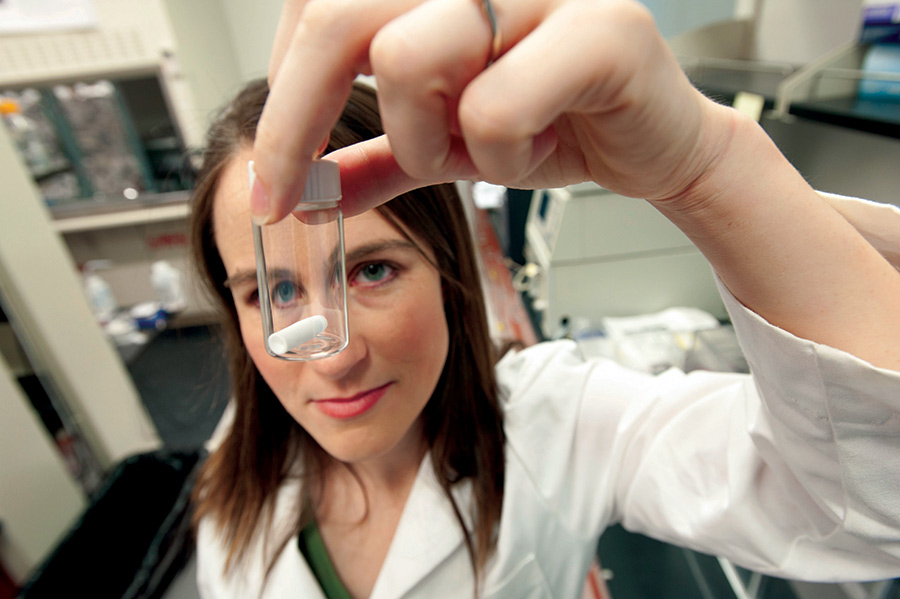 Cardiovate CEO Mark Standeford said having the UT Horizon Fund as an investment partner brings credibility and will help attract other investors to his company.
Cardiovate's medical device was developed by Jordan Kaufmann, Ph.D., while she was a graduate student at UTSA's College of Engineering, along with her faculty advisers Mauli Agrawal, UTSA interim provost and vice president for academic affairs, and Steven Bailey, M.D., division chief for cardiology at UT Health Science Center San Antonio's School of Medicine.
"Vascular disease is a progressive and life-threatening condition," Standeford said. "Our technology will help those patients suffering from it who rely on synthetic bypass grafts for treatment. Current synthetic grafts oftentimes fail to perform well in long-term applications, requiring patients to undergo additional surgeries to treat the condition, or in some cases, they must undergo an amputation."
Cardiovate's graft — made from a biodegradable material that can be absorbed by the body after use — is designed to support the body's own healing process to develop new vascular tissues over time. The three-dimensional architecture and distinct surfaces of the graft will enable the growth of a patient's own cells. The graft will be used for surgical repairs of blood vessels for peripheral artery disease and below-the-knee surgical applications.
Standeford said the UT Horizon Fund's latest investment will help Cardiovate execute the next phase of research to conduct long-term studies and show improved results from its grafts compared to other current devices.
---
Alejandro Morales Betancourt is earning his degree for his son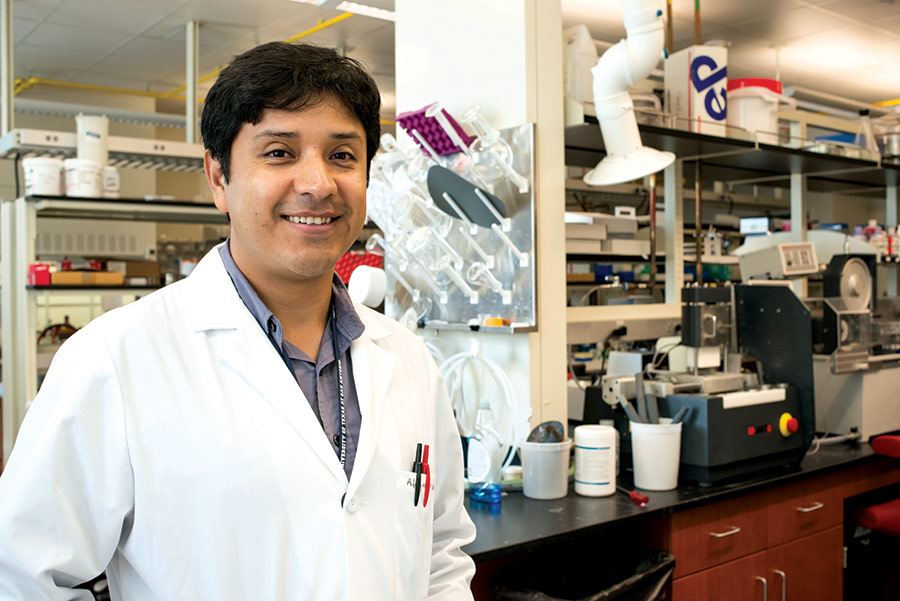 Meet Alejandro Morales Betancourt. This nontraditional UTSA student is pursuing his biomedical engineering degree to inspire his son.
Born in Mexico City, Morales came to Texas in 2007 with his wife and young son, now 12 years old.
"Our main motivation was to make sure he could have the best possible education," Morales said.
In the United States, Morales initially had a series of unfulfilling jobs, including work as a welder, as a house cleaner, and as an overnight stocker at Wal-Mart. He knew he needed to earn a college degree before he could pursue a more lucrative career, but was uncertain about what path to take.
"I started earning my associate's degree at San Antonio College," he said. "I was about to finish when another opportunity arose."
Last summer, Morales was invited to join the Louis Stokes Alliance for Minority Participation Ciencia, Ingeniería y Matemáticas Aliados (LSAMP-CIMA) program. He was immediately struck by UTSA's diverse, welcoming campus.
"My experience has been wonderful," he said. "It's a truly multicultural experience, and there are so many resources here to foster success."
At UTSA, Morales conducted research for the first time, working alongside top-tier faculty in biomedical engineering laboratories.
"I was hooked," Morales said. "I'd always liked engineering and medicine, and the work the faculty is doing is very exciting."
Morales was so intrigued by the summer program that he transferred to UTSA and began earning his bachelor's degree in biomedical engineering. At 40, he's going into his sophomore year.
Now a member of UTSA's Maximizing Access to Research Careers (MARC) program, Morales has plans to pursue a Ph.D.
"I love research because I learn something new every day," he said. "I don't want to ever stop learning."
During the school year, Morales and his son do their homework together each night, and he says one of his biggest motivations is inspiring his son to value a university education.
"I know the best example I can give him is to pursue my degree and show him how important that is."
---
Ph.D. student awarded prestigious NSF Fellowship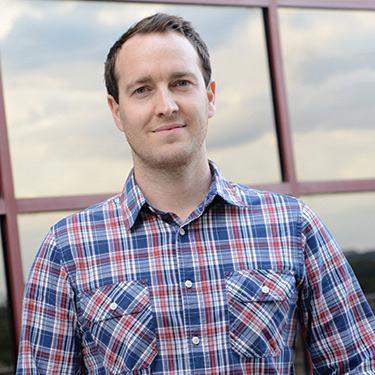 Civil and environmental engineering Ph.D. student Thomas Mander was awarded a prestigious National Science Foundation Ph.D. fellowship that will fund his education over the next three years, as well as providing a $32,000 yearly stipend.
Mander has degrees from the University of Canterbury in New Zealand and Texas A&M, and he decided to come to UTSA for a number of reasons.
"This is an up-and-coming program, and I feel that I can gain from that one-on-one interaction that I can get here at UTSA as compared to other schools," said Mander. "The opportunity to perform research with Dr. Adolfo Matamoros (Peter T. Flawn Distinguished Professor in the Department of Civil and Environmental Engineering), and later become involved with the new planned structures lab is distinguished in itself."
---
COE's Blake Bogenschutz is chasing a bright future
Meet Blake Bogenschutz. This former quarterback for the UTSA Roadrunners football team is now tackling his future as a civil engineer.
Bogenschutz grew up in the small town of Carthage, Texas, and began playing football in the 7th grade.
"I was in love with the sport," he said. "I knew this was going to be a big part of my life."
He joined his high school's team as a sophomore and as a senior received an offer to join UTSA's football team. Excited to pursue a top-tier education and be a part of a brand new team, Bogenschutz happily accepted.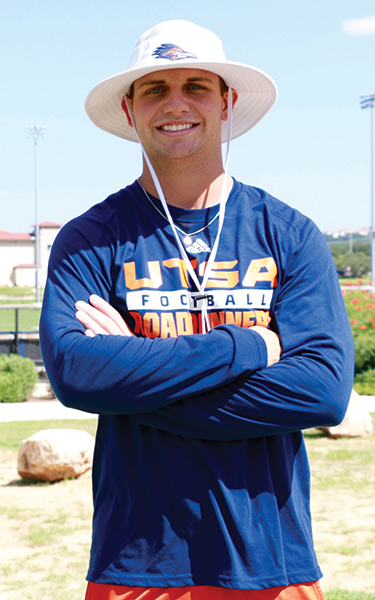 "I thought it was so exciting because we're writing our own legacy," he said. "It's really thrilling to be a part of something new."
Bogenschutz was struck by the close-knit atmosphere of the UTSA campus and found himself immediately at home even before he had played his first game.
"I've loved playing in the Alamodome, but I think my favorite part of the games is how loud it is," he said. "It's amazing to hear people cheering on both sides and showing so much spirit for their school."
As UTSA's quarterback, Bogenschutz led the Roadrunners for two seasons. However, in early 2016 he made the difficult decision to leave football behind after learning he was at risk for brain damage from sport-related concussions.
"It was the hardest decision I've ever had to face," he said. "But my heart and mind are at peace with stepping away because my doctors advised me to."
Now a junior, he's still hard at work earning his undergraduate degree in civil engineering.
"I love math, especially geometry, so I want to build bridges and work with transportation," he said.
Until he graduates, though, he'll remain a part of the football team as a student assistant. As practices began this summer, Bogenschutz was there daily to support his coaches and teammates in every way he could.
"I'm working the new quarterbacks and helping out wherever the coaches need me," he said. "I feel like I'm doing more learning than anything."
The team is made up of upperclassmen he's familiar with as well as fresh students recruited by the new head football coach, Frank Wilson. According to Bogenschutz, energy is high going into the new season, and a lot of that has to do with Coach Wilson.
"He's doing a great job of getting everyone pumped up," he said. "I've been able to work with him a bit more closely than I would have if I was still a player, and he's a great leader.
He does a great job of explaining things so that everyone knows what they need to do and how to do it. From the beginning, it was clear he was going to be a great asset."
Aside from game tips, Bogenschutz has been advising the new players to manage their time wisely and balance their course load properly.
"That's how we are," he said. "Not just on the team but at UTSA. We're like a small town in a big city. We're a family."
---
SAE competes at Formula SAE Lincoln, Nebraska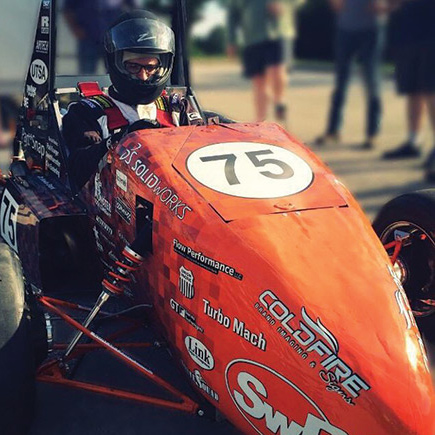 This past summer, UTSA's student chapter of the Society of Automotive Engineers (SAE) competed for the fourth time in the Formula SAE Lincoln competition in Lincoln, Nebraska.
"Getting to compete against teams from Europe, Asia, and South America was an amazing experience," said Roadrunner Racing member Peter De La Cruz. "Being at the competition exposed me to a lot of ideas I might not have otherwise thought of."
The organization's 22 students have worked year-round to prepare for this competition. They designed a race car in fall 2015, built it in spring 2016, and raced it in summer 2016. A dozen of those students competed in seven different events. The team faced international competition, as this event was open to universities from around the world.
---
UG research booms in COE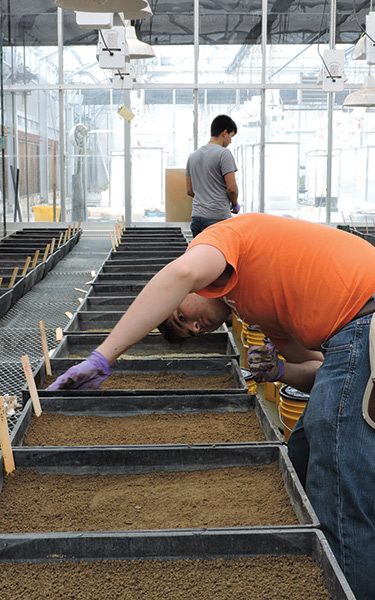 Undergraduate research is booming in the College of Engineering. A prime example of this are the 18 students who participated in summer internships. From Lubbock and Temple, Texas, to Madison, WI, and Beltsville, MD, these students had a chance to work in the field of clean energy and sustainable/green engineering systems, conducting research at USDA national laboratories mentored by renowned researchers who are working on cutting-edge engineering and science to solve societal and sustainability challenges in the nation through Assistant Professor Krystel Castillo's BioEnergy and Water for Agriculture Research and Education (BE AWARE) Network and Water Treatment, Agricultural logistics and Renewable Energy (WeARE) Systems. Shown in the photo to the left, mechanical engineering students Andres Tapia and David Olazaba conducted experiments at USDA Beltsville laboratories on agricultural sustainability modeling and optimization.
Castillo, GreenStar Endowed Assistant Professor in Energy, received about $1.6 million in grants and has support more than 27 college students and 23 community college students since the inception of the programs.
"Internships are a great way to conduct hands-on research and promote an education that is centered on the learner. I encourage our students to work on the theoretical aspects of their research during the academic semester and conduct summer internships at national laboratories to gain knowledge and understanding of the operational complexity of sustainable energy systems from source-to-use and collect first-hand data," said Castillo. "I have observed that after the summer internships, the students become more articulated about the impact and significance of their research and how their project is aligned to a national priority. The success stories are many and varied. For example, Andres Tapia and Alex Lara (ME) just published a journal paper from their 2015 internship project; great accomplishment of our Roadrunners!"