UTSA's transit deal with VIA key to larger multicampus vision
March 26, 2019
San Antonio Business Journal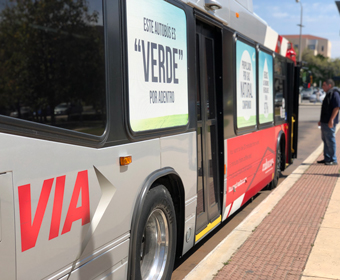 There is more behind the University of Texas at San Antonio's new partnership with VIA Metropolitan Transit than free bus transportation for Roadrunners students.
The initiative is part of a comprehensive master plan for UTSA that President Taylor Eighmy believes will address key mobility challenges affecting the university and the city, while creating greater connectivity between two growing campuses.
It could also help reduce infrastructure costs for an institution that expects its enrollment to reach 45,000 students over the next several years, lowering emissions.
As I previously reported, UTSA's agreement with VIA will provide its students, faculty and staff with free and unlimited bus transportation across the city, beginning with the fall semester. UTSA will fund the new program.
Now, we know more details about UTSA's talks with VIA, how much it's investing in the partnership and how this fits with Eighmy's broader growth plans for San Antonio's largest university.
"We had been in discussions for a while with VIA," Eighmy said.
UTSA will pay VIA about $175,000 for the upcoming calendar year — or $5 per student.
The payoff for the school will be fewer cars on campus, resulting in less congestion and potentially less funding the university will need to earmark for vehicular infrastructure, such as parking facilities.
"Transportation systems and people moving is evolving in San Antonio," Eighmy said. "Our focus is myriad — not just cost. It's tied to many factors around our enrollment growth, expansion of our campuses, the methods of learning delivery, telecommuting."