Institute of Texan Cultures Visioning
Current Status
In Progress
Charge
The Institute of Texan Cultures Initiative seeks to align ITC more directly to the educational mission of UTSA. One of ITC's greatest assets is that it is part of the university — the goal of this initiative is to capitalize on that connection as ITC pursues its mission to give voice to the experiences of people from across the globe who call Texas home.
UTSA is on our way to becoming a premier public research university, joining the top tier of US universities. ITC is a critical part of this journey.
Why? University museums offer a unique value proposition that increases the vibrancy and relevance to our city, state and region, including:
Stewardship of heritage
Teacher preparation and student learning
Scholarly programs
Experiential learning for career preparation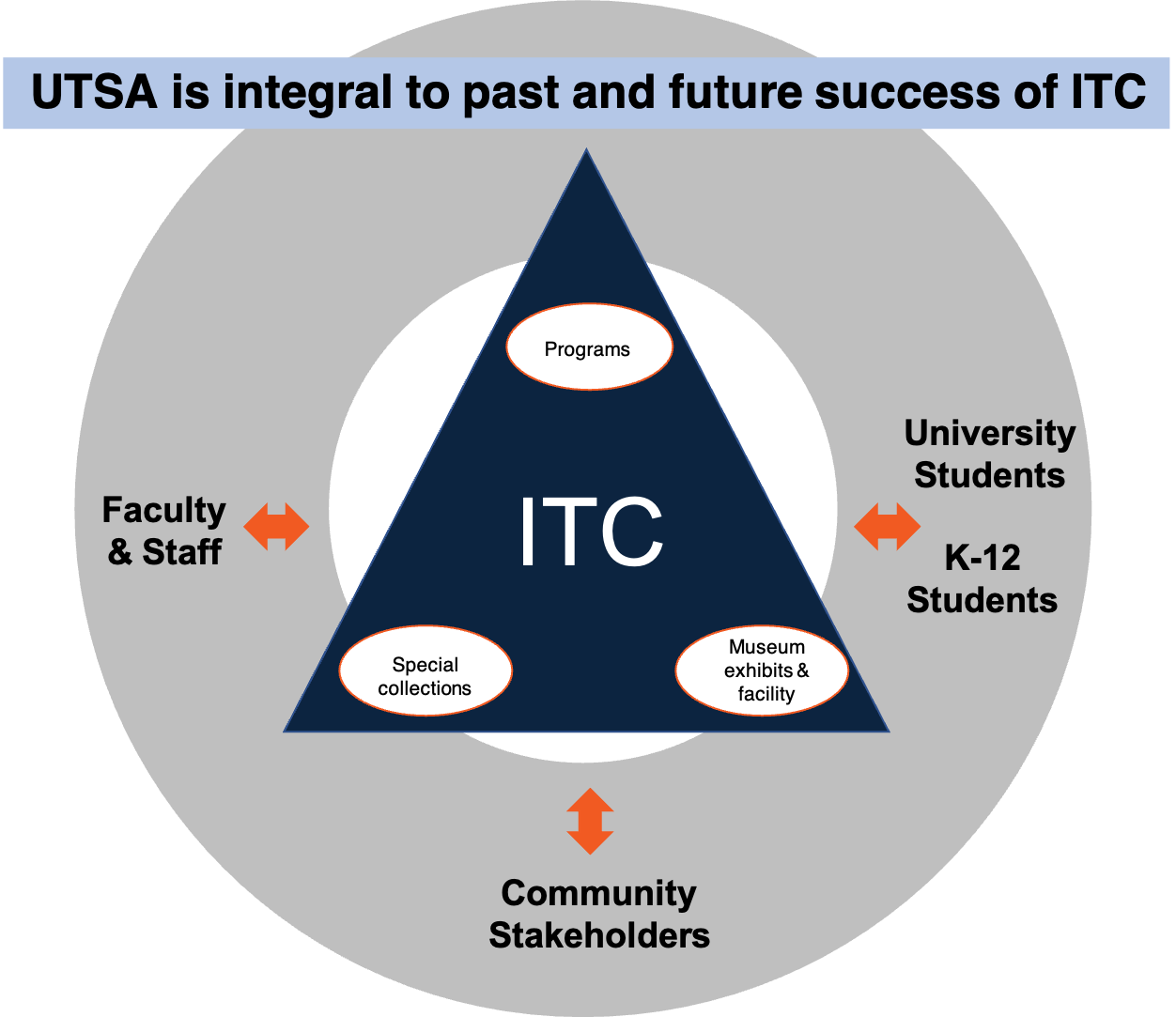 Components
Enhance ongoing collaborations between the museum and UTSA's academic programs to create new learning opportunities for UTSA students.

Align ITC operations with UTSA Libraries to leverage the Libraries' administrative resources and expertise in managing academic collections.
Develop a new strategic plan for the museum to focus on creating more engaging educational and cultural experiences.
---
Strategic Plan Midpoint Update (Fall 2022)
UTSA launched the ITC Centennial 2068 Community Stakeholder Visioning process by engaging community members, industry leaders, elected officials and stakeholders to envision the next 50 years of the ITC museum. Three Task Forces and a Steering Committee helped to inform and guide the visioning process with community engagement through three rounds of Community Conversations surveys.
 The ITC Centennial 2068 Community Stakeholder Visioning process charged its Steering Committee, chaired by Provost and Senior Vice President for Academic Affairs Kimberly Andrews Espy, to develop at least three feasible scenarios to advise UTSA leadership on the future of the Institute of Texan Cultures.
Community input and open transparency were hallmarks of the multi-phase visioning process which spanned April 2021 through July 2022 and incorporated the American Alliance of Museums' Core Standards of Museums to ensure that all recommendations meet fundamental standards.
 The Steering Committee Scenarios Report outlined three, equally viable scenarios, including:
Scenario One: Relocate Outside of the Hemisfair District
Scenario Two: Leave the Texas Pavilion, but Remain in Hemisfair District
Scenario Three: Remain in Texas Pavilion
UTSA has begun a diligent and careful process to explore each of the three scenarios presented by the Steering Committee. The ongoing evaluative process is led by Chief Financial Officer and Senior Vice President for Business Affairs Veronica Salazar. The process will culminate in selecting a scenario and developing an RFP to implement the selected path forward.
---
This Initiative Supports Strategic Destinations