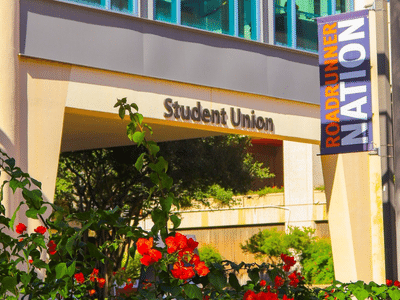 The UTSA Student Union serves as the focal point for events, meetings, dining, and relaxation for the UTSA community.  Students from across the University come to the UTSA Student Union to engage in unique social, recreational, cultural, and educational activities.  As the community gathering place for the campus, the UTSA Student Union is an inviting and inclusive environment where ideas are exchanged, relationships are built, and memories are made.
So whether you are meeting friends, grabbing a bite, attending an event, or running an errand at one of our many service providers, rest easy knowing you can get it all done at the UTSA Student Union.
---
Our Vision
We envision a facility at the heart of student life, where lifelong connections and memories are created one Roadrunner at a time.
Our Mission
We are committed to enhancing student life, providing services for the convenience of the campus community, facilitating successful programs and social interaction, and creating opportunities for fostering an engaged community. We contribute directly to the educational mission of the University by encouraging participation in educational, cultural, and recreational activities, and by offering opportunities for personal and professional development.
Core Values
Inclusion – We recognize and celebrate the dignity inherent in each individual regardless of identities, values, cultures, and backgrounds. With openness, we create, foster, and maintain diverse and civil relationships within our university and the global community.
Synergy – Our combined energy promotes a positive environment where trust and respect are embraced. Innovative ideas are nurtured as we strive to flourish and succeed both individually and collectively.
Customer service – Our passion for excellence drives us to deliver superior services through responsible use of resources. We continually exceed the needs of our UTSA community.
Teamwork – We are committed to working together to build an inclusive community by creating a dynamic environment through communication and high ethical standards.
Learning – We strive for continuous improvement that enhances self-exploration and educational pursuits through discovery and ingenuity.
History and Traditions – We value the role we play in shaping and preserving the heritage and traditions of UTSA.