Whataburger Resource Room | Roadrunner Pantry
The mission of the UTSA Student Union is to support the educational mission of the University of Texas at San Antonio by maintaining facilities, providing services, and promoting programs that will enrich the quality of student life.
The Roadrunner Pantry began as an idea between students, faculty, and staff at UTSA. The UTSA Student Union, realizing the true need to provide the basic necessity of nutritious food to students struggling with food access and insecurity, and through rigorous research of current higher education practices, established the Roadrunner Pantry.
Opening in March 2017, this important initiative supports the mission of serving our students to help them in reaching academic excellence during their time of need. The UTSA Student Union Food Pantry helps students reach their full academic and personal potential, by providing access to healthy and nutritious foods.
---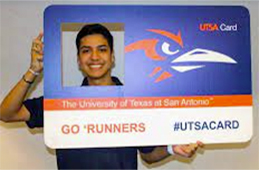 The Roadrunner Pantry is open to all students in need with a valid UTSA ID.
Whataburger Resource Room
Summer 2023 Hours
Main Campus
SU 1.04.06
Tuesday – Friday: 12 to 4 pm
---
Roadrunner Pantry - Downtown
DB 1.306
Mondays: 12 to 4 pm
Modified Operation Dates
The Whataburger Resource Room will be closed on the following dates. 
Main Campus and Downtown
Saturday, May 20 (Commencement)
Monday, August 14 - Friday, August 18
---
Contact Roadrunner Pantry
Call Main Campus
Call Downtown Campus
Send an Email
Pantry Photo Gallery
Rowdy shops at the renaming of the Whataburger Resource Room.
Find the essentials like peanut butter at the Whataburger Resource Room.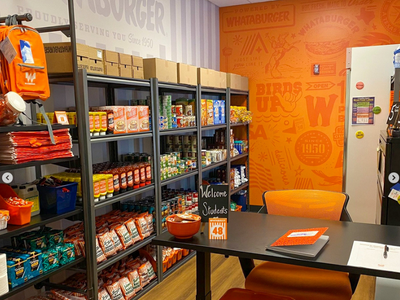 There is a location at the Downtown Campus.
Volunteer opportunities to stock the shelves happen throughout the year.
A variety of fresh food is available in the pantry.
Grad Gown Lending Program
---
Donate to the Roadrunner Pantry
Events throughout the year incorporate donation drives for the Whataburger Resource Room and item donations can also be dropped off at the pantry during business hours.
Recent UTSA alumni can donate their regalia (gown) for the new Grad Gown Lending Program to the resource room or to the Alumni Programs office.
Monetary donations can be given at any time through the UTSA Giving page.
To donate:
Select Other as the Designation
Write Whataburger Resource Room in the blank field