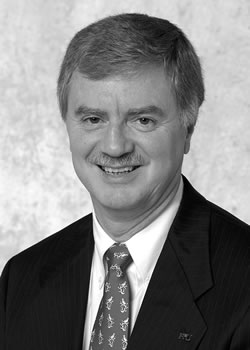 John McGowan
UTSA names IT associate vice provost and CIO
By Tim Brownlee
Assistant Director of Public Affairs
(June 29, 2006)--Officials at UTSA announced today the selection of John McGowan as associate vice provost for information technology and chief information officer. Reporting to the Office of the Provost, McGowan's appointment is effective July 17.
McGowan comes to UTSA from Florida International University in Miami, where he served four years as vice president for information technology and chief information officer. At UTSA, he succeeds Jeffrey Noyes, who recently retired.
"John McGowan understands the importance of using information technology for the greatest impact and benefit to the UTSA community," said Rosalie Ambrosino, UTSA provost and vice president for academic affairs. "His contributions will be crucial in leading our efforts to maximize the use of technology as UTSA continues its pursuit to become a premier research university."
McGowan will be responsible for strategic planning and support of academic, research, and computing network infrastructure and services. The UTSA Office of Information Technology includes 145 full-time professionals in six departments in addition to a central executive support staff.
"Dr. McGowan's background and credentials are an excellent fit for our IT needs," said Sonia Martinez, vice president for university advancement and chair of the information technology search committee. "We are confident in his ability to support a collaborative approach in providing high-quality information technology services. Additionally, I thank the search committee for their diligence in the search process."
McGowan's 25 years of experience include scientific research and management in business, marketing and sales, and technology. He earned a Ph.D. degree in pharmaceutical chemistry at University of the Pacific and a B.S. in biology at Gonzaga University. Before his tenure at Florida International, he was chief technology officer at the University of Southern Mississippi and director of computing services at University of the Pacific.
McGowan's previous experience includes oversight of the technical components of multiple campuses including administration, academic and instructional computing systems, and networking. At one university, he implemented PeopleSoft software for student services, financial services and human resources.
Additionally, he established the Center for Internet Augmented Research and Assessment (CIARA), a networking initiative with South America involving support of the Gemini South Observatory and the Arecibo Telescope. For the project, he procured $15 million in federal funding. McGowan also served as a network security consultant for Department of Defense agencies, the National Security Agency and the Air Force, and in management and marketing positions with IBM.
As part of the IT search, the 16-member search committee with representatives from across the university advertised for applicants in national publications such as The Chronicle of Higher Education, Diversity and Hispanic Outlook.